It took a week, but the Yankees finally have their first set of back-to-back wins this season. A double-digit offensive outburst helped them overcome a starting pitcher who really labored and a middle relief corps that is as shaky as it gets.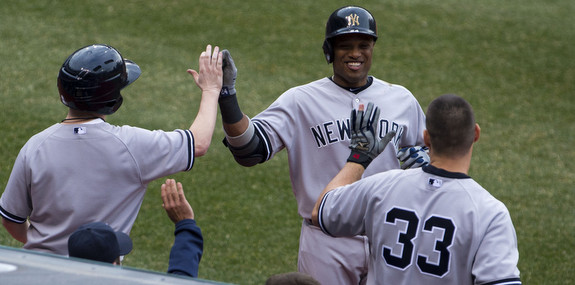 Guess Who's Back
Robinson Cano's back. After a rough 3-for-23 start to the season, Cano hit two homers (one to left-center, one to right-center) and a double off the top of the left field wall on Monday afternoon. He also worked a six-pitch walk in the first inning and scored four runs on the afternoon. After waking up with a .130/.200/.130 batting line, Robbie will go to bed with a much more respectable .222/.300/.481 line to his credit. Still got some work to do there though.
More than anything else, the most important thing about Cano's big day is that he started to adjust and drive those outside pitches the other way. Teams have been feeding him offspeed stuff away since the playoffs last year, but he was rolling over on everything and grounding out softly to the right side. On Monday, he drove two outside pitches the other way for extra-base hits and pulled an inside pitch down the line. Perfect. The Yankees needed their second baseman to start hitting in the big way.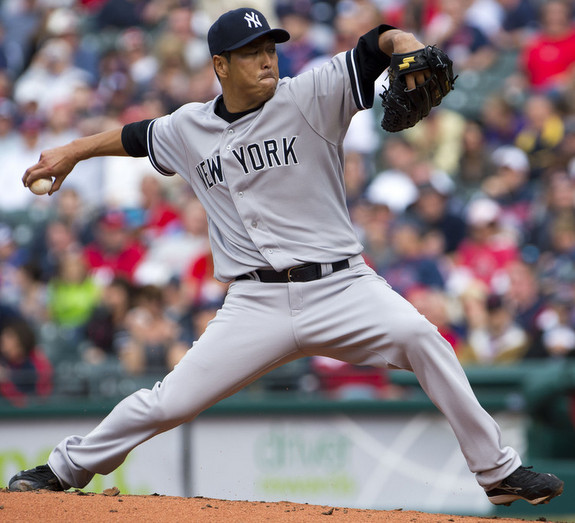 A Battle For #HIROK
Five days after taking a line drive off the tip of his right middle finger, Hiroki Kuroda was back out on the mound making his regularly scheduled start. Early on, it sure looked like the digit was bothering him — he said on Sunday he still wasn't 100% but would try to work through any lingering pain and soreness — as he was missing his spots and leaving a lot of pitches up in the zone. Add in some bad luck (a ground ball hit the second base bag and bounced away from Eduardo Nunez) and bad luck defense (Lyle Overbay ranged to his right and deflected a ball away from Cano), and you've got a recipe for a three-run, 34-pitch first inning.
Kuroda continued to struggle with his location the rest of the game — first pitch strikes to 16 of 25 batters faced — yet he still held the Indians to just a single, a double, two walks, and zero runs over the next 4.1 innings on 77 pitches. It wasn't the most efficient or aesthetically pleasing outing, that's for sure, but it was effective nonetheless. How he managed to do it, I'll never know. Kuroda really struggled in that first inning but he battled and gave the team a real nice lift on an afternoon when it looked like the bullpen would wind up throwing seven or eight innings.
In a way, that ability to grind through a start is a common trait for the Yankees' top three starters. We saw CC Sabathia do it against the Tigers on Sunday and we've seen Andy Pettitte do it countless times over the last 17 years or so. It's not quite the whole "he knows how to win idea," but there's definitely something to knowing how to pitch on days when things aren't going right. Mike Mussina used to talk about it all the time. Pitches were up in the zone, ground balls were bouncing off bases, all sorts of unfortunate stuff was happening, yet Kuroda worked through it and gave the team some length and a chance to win.
Guess Who's Back, Part Deux
The afternoon started with the Cleveland faithful giving Travis Hafner a standing ovation during the pre-game introductions, but by the end of the game they were probably cursing his name. The former Indian hit a three-run homer in the very first inning — his 100th dinger at Progressive Field — to give the Yankees a three-zip lead, and later on he added a single and a pair of walks. Hafner even went first-to-third on a single and slide head-first into third base. I didn't think we'd see that at all this year. Well, I didn't think we'd see him do it and actually get up, anyway. Hafner is up to .391/.481/.652 on the young season and has been an anchor in the middle of the lineup. Just awesome to see.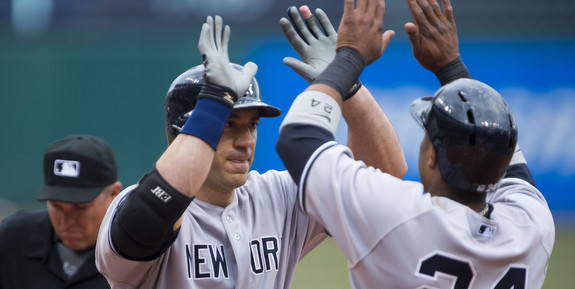 Leftovers
The Yankees started to break things open against the Tribe bullpen, scoring six runs in the fifth through seventh innings. Ichiro Suzuki plated two runs with a pair of singles (one an infield single) while Nunez had a sacrifice fly. Another run came around to score on a wild pitch. Brett Gardner had a single while Overbay contributed nothing on offense. Eleven runs on 13 hits and four walks is a pretty great day for the bats, who have strung together two excellent performances.
The non-David Robertson/Mariano Rivera portion of the bullpen continues to be a total nightmare, as a trio of relievers combined to allow three runs on four hits and four walks in 3.2 innings. Boone Logan at least retired two of the three left-handed hitters he faced, coaxing a double play ball from Lonnie Chisenhall and a strikeout from Jason Kipnis. Michael Bourn beat out an infield single. Shawn Kelley allowed three runs in 1.1 innings while Joba Chamberlain nibbled his way to two walks in a scoreless ninth.
According to the YES Network broadcast, Hafner invited the team to his Cleveland-area home to watch the NCAA Championship Game between Louisville and Michigan after the game. Pretty awesome.
Box Score, WPA Graph & Standings
MLB.com has the box score and video highlights, FanGraphs some other neat stats, and ESPN the updated standings.

Source: FanGraphs
Up Next
The Yankees will look for their (gasp!) third consecutive win on Tuesday night, when Pettitte gets the ball against noted jerk Brett Myers Carlos Carrasco. Pretty good opportunity to get back to .500.