Believe it or not, the Yankees have won just two of their last 14 games at Tropicana Field. That caught me by surprise, but it's true They've positively sucked in that building dating back to late-2011 now. The latest loss was a 5-1 defeat in a game that felt over after the first inning.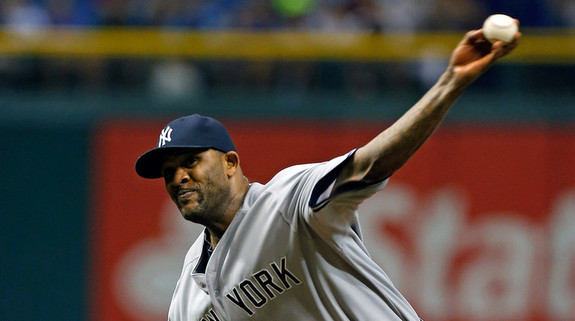 One Bad Inning, Again
Much like his last start, CC Sabathia got hit around in the first inning before settling down and pitching deep into the game. The Rays tagged him for a single, a triple, two homers, and four runs in that first inning before the big left-hander found his command surrendered just two singles and solo homer over the next six innings. Sabathia struck out eight and threw 108 total pitches (68 for strikes), including first pitch strikes to 17 of 29 batters faced. He settled down and that's great, but he has to stop surrendering those first inning runs in the future.
Since we're in the middle of the Great Velocity Watch of 2013, it's worth noting Sabathia averaged 91.1 mph and topped out at 93.2 mph with his fastball according to PitchFX. That was his best velocity on the young season, though I suppose that could have something to do with pitching in the climate-controlled dome rather than a chilly, beautiful, fan-friendly, wholesome, America-loving open-air ballpark. Velocity didn't matter though, Sabathia got clobbered in that first inning because he caught way, way too much of the plate with breaking balls.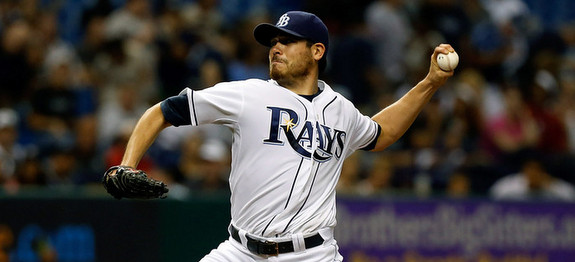 Shut Down By A Lefty, Again
The Yankees came into Monday's game hitting a pathetic .210/.278/.318 (61 wRC+) against left-handers as a team, and that only went down after young Matt Moore got done carving them up for eight innings. He struck out nine, gave up just two hits (both to Robinson Cano), and threw only 37 of his 117 pitches from the stretch. They are woefully non-competitive right now against southpaws. It's hard to believe a big league team can be this bad against lefties.
New York's best chance to make this a game came in the seventh inning, when they had runners at first and third with one out thanks to Yunel Escobar's throwing error. The rally came to crashing halt when Vernon Wells struck out — his third strikeout against Moore, all against a changeup down and away — and Frankie Cervelli flew out to center. The final eleven Yankees to bat made outs. So yeah, more of the same. With all due respect to Moore, who really was fantastic, this currently lineup couldn't hit lefties if their lives depended on it.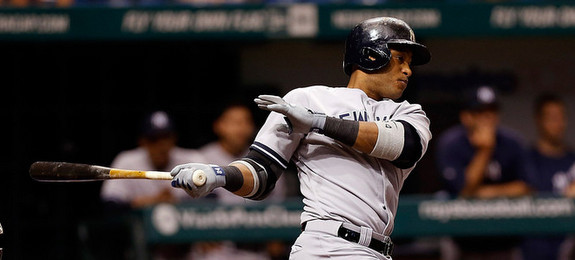 Leftovers
As I mentioned, the Yankees had a whopping two hits on the night, a solo homer and an infield single by Cano. That's it. Brett Gardner drew a pair of walks, but otherwise the other seven spots in the lineup went a combined 0-for-23 with one walk (Eduardo Nunez) and eight strikeouts. Like I said, non-competitive. They could have started every inning with a courtesy runner at second base and they still would have lost.
Adam Warren mopped things up in the bottom of the ninth, just his second pitching appearance in the last 19 days. Two long men kinda defeats the point if Joe Girardi buries one completely.
Minor note about Sabathia: he took over sole possession of 50th place on the all-time strikeout list in this game, passing former Yankee and elbow reconstruction guinea pig Tommy John. Sabathia has 2,246 career strikeouts.
I don't know if it was a one-time thing or if they've rearranged things at Tropicana Field, but the YES camera angle for this game was just awful. Here, look at this mess. I felt like I was watching the game from one of the catwalks.
Box Score, WPA Graph & Standings
MLB.com has the box score and video highlights, FanGraphs some additional stats, and ESPN the updated standings.

Source: FanGraphs
Up Next
The Yankees will look to avoid another pathetic offensive showing against left-hander on Tuesday, when reigning AL Cy Young Award winner David Price gets the ball for the Rays. I wouldn't hold my breath. Phil Hughes will be on the bump for the Bombers.