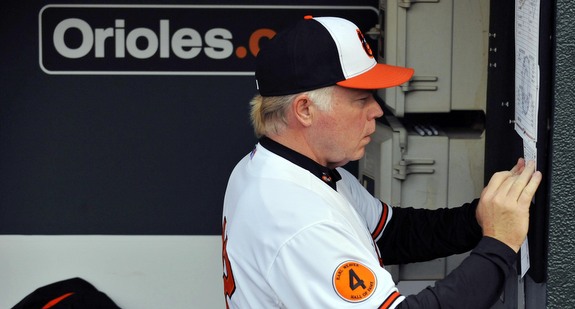 This series is about as important as a mid-May series can get. The Orioles gave the Yankees fits down the stretch last year and currently sit four games back in the AL East, so these three games will give the Bombers a chance to create some distance in the division race. Almost no lead is insurmountable this time of year, but that doesn't mean having decent-sized cushion isn't a big deal. Here's the lineup that will face former Yankee right-hander Freddy Garcia…
And on the mound is the Indians' leader in homers hit by a pitcher over the last 40 years (two), left-hander CC Sabathia.
It's cloudy in Baltimore and the forecast calls for some showers later tonight. Hopefully they won't be bad enough to delay or postpone the game. First pitch is scheduled for 7:05pm ET and can be seen on YES locally and ESPN nationally. Enjoy.
Injury Updates (via the AP): Chris Stewart (groin) is feeling better but is still unable to return to anything more than emergency catching duty … Alex Rodriguez (hip) fielded grounders today for the first time since surgery … Kevin Youkilis (back) took batting practice on the field, fielded grounders at first and third, and made throws to the bases … Eduardo Nunez (ribcage) fielding some grounders … Joba Chamberlain (oblique) threw a bullpen session and is expected to make another minor league appearances this week … earlier today we learned Mark Teixeira (wrist) took some at-bats in a simulated game.