Don't look now, but the Yankees have suddenly lost four of their last six games. One of the wins took a miracle ninth inning comeback as well. Monday's 2-1 loss to the Mets was just par for the course, meaning fine pitching but an invisible offense.

No Reward
It sure looks like that seven-run, two-out disaster two weeks ago was just a bump in the road for Phil Hughes. He rebounded to hold the Orioles to two runs in six innings last time out, and on Monday he held an admittedly feeble Mets lineup to one run on four hits in seven innings. Two of those hits were singles by opposing pitcher Jon Niese (!), the other two a David Wright triple to right-center and a David Wright solo homer to left. Phil struck out six and walked zero, throwing first pitch strikes to 17 of 24 batters (71%) and strikes with 68 of 101 pitches (67%).
Unfortunately, the Yankees do not leave their pitchers much margin for error these days, and seven innings of one-run ball is just good enough for a no decision. Hughes has allowed two or fewer runs six times in his last eight starts, yet the Bombers have only won three of those six games. Two runs in almost any number of innings from the starter used to be an auto-win, as recently as last year, but nowadays is just good enough to avoid a loss. Phil did his part, but no one else did.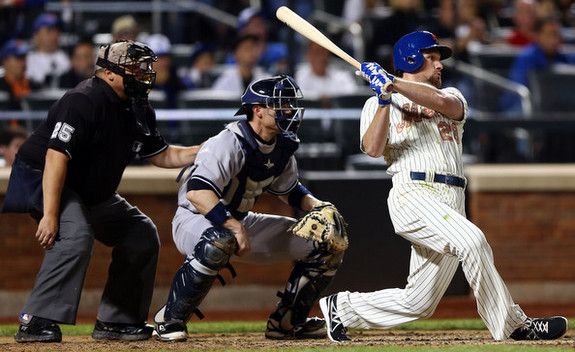 Eighth Inning Guy
David Robertson picked a bad time for his worst game of the month. He was done in by a bloop ground rule double and a fat middle-middle fastball to Daniel Murphy in a hitter-friendly 3-1 count, but in between he walked the hackstastic Jordany Valdespin — career 5.1 BB% and 32.7% swing rate on pitches out of the zone — while Chris Stewart, Miracle Catcher™ committing a back-breaking passed ball.
It looked like the Yankees would escape the inning unscathed for a while thanks to Robinson Cano, who corralled Ruben Tejada's hard-hit grounder to second and fired home for the plate at the plate and the second out of the inning. The replays I saw made it look like Stewart applied the tag on Mike Baxter in time, but apparently it was up for debate. Either way, the ump ruled him out and that's all that matters. Robertson had a rough night, throwing only 14 of 27 pitches for strikes. What can you do.
Brett Saves The Day
Hughes has a homer problem, and it's no secret. He serves up dingers like the best of 'em, and when the season ends in a few months, his homer total will be one shy of what he actually surrendered on the season. Hughes gave up a two-run homer to Murphy in the bottom of the sixth inning of this game, a line drive rocket to left-center that would not have left the old CitiField dimensions. It wasn't a homer though. It was an inning-ending fly ball according to box score because Brett Gardner did this:
Most homer-robbing catches involve high fly balls and short-ish fences, when it's more about timing the jump than anything. That wasn't most homer-robbing catches. Gardner had to showcase his elite range to get to the wall first, then use his hops to actually go up to catch the ball. There was no downtime there, Brett didn't have time to sit back and size up the fly ball. It had to happen all at once and he nailed it. That's an upper-echelon homer-robbing catch there. You won't find many better.
Leftovers
Had the Mets played competent defensive outfielders in the corners on Monday, the Yankees don't score a run. Gardner blooped a triple to left and Jayson Nix blooped a single to right in the sixth inning for the team's only run. Nix's ball might have been a tough play for any outfielder, but Gardner's was damn close to routine for non-Lucas Duda-level defenders. They're line drives in a well-earned run in the box score, of course.

I didn't have a problem with Joe Girardi not pinch-hitting for Hughes with men on first and second and one out in the seventh. He was cruising and his pitch count had yet to crack 80, and it's not like the bench was full of viable alternatives. If Phil's pitch count was higher or if it was an inning later, I would have pinch-hit. The Mets have an awful bullpen though, have to figure even this lineup would get to them at some point.
Nice game for the Miracle Catcher™, who also grounded into an inning-ending double play with the bases loaded in the second in addition to that big passed ball. He singled and had the fewest plate appearances among the eight position players starters in this game, yet still had the worst WPA (-.142). That doesn't even count the passed ball, which doesn't exist in WPA land.
Ichiro Suzuki drew a walk with one out in the ninth inning and stayed glued to first, never once attempting to steal. Girardi said afterwards it was a "pretty big risk" to try to take second base with Travis Hafner at the plate, which leaves out the entire Lyle Overbay at-bat earlier in the inning. He's gotta go right after reaching base. Bobby Parnell is too good and they needed to have to shots to drive him in.
Vernon Wells snapped an 0-for-17 skid with a solid sixth inning single, but his descent to mediocrity continues and has his batting line at a robust .264/.315/.462 (106 wRC+). Every starter except for Hughes had a hit tonight, but Nix was the only one with two. Their nine hits were the definition of scattered.
Box Score, WPA Graph & Standings
For the box score and video highlights, check out MLB.com. For some other stats, check out FanGraphs. For the updated standings, check out ESPN. The Red Sox pounded the Phillies, so they are now tied with the Yankees atop the AL East in the loss column. Boston is technically in first by percentage points. The Orioles also won and are three back in the loss column.

Source: FanGraphs
Up Next
Same two teams on Tuesday night for game two of this makeshift four-game series. It'll be a battle of aces between old Hiroki Kuroda and young Matt Harvey. That figures to be a blast. RAB Tickets is the place to go for last minute ticket deals if you want to head out to Queens to catch the game live.