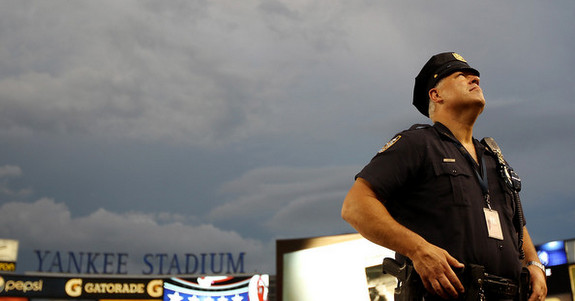 The Yankees need a win in the worst way. An ugly win, a blowout win, a nail-biter win … just a win. There are no bonus points for style right now.
They've lost seven of their last eight and nine of their last 12 games. They've scored one or fewer runs five times in the last seven games, and they haven't scored more than four runs in nine games now. They've hit two homers in their last seven games and have gone 20 innings since their last extra-base hit. The last time someone on the active roster had a three-hit game was May 12th (!!!). The pitching staff, as good as it's been this year, has a 5.05 ERA in the last eight games. It's ugly. Just scratch out a win however you can and go from there. Here's the lineup that will face right-hander Justin Masterson…
CF Brett Gardner
2B Robinson Cano
1B Mark Teixeira
DH Travis Hafner
RF Lyle Overbay — desperate times, desperate measures, etc.
LF Ichiro Suzuki
3B David Adams
SS Reid Brignac
C Austin Romine
And on a big league mound for the first time in 18 days, left-hander Andy Pettitte.
It's been raining on-and-off all day in New York and it's supposed to do that for another few hours, but nothing really heavy like last night. I guess there could be a delay at some point, but it doesn't appear they will have trouble playing all nine innings … eventually. First pitch is scheduled for 7:05pm ET and can be seen on YES locally and ESPN nationally. Enjoy.
Injury Update: Michael Pineda (shoulder) pitched in an Extended Spring Training game today, his first since suffering a cracked fingernail last week. The Yankees have indicated this will be his final tune-up appearance before beginning an official 30-day minor league rehab assignment, but nothing has been finalized yet.
All-Star Voting Update: MLB released the first update of All-Star fan voting results, and Robinson Cano has received the second most votes in the AL behind Miguel Cabrera. He is in line to start at second base, and no other Yankees ranks among the top four at their position. #VoteJaysonNix2013