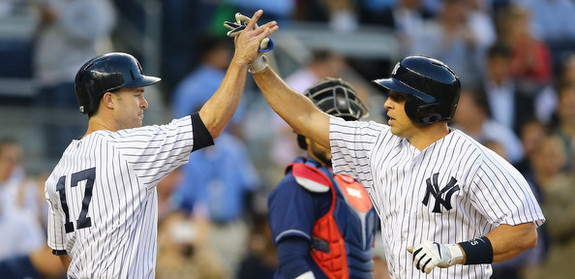 The Indians are reeling and the Yankees have taken advantage these last two days, walking away with two much-needed wins. They'll send their Opening Day starter to the mound looking for the sweep this afternoon before heading to the West Coast for one of those pleasant ten games in 12 days trips. Given how much they've struggled these last two weeks or so, I'm sure traveling out west on the heels of a sweep sure would make the flight much more pleasant. Here's the lineup that will face righty Corey Kluber…
And on the mound is the 2007 Players Choice Outstanding Pitcher of the Year award winner, southpaw CC Sabathia.
We've got perfect baseball weather in New York this afternoon, so this will be one of those games you watch on television and really wish you could be in the stands under the blue sky with the cool breeze in your face instead. First pitch is scheduled for 1:05pm ET and can be seen on YES locally and MLB Network nationally. Enjoy.
Injury News: Derek Jeter (ankle) is headed to Tampa today and will have a check-up to see if he can begin ramping up his workouts.