A winning streak! The Yankees hadn't had one of those in about two weeks, but they took the second game of the series against the Indians by the score of 4-3 on Tuesday night. It's a June miracle.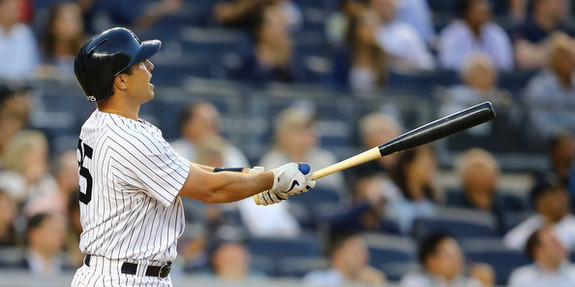 The Big Inning
Prior to Monday, the Yankees had not had a single 4+ run inning since May 13th (!), the second game of the doubleheader against the Indians. In fact, four of their seven 4+ run innings this year have come against the Tribe. The Bombers have now had back-to-back games with a 4+ run innings, and again it was Mark Teixeira who provided the big blow. On Monday it was a grand slam, on Tuesday it was a third inning three-run homer.
The big inning started with five consecutive base hits, the first a leadoff double by Lyle Overbay over Michael Bourn's head in center. Chris Stewart followed a single to right-center, Ichiro Suzuki with a single to left, and Jayson Nix with a single to right. Three straight hits to the opposite field, scoring only one run because Stewart managed to get caught in a rundown going to second on his single. Teixeira jumped all over a hanging 3-1 breaking for the homer, which he pulled down the left field line and just inside the foul pole. Overbay did an admirable job for the first two months, but boy is it nice to have Tex back. He can still be a force in the middle of the lineup.

One-Hit Wonder
David Phelps was a Nix double-clutch away from six no-hit innings. The only hit he allowed was a Drew Stubbs infield single that he probably doesn't beat out without Nix's hesitation. That was it. Phelps did walk four batters and throw 102 pitches in those six innings, so it's not like he was truly dominant or efficient. Still, one hit across six scoreless innings from the sixth starter? Hell yes.
Much like Phil Hughes last month, Phelps was able to shake off his sub-one-inning disaster and rebound with a strong outing five days later. That's always good to see from a young pitcher. Sitting around for four days and dwelling on what is likely the worst start of your career does no good. Phelps bounced back, struck out seven in the six innings, and gave his team more than enough of a chance to win.
Foot, Meet Bullet
From the fourth through eighth innings, the Yankees walked the leadoff man four times. The only time they didn't was in the sixth. Amazingly, only once did it come back to bite them. That was the seventh, when Joba Chamberlain allowed a three-run Yankee Stadium cheapie homer to Stubbs on a pitch that was down and away and nearly out of the zone. Of course, the two other base-runners were his fault.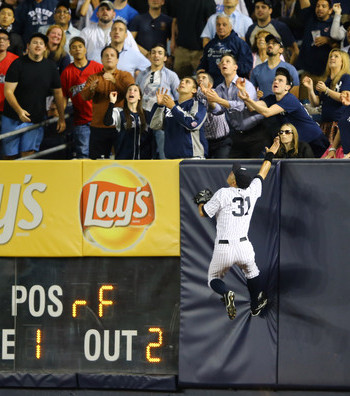 David Robertson escaped a major jam — first and second with no outs and the heart of the order due up — in the eighth thanks to some major luck. Former teammate Nick Swisher hit a ball right on the screws to right, except Nix was perfectly positioned at second to snag it and flip to Reid Brignac to double the runner off second. It was luck, Swisher hit the ball hard and Nix just so happened to be in the right spot. Mariano Rivera followed up with a perfect ninth for his 21st save.
Leftovers
The Yankees, specifically Robinson Cano, blew a golden opportunity to tack on some insurance runs in the seventh. Stewart drew a leadoff walk, Mark Reynolds botched Ichiro's sac bunt attempt, Nix bunted the two runners into scoring position, then Teixeira worked a hard-fought walk to load the bases with one out for Robbie. Rather than lift the ball for a sac fly, the bare minimum in that situation, he grounded into an inning-ending double play. smh.
Vernon Wells is really, really bad. Another 0-for-4 took him down to .246/.292/.423 on the season, which isn't a whole lot better than the .230/.279/.403 line he put up in 2012. Unfortunately, the Yankees can't de-emphasize him with Curtis Granderson the DL. Cano and David Adams both went hitless, otherwise every other starter had at least one knock. Tex (two hits and a walk) and Stewart (hit and two walks) reached base three times apiece.
The YES cameras showed Joe Girardi having an animated (and one-sided) conversation with Robertson after the eighth inning, but I have no idea what that was about. Maybe he was telling him to be aggressive following the leadoff walk? Girardi wasn't yelling, but it was definitely a stern talking to. Don't see that often from him, at least not in the dugout for the cameras to pickup.
Box Score, WPA Graph & Standings
For the box score and video highlights, check out MLB.com. For some other stats, FanGraphs is the place to go. For the updated standings, go to ESPN. The Red Sox and Orioles won while the Rays lost, so Boston remains two up in the loss column while the Yankees and Baltimore are tied for second. Tampa falls to fourth, one loss behind the Yanks and O's.

Source: FanGraphs
Up Next
The Yankees will look to complete the sweep on Wednesday afternoon before heading out to the West Coast for ten games. CC Sabathia and right-hander Corey Kluber is your pitching matchup. Check out RAB Tickets if you want to enjoy some baseball in the Bronx.