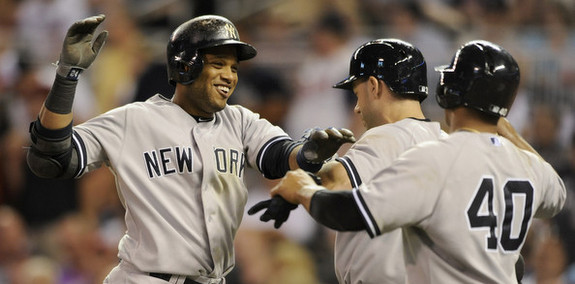 The Yankees have secured themselves at least a split of this four-game series with the Twins, but a split isn't good enough. They've got a very favorable schedule between now and the All-Star break, and they've got to take advantage given their poor play over the last month or so. Luckily, beating the Twins is something of a specialty. Here's the lineup that will face right-hander P.J. Walters:
CF Brett Gardner
RF Ichiro Suzuki
2B Robinson Cano
DH Travis Hafner
LF Zoilo Almonte
1B Lyle Overbay
C Chris Stewart
SS Luis Cruz
3B David Adams
And on the mound is 2011 AL Pitcher of the Month for July, left-hander CC Sabathia. It would be cool if he repeated that performance this July.
Another clear and gorgeous night in Minneapolis, so they won't have any trouble getting this game in. This one is scheduled to start at 8:10pm ET and can be seen on YES. Enjoy.