Well, this important seven-game stretch against losing teams at home leading into the All-Star break didn't exactly get off to a great start. The Yankees couldn't score early before the bullpen let things get out of hand late, resulting in a 5-1 loss to the Royals.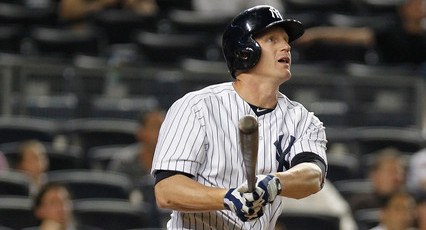 Offensive Offense
It wasn't until Lyle Overbay came off the bench to a hit a pinch-hit solo homer with two outs in the seventh that the Yankees had a man reach second base against Jeremy Guthrie. That's the same Jeremy Guthrie who spent 59 minutes on the bench waiting out a rain delay in the middle innings. It's also the same Jeremy Guthrie who came into the game having allowed 35 base-runners and 19 runs in his last four starts (22 innings). Gross.
The Yankees did put against some futile rallies against the bullpen, squandering a first-and-third opportunity in the seventh and a first-and-second opportunity in the eighth. They also had the bases loaded with no outs in the ninth and failed to score as Greg Holland struck out Eduardo Nunez, Brett Gardner, and Zoilo Almonte. Robinson Cano, the number three hitter, was left standing on deck when the game ended with the tying run at the plate. It was so awesome when he was batting second earlier this year.
Vernon Wells and Luiz Cruz had two hits apiece and were the only Yankee with multiple hits. Wells is actually off to a nice little 8-for-17 start to the month. The Bombers did have some chances late for sure, but the lineup just isn't good enough to extent rallies. Two many weak bats to sustain anything, especially against power arms with big fastballs. One run at a time is the Yankee way of late.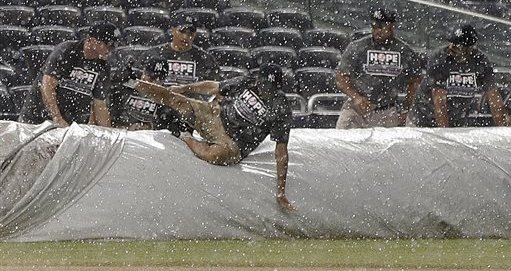 Leftovers
Phil Hughes allowed two runs in four innings of work, surrendering the #obligatoryhomer to Billy Butler. The other run scored on doubles poked to the opposite field. He struck out two and walked zero, only throwing 62 pitches. Phil's night ended early because of the lengthy rain delay. Such is life.
After throwing a total of five pitches in the last 18 days, Adam Warren allowed one run in 3.2 innings after the rain. He looked surprising sharp considering the layoff. The same can not be said for Preston Claiborne, who was roughed up for two runs on three hits and a walk in 1.1 innings. He's now allowed seven runs on 14 base-runners in his last eight innings. The bloom came off that rose rather quickly.
Brett Gardner went 0-for-3 with a walk and a strikeout, his 16th consecutive game with a strikeout. That's a new franchise record, breaking a tie with Alex Rodriguez (2005) and Stan Bahnsen (1968). Bahnsen actually did it in 17 straight games spanning 1968 and 1969, so Gardner has the single-season record.
Overbay's homer was the team's first by a non-Robinson Cano player in eleven games. Think about that. It also spared the New York from going homerless in five consecutive home games for the first time since 1996. Overall, the Yankees have score two runs in their last 20 innings.
Box Score, WPA Graph & Standings
For the box score and video highlights, go to MLB.com. For some extra stats and the standings, go to FanGraphs and ESPN, respectively. With the Orioles losing and the Rays winning, the Yankees and Orioles are both one game back of Tampa for the second wildcard spot in the loss column.

Source: FanGraphs
Up Next
CC Sabathia and Jamie Shields is your pitching matchup in game two of this four-game set on Tuesday night. Doesn't it feel like those two square off every time their teams meet? Believe it or not, this will be only their fifth head-to-head matchup since Sabathia got to New York. Seems low. Anyway, check out RAB Tickets if you want to catch the game.