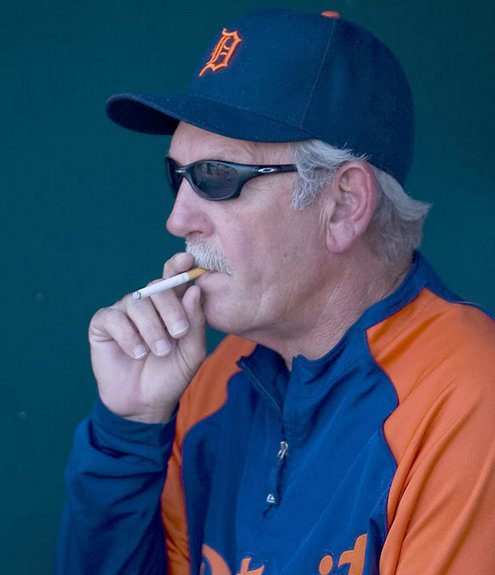 After eight games and eleven days, the Yankees are finally back home in the Bronx for a six-game homestand. The Tigers are in town and they're the hottest team in the league at the moment. They took two of three from the Bombers in Detroit way back in April, the second series of the year. That feels like a lifetime ago.
What Have They Done Lately?
Remember how the White Sox had lost ten straight games going into the last series? The Tigers have done pretty much the exact opposite of that. They've won each of their last 12 games — the Yankees, on the other hand, have won 12 of their last 29 games — and 16 of their last 17 games. They're the first team to win 16 of 17 since the 2009 Rockies. Detroit sits atop the AL Central at 68-45 with a +151 run differential. That's the best run differential in all the land.
Offense
At 5.2 runs per game with a team 114 wRC+, the Tigers are the highest scoring team in baseball. IF Omar Infante (113 wRC+) is on the DL and won't be back this series, plus both IF Jose Iglesias (109 wRC+) and C Alex Avila (75 wRC+) are day-to-day with nagging injuries. Not sure if they'll be available tonight or at all this weekend.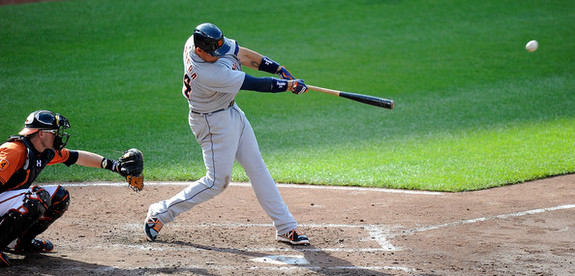 As usual, manager Jim Leyland's lineup is anchored by 3B Miguel Cabrera (202 wRC+), the best hitter in the world. 1B Prince Fielder (117 wRC+) is having a good year that is not nearly up to his usual standard. OF Torii Hunter (121 wRC+) has been very good while OF Austin Jackson (102 wRC+) and UTIL Don Kelly (102 wRC+) are ever-so-slightly above-average. DH Victor Martinez (99 wRC+) has been just a touch below.
The rest of the lineup is filled out by OF Andy Dirks (83 wRC+), OF Matt Tuiasosopo (159 wRC+ in limited time), IF Ramon Santiago (59 wRC+), IF Hernan Perez (69 wRC+) in very limited time, and backup C Brayan Pena (85 wRC+). Obviously Cabrera and the rest of the guys in the top five spots of the lineup are the big concern. They're as good as it gets. The Tigers can really, really hit.
Starting Pitching Matchups
Friday: RHP Ivan Nova vs. RHP Rick Porcello
One of these years, the 24-year-old Porcello is going to put it all together and become the dominant frontline starter everyone expected him to become a few seasons ago. This is not that the year. The New Jersey raised right-hander has a 4.28 ERA (3.56 FIP) in 20 starts (and one relief appearance), though he does have career-best strikeout (6.60 K/9 and 17.8 K%), walk (1.88 B/9 and 5.1 BB%), and ground ball (57.2%) rates. Maybe he really is putting it together. He has done a decent job limiting homers as well (0.90 HR/9 and 13.5% HR/FB). Porcello is a five-pitch pitcher, but he's throwing more upper-70s curveballs and fewer mid-80s sliders than every before. Low-90s two and four-seamers set up those two offspeed pitches as well as his low-80s changeup. It's worth noting he has a massive platoon split: righties have been held to a .269 wOBA while lefties are at .342. The Yankees have seen Porcello a bunch of times over the years, and he seems to pitch better and better against them each time out.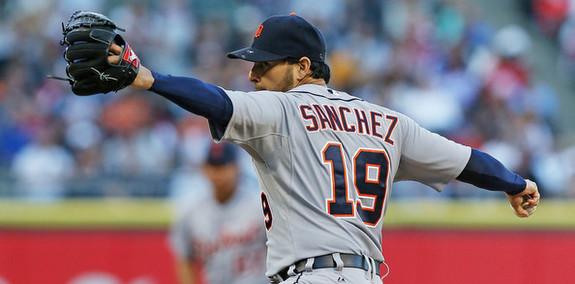 Saturday: RHP Phil Hughes vs. RHP Anibal Sanchez
Sanchez, 29, would be in the Cy Young conversation right now had he not missed a month with a shoulder strain. He's got a 2.58 ERA (2.37 FIP) in 19 starts with a career-high strikeout rate (9.94 K/9 and 27.0 K%) and a career-low homer rate (0.38 HR/9 and 5.0% HR/FB). His walk (2.81 BB/9 and 7.6 BB%) and ground ball (42.6%) numbers are solid and a touch below his career norms. Sanchez uses three fastballs (low-90s two-seamer, four-seamer, and cutter) and three offspeed pitches (mid-80s slider, mid-80s changeup, upper-70s curveball) pretty regularly, so he'll mix it up quite well. The Yankees faced Anibal once following his trade to Detroit last year, and they tagged him for seven runs in three innings. Like everyone else, he dominated them in the postseason.
Sunday: LHP Andy Pettitte vs. RHP Justin Verlander
A 3.74 ERA (3.33 FIP) in 24 starts constitutes a down year for for Verlander. The 30-year-old still has excellent strikeout (8.60 K/9 and 22.4 K%) and homer (0.71 HR/9 and 7.5% HR/FB) rates, but he was never big ground ball guy (42.1%) and his walk rate (3.32 BB/9 and 8.6 BB%) is his highest in five years. Verlander has lost some oomph off his fastball, but he still sits comfortably in the mid-90s with a hammer upper-70s curveball and a nasty mid-to-upper-80s changeup. He'll also mix in some mid-80s sliders. The Yankees and Verlander have a long history, and they've actually hit him rather well over the years. This is a different offense, however.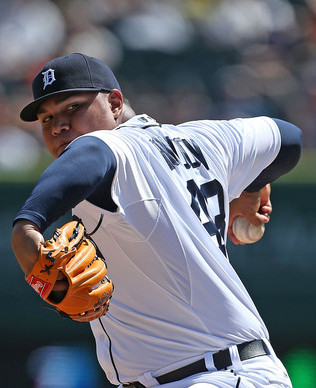 Bullpen Status
The Tigers played a 14-inning game on Wednesday, so their bullpen is a little bit taxed. LHP Phil Coke (3.95 FIP) pitched yesterday but is otherwise fresh. RHP Al Alburquerque (3.92 FIP) has pitched in each of the last two games while RHP Jeremy Bonderman (4.77 FIP) and RHP Bruce Rondon (2.60 FIP in limited time) both threw multiple innings on Wednesday.
RHP Joaquin Benoit (2.15 FIP) has settled in as the closer with former Yankees RHP Jose Veras (3.34 FIP) taking over as his primary setup man after being acquiring from the Astros at the trade deadline. LHP Drew Smyly (2.06 FIP) has been pretty stellar as a multi-inning reliever as well. Leyland has some very good power arms in his bullpen. The entire staff can miss bats, which is why Detroit has the very best strikeout rate (8.67 K/9 and 23.3 K%) in baseball.
The Yankees were off yesterday, so their bullpen is as fresh as can be. This is crunch time, so I expect Joe Girardi to push his top relievers a little more than usual these coming weeks. We saw him use Mariano Rivera for two innings for the first time in two years the other day, for example. Check out our Bullpen Workload page for reliever usage details, then check out Bless You Boys and Tiger Tales for all the Tigers info you can handle.