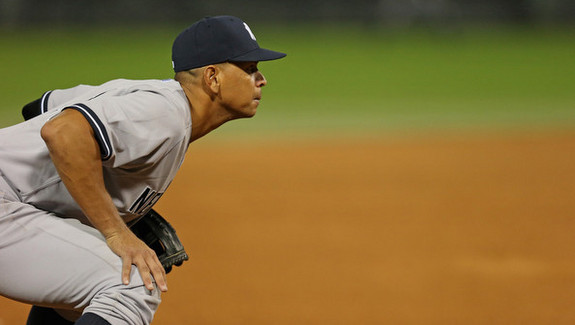 The Yankees were in Fenway Park about a month ago, but the circumstances were much different. They were five back in the AL East and only three back of a wildcard spot, two deficits that were far from insurmountable. The Bombers have since slid in the standings and now relatively limp into Boston, seven back in the division and six back of a postseason berth with a whole bunch of teams ahead of them. This isn't so much Yankees-Red Sox as it is Yankees-whoever. They need to win games regardless of the opponent. That said, beating the Sawx is always fun. Here's the lineup that will face left-hander Felix Doubront:
CF Brett Gardner
SS Eduardo Nunez
2B Robinson Cano
LF Alfonso Soriano
3B Alex Rodriguez
DH Vernon Wells
RF Ichiro Suzuki
1B Mark Reynolds
C Chris Stewart
And on the mound is left-hander Andy Pettitte, who hopefully won't give up a first inning run tonight. He's done that in eight straight starts now. Playing from behind almost immediately really sucks.
The weather in Boston is great, so no concerns there. It'll be the same way all weekend. The first pitch is scheduled for a little after 7pm ET and can be seen on My9 locally and MLB Network nationally.