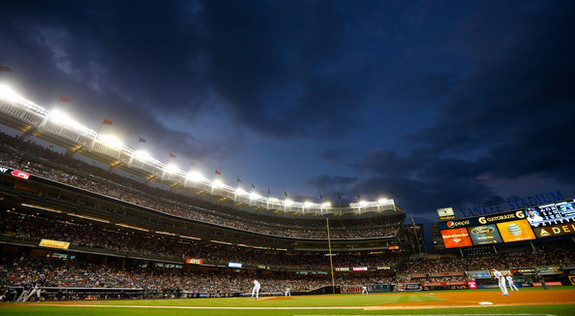 The Yankees start a ten-game homestand tonight and if they're ever going to claw their way back into the postseason race, this is the time to do it. They've negated every hot streak with a cold streak in recent weeks and have gained basically zero ground in the standings. There's no more time for this nonsense. Beat a division rival and one of the teams you're chasing this weekend, beat a last place team this week, then beat another division rival next week. If they don't … well then their season is basically over. Here's the lineup that will face right-hander Miguel Gonzalez:
CF Brett Gardner
SS Derek Jeter
2B Robinson Cano
LF Alfonso Soriano
3B Alex Rodriguez
DH Curtis Granderson
1B Mark Reynolds
RF Ichiro Suzuki
C Austin Romine
And on the mound is left-hander CC Sabathia, who need to throw 36.1 consecutive scoreless innings if he wants to get his season ERA down to 4.00. He's got about six starts left this year, so he better get on that soon.
It's warm, cloudy, and humid in New York, but there's no threat of rain and that's all that matters. The next two days might be a little different, but we'll worry about that when the time comes. First pitch is scheduled for 7:05pm ET and can be seen on YES locally and MLB Network nationally.