This was a game that, earlier in the season, the Yankees probably find a way to lose. It's the kind of game that is won with one swing of the bat, know what I mean? A dramatic late-inning homer and a patchwork pitching staff helped the Yankees to a 4-2 win over the Blue Jays on Wednesday night, their fourth straight win and ninth in their last 11 games.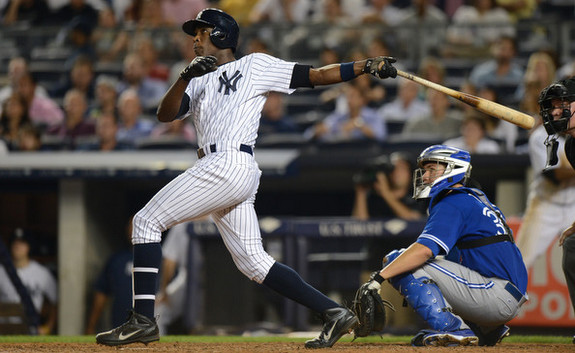 David Justice Would Be Proud
R.A. Dickey was really, really good in this game. The Yankees got to him for two runs early on, but the reigning NL Cy Young Award winner went on to retire 14 of 15 batters faced at one point from the third through eighth innings. The only base-runner was a walk and just one of those 15 batters actually hit the ball out of the infield. Dickey shut them right down with his unusually hard knuckleball. He was awesome …
… until hanging a 1-0 knuckler to Alfonso Soriano with a man on-base and two outs in the eighth. Soriano clobbered the pitch out to right for a no-doubt, go-ahead two-run homer that simultaneously snapped an 0-for-17 skid. As you might remember from his first stint in pinstripes, Fonsy has a knack for being an all-or-nothing hitter. He was all and not nothing on Wednesday night, helping the team to another win with another monster homerun. This guy, man. Tell me this isn't Justice-esque. You can't do it. It's uncanny.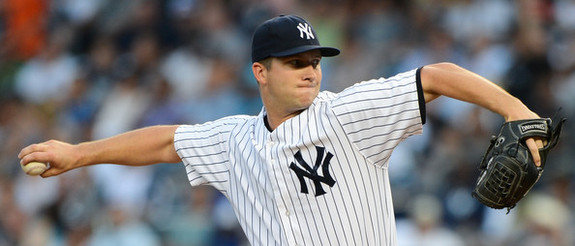 Tag Team
Tuesday's doubleheader meant the Yankees had to use a spot starter at some point before Sunday, so they decided to get it out of the way early and give their older starters an extra day of rest in the process. Adam Warren got the nod after a solid 4+ months of long relief work, and he gave the team three innings and 61 pitches of two-run ball. He allowed four hits — including a monster solo homer by the utterly powerless (career .070 ISO) Josh Thole — and two walks while striking out four. If nothing else, it was much better than his first (and only other) career start last summer.
Once Warren was done, hero of the game David Huff got the ball and managed to throw five scoreless innings of one-hit ball. The one hit was an infield single on a Baltimore chopper. He did walk more batters (four, one intentionally) than he struck out (two), but who cares at this point? The Yankees just need outs. Strikeouts, ground outs, loud outs, lucky outs … just outs and Huff was getting them. With a short bullpen due to the doubleheader, he gets a well-deserved win for his 70 pitches of work. What was I rambling about following the doubleheader? Unexpected contributions, baby. I hope they vote Huff a full playoff share.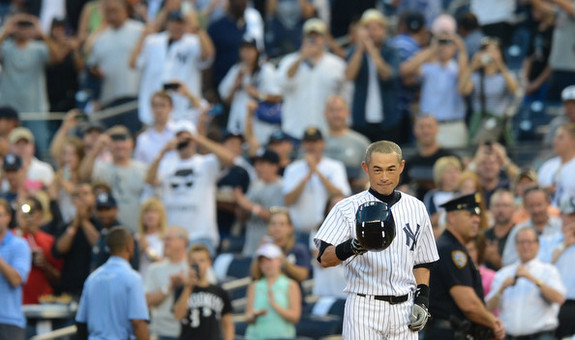 Leftovers
Congrats to Ichiro Suzuki for picking up his 4,000th professional hit with a solid line drive single to left in the first inning. His teammates all came out of the dugout to congratulate him afterwards. Pretty cool moment. Ichiro joins Pete Rose (4,256) and Ty Cobb (4,189) as the only other players in the professional 4,000 hits club. Obviously 1,278 hits in Japan do not equal 1,278 hits in MLB, but it's still a great accomplishment. Just a ridiculous number of hits. Congrats, Ichiro.
Despite pitching in both ends of the doubleheader, Mariano Rivera did indeed come on for the save following Huff's five innings and Soriano's two-run homer. He allowed a double to Rajai Davis with one out only to immediately pick him off second base. Davis, who you know by now is as aggressive as anyone on the bases, was taking too big of a lead — especially in a two-run game with Edwin Encarnacion at the plate, geez — and Robinson Cano snuck in behind him to apply the tag. Mo threw just 11 pitches and earned two saves and a win in the span 30 hours or so.
Austin Romine was robbed of an extra-base hit by Kevin Pillar in the second, though he did get a sacrifice fly for his trouble. It wouldn't have been a homer, but Pillar jumped to catch the ball near the very top of the left field ball. Romine went 0-for-2 with a strikeout in addition to allowing two stolen bases and making a throwing error. Curtis Granderson singled in the other run and drew a walk while Cano stayed hot with a single and a double. He was on second for Soriano's homer. Eduardo Nunez singled and had the only other hit of the night.
After the game, Huff pointed out that he faced a whole bunch of the Toronto hitters in Triple-A this year, so he had a comfort level and knew out to approach them. He last faced their Triple-A squad in the start immediately before being called up last week, and three of the nine hitters in the Buffalo lineup that night played for the Blue Jays in this game. One of those weird things no one ever thinks about — having a history with a player dating back to the minors.
I don't know what it is, the Blue Jays are allergic to playing the Yankees at full strength. It took just a few innings for Jose Bautista to hurt his hip and land on the DL in the first game of the doubleheader, and in this game Jose Reyes got ejected for arguing balls and strikes in the second. Home plate ump Ted Barrett have him plenty of rope, long enough for Reyes to spike his helmet into the ground. That led to the ejection and ultimately helped the Yankees. Thanks, Jose.
And lastly, Jayson Nix's season likely to came to an end when Dickey hit him with the knuckleball in the second inning. He went for x-rays and the Yankees confirmed he suffered a fractured left hand. Mark Reynolds replaced Nix at third base, and it'll be interesting to see how they fill the roster spot going forward.
Box Score, WPA Graph & Standings
For the box score and video highlights, go to MLB.com. For the other stats and standings, go to FanGraphs and ESPN, respectively. The Yankees are now four (!) games back of the Athletics in the loss column for the second wildcard spot. They shaved three games off their deficit in the last week or so. New York is five back of the Red Sox in the AL East and with this win, their season run differential is back to an even zero. Cool Standings gives them a 12.9% chance of playing in October.

Source: FanGraphs
Up Next
The Yankees will go for the ultra-rare four games in three days sweep on Thursday afternoon, when Andy Pettitte gets the ball against fellow left-hander J.A. Happ. Check out RAB Tickets if you want to catch the homestand-ending matinee.