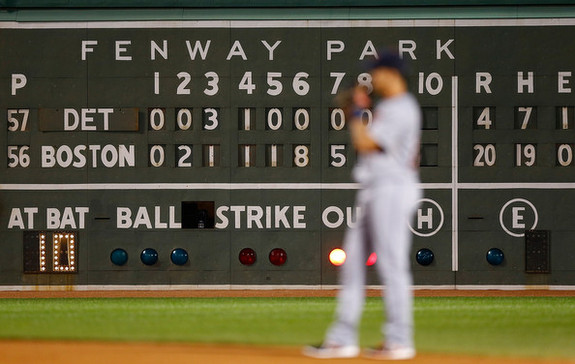 Even though the Yankees don't have much of a chance of catching the Red Sox for the top spot in the AL East, this is a hugely important series for New York's playoff chances. They're no longer in direct competition with Boston for a postseason berth, but they are in desperate need of every win possible. Once again, this is the biggest series of the year. At least until the next one.
What Have They Done Lately?
The Red Sox absolutely clobbered the Tigers yesterday. Like 20-4 with a franchise record-tying eight homeruns clobbered. Boston took two of three from the defending AL champs and have won nine of their last eleven games overall. They sit atop the division at 84-57 with a +154 run differential, both the best marks in the league. The Yankees are seven games back of the Sawx in the loss column.
Offense
At 5.1 runs per game with a team 112 wRC+, the Red Sox have the best offensive team in baseball. That's kinda scary considering how shaky the non-Ivan Nova/first 85 pitches of Andy Pettitte part of the rotation has been recently. OF Jacoby Ellsbury (110 wRC+) and C Jarrod Saltalamacchia (108 wRC+) are both dealing with nagging injuries and are listed as day-to-day, but they'll play tonight. Don't worry.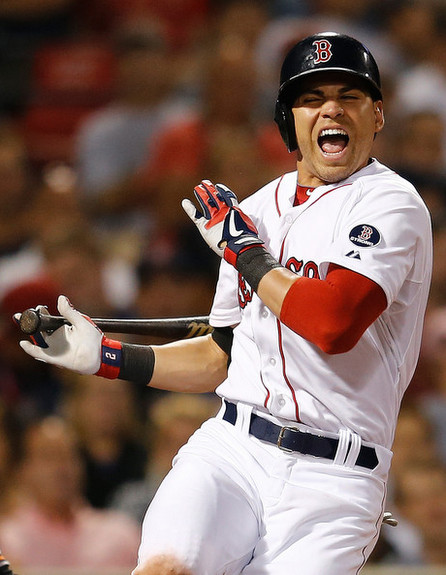 Behind Ellsbury, manager John Farrell has the highly productive trio of OF Shane Victorino (116 wRC+), 2B Dustin Pedroia (114 wRC+), and DH David Ortiz (153 wRC+). Victorino recently abandoned switch-hitting and bats from the right side exclusively now. OF Jonny Gomes (102 wRC+) has been very productive of late as well. 1B Mike Napoli (115 wRC+) has been hot and cold, ditto SS Stephen Drew (108 wRC+) and OF Daniel Nava (129 wRC+). 3B Will Middlebrooks (84 wRC+) has been pretty good since returning from the minors a few weeks ago.
1B/OF Mike Carp (141 wRC+in part-time duty) has been a force off the bench for Farrell. The team is also carrying top prospect IF Xander Bogaerts (85 wRC+ in very limited time) and they recently welcomed back backup C David Ross (84 wRC+ in limited time) from a concussion. Their crop of call-ups and extra bodies includes OF Quintin Berry, C Ryan Lavarnway, IF John McDonald, and UTIL Brandon Snyder. I wouldn't worry about those guys too much. Expect the Red Sox to rely on their regulars heavily this weekend in an effort to clinch the division and bury their oldest historic rival.
Starting Pitching Matchups
Thursday: RHP Ivan Nova vs. RHP Jake Peavy
The Red Sox went out and upgraded their rotation at the trade deadline by acquiring the 33-year-old Peavy in a three-team deal. He's pitched to a 3.91 ERA (3.92 FIP) in 19 starts this year while missing more than a month with a fracture in his ribcage. His strikeout (7.52 K/9 and 20.9 K%) and walk (1.73 BB/9 and 4.8 BB%) rates are in line with the last few years but his homer (1.35 HR/9 and 11.0% HR/FB) and ground ball (34.0%) numbers are career worsts by a decent margin. Peavy is a fastball-heavy six-pitch pitcher, using his low-90s four-seamer, low-90s two-seamer, and upper-80s cutter about 75% of the time. A low-80s changeup is his top offspeed pitch, and he'll also throw upper-70s curveballs and low-80s sliders. His platoon split is relatively small thanks to the changeup. Peavy actually made his big league debut against the Yankees back in 2002, but otherwise he hasn't faced them very much by virtue of being in the NL and/or injured.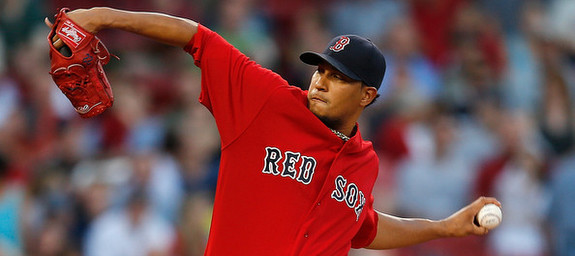 Friday: LHP Andy Pettitte vs. LHP Felix Doubront
Doubront, 25, has taken some steps forward this year and owns a 3.89 ERA (3.52 FIP) in 25 starts (and one relief appearance). Almost all of his improvement stems from cutting his homerun rate in half — he went from a 1.34 HR/9 (15.9% HR/FB) last year to a 0.66 HR/9 (7.4% HR/FB) this year. His true talent level is probably somewhere in between given his home ballpark and the other hitter friendly parks in the division. Doubront's walk (3.59 BB/9 and 9.3 BB%) and ground ball (46.5%) rates have improved slightly but his strikeout rate (7.96 K/9 and 20.5 K%) has dropped off big time from 2012. He uses four pitches regularly, including a mid-80s changeup that seems to give the Yankees fits. He sets that and his mid-70s curveball up with low-90s two and four-seamers. A mid-80s cutter is an infrequently used fifth offering. His platoon split is small. Doubront has pitched very well against the Yankees these last few years, but they did rough him up for seven runs in four innings last month.
Saturday: LHP David Huff vs. RHP John Lackey
Thanks to his brand new elbow, Lackey is having his best season since before signing with Boston. The 34-year-old has a 3.22 ERA (3.73 FIP) in 25 starts with very good walk (1.89 BB/9 and 5.1 BB%) and ground ball (47.1%) rates. His strikeout (7.71 K/9 and 20.9 K%) and homer (1.16 HR/9 and 12.7% HR/FB) totals are worse than what you'd like to see. Lackey has thrown six different pitches this year but he leans heavily on three: his low-90s four-seamer, mid-80s cutter, and upper-70s curve. He's thrown those pitches more than 90% of the time combined. A low-90s two-seamer, mid-80s changeup, and mid-80s slider are rarely used fourth through sixth offerings. For whatever reason, Lackey has a big reverse split this year — lefties have a .282 wOBA against him while righties are at .344 — that doesn't jibe with the rest of his career. The Yankees have faced the big right-hander a bunch of times over the years and have one good game (four runs in 6.1 innings) and one bad game (one run in 6.2 innings) against him in two meetings this year.
Sunday: RHP Hiroki Kuroda vs. LHP Jon Lester
I'm not sure what to make of the 29-year-old Lester anymore. He started this season very well, was terrible for a good portion of the summer, but has been awesome of late. He's sitting on a 3.88 ERA (3.70 FIP) with strikeout (7.48 K/9 and 19.6 K%) and walk (2.91 BB/9 and 7.6 BB%) rates that are damn near identical his disaster season a year ago. His ground ball rate (44.2%) has dropped and yet he's giving up significantly fewer homers (0.87 HR/9 and 8.9% HR/FB). Furthermore, Lester's four-seam fastball recently jumped back into the mid-90s and he's begun to shelve his upper-80s cutter. A low-90s sinker, mid-80s changeup, and mid-70s curveball round out his repertoire. The Yankees have seen Lester plenty of times over the years and know everything there is to know about him. No surprises here.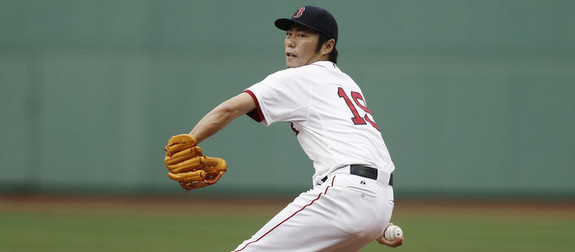 Bullpen Status
Thanks to yesterday's laugher, the Red Sox were able to rest all of their important late-game relievers and come into this series in good bullpen shape. Closer RHP Koji Uehara (1.83 FIP) has been untouchable for about two months now, but he doesn't really have a set setup man. RHP Junichi Tazawa (3.15 FIP), LHP Craig Breslow (3.69 FIP), RHP Brandon Workman (3.38 FIP), and LHP Matt Thornton (4.00 FIP) all rotate in and out of the role depending on who's pitching well at the time. LHP Drake Britton (2.80 FIP in limited time), RHP Rubby De La Rosa (7.54 FIP in very limited time), and LHP Franklin Morales (4.65 FIP in limited time) round out the eight-man bullpen.
Even though the Yankees had to use both Mariano Rivera and David Robertson yesterday, their bullpen is still in very good shape heading into tonight's series opener. Those two have actually had a surprising amount of time off recently. Thanks to the expanded rosters, Joe Girardi has a whopping eleven relievers at his disposal. I'm guess we'll see all eleven at some point this weekend. Check out our Bullpen Workload page for details and Over The Monster for the latest and greatest on the Red Sox.