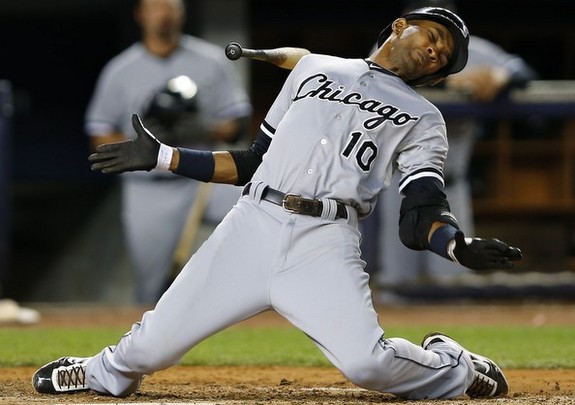 Despite yesterday's dramatic come-from-behind win against Chris Sale and the White Sox, the Yankees saw their playoff chances decrease from 11.0% to 10.5% according to Baseball Prospectus. The Rays pounded the Angels late last night, so all New York's win did was maintain their three-game deficit in the wildcard race loss column. Each day that ticks off the calendar without progress being made in the standings chips away at the team's postseason odds. There are only 23 games left after tonight. Here's the lineup Joe Girardi is running out there against rookie right-hander Erik Johnson, who is making his MLB debut:
CF Brett Gardner
SS Derek Jeter
2B Robinson Cano
DH Alfonso Soriano
LF Curtis Granderson
3B Alex Rodriguez
RF Ichiro Suzuki
1B Lyle Overbay
C Austin Romine
And on the mound is left-hander CC Sabathia. The ChiSox are the very worst hitting team against lefties in all of baseball (78 wRC+), so if CC can't contain them tonight, I don't want to think about what will happen the rest of the season. He needs to come up big tonight.
It's been a damn near perfect weather day in New York. Great night for baseball. First pitch is scheduled for 7:05pm ET and can be seen on YES. Enjoy.