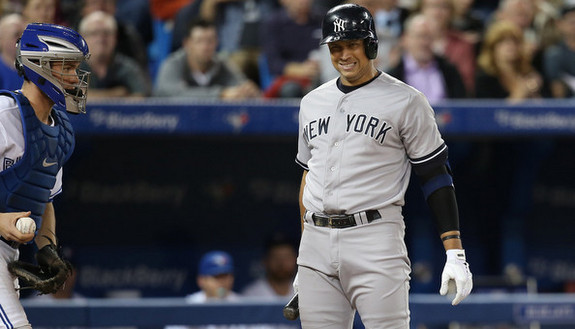 At some point in the next week or so, the Yankees are going to be officially eliminated from playoff contention. That is, unless, they go off on a ridiculous tear and win nine of their final eleven games or something like that. Even then they would need some serious help from the five (!) teams ahead or tied with them in the standings. The only thing the Yankees can do is win their games — that has been a big challenge of late — and hope for the best. Here's the lineup that will face left-hander J.A. Happ:
CF Curtis Granderson
DH Alex Rodriguez
2B Robinson Cano
LF Alfonso Soriano
RF Vernon Wells
1B Mark Reynolds
3B Eduardo Nunez
C J.R. Murphy
SS Brendan Ryan
And on the mound is right-hander Phil Hughes … for the first few innings at least. Expect to see lefty David Huff at the first sign of trouble now that they're working as a tandem.
It's a lovely day in Toronto, nice and cool without a cloud in the sky. I imagine they'll have the roof open at Rogers Centre. First pitch is scheduled for a little after 7pm ET and can be seen on YES. Try to enjoy.
Injury Updates: Boone Logan (elbow) threw 30 pitches in the bullpen — fastballs and sliders — and said everything felt fine. If he wakes up tomorrow feeling good, he could be available as soon as Friday.