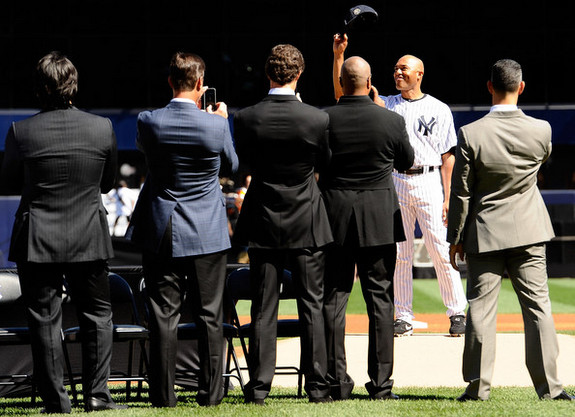 This series with the Rays could have been a lot more meaningful had the Yankees not gone into their recent tailspin. They've lost six of their last nine and ten of their last 17 games, which simply wasn't good enough in the ultra-competitive AL wildcard race. There were too many other good teams in the hunt and they've buried New York.
So, instead of this series being about pushing the Rays and trying to claim a postseason spot, the Yankees are basically playing spoiler. Competing because they're professionals and have pride. These are the only three home games left in Mariano Rivera's career and that, to me, is the story of the series. I'll be at the game tonight collecting my Mo bobblehead voucher, but as much I as I want that sucker sitting on my desk, I'll happily trade it to see Rivera pitch live for what will likely be the final time in my life. That really freaking sucks. Geez.
Anyway, here is the lineup that will face lefty Matt Moore:
CF Ichiro Suzuki
DH Alex Rodriguez
2B Robinson Cano
LF Alfonso Soriano
1B Mark Reynolds
3B Eduardo Nunez
RF Vernon Wells
SS Brendan Ryan
C Chris Stewart
And on the mound is right-hander Hiroki Kuroda. He's got a 5.33 ERA (3.99 FIP) in his last eight starts and opponents are hitting .300/.347/.510 against him during that time. Kuroda, who was a legitimate Cy Young candidate as recently as mid-August, has turned each of the last 217 batters he's faced into something resembling 2011 Cano (.302/.349/.522). Good grief.
It's chilly but an otherwise clear night in New York. There's no threat of rain or anything like that. First pitch is scheduled for 7:05pm ET and can be seen on My9. Enjoy.