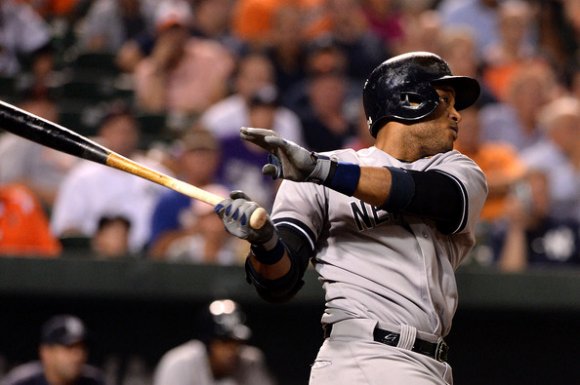 If you were the GM of the Tigers, and two winters ago you could have signed Prince Fielder to a two-year, $76 million contract, would you have? Paying him $38 million annually sounds steep, but getting him for only his age-28 and age-29 seasons mitigates that inflated salary. It's a deal that Fielder never would have signed, but it's the deal that the Tigers got. I imagine they're happy with the way that turned out.
What the Tigers essentially did was walk away when they had the opportunity. Signing him two off-seasons ago was a play for the short-term. Detroit had just made the World Series and felt they weren't far from a victory. While they did make the Series last year, and the ALCS this year, it became apparent that their roster had some weaknesses. The landscape changed, so Detroit acted while it had the opportunity.
The Yankees now have an opportunity to walk away from an enormous contract. They won't get back a player, as the Tigers got with Ian Kinsler, other than whoever they can take with a low-30s draft pick, so the situations aren't directly comparable. What they would gain is significant financial flexibility, something they apparently desire. While it might hurt, especially in 2014, Tyler Kepner of the NY Times argues that letting Robinson Cano walk is the right move.
The risks of long-term contracts for players already in their 30s is well documented. The Yankees need look no further than their own organization six years ago, when they signed Alex Rodriguez to a 10-year contract. In Rodriguez the Yankees see how injuries and performance decline can hamper even a generational talent. Cano, even as one of the league's premier hitters, doesn't quite reach A-Rod's level. So why sign him to a contract that could similarly cripple the organization?
Kepner's argument centers on this kind of risk aversion. In discussing a 7-year, $161 million contract for Cano, Kepner says, "That kind of deal has put the Yankees in their present state — decaying and injury-prone — and the team needs to break the cycle." The problem is that there isn't any player, or even group of players, currently available that can help the Yankees as much as Cano. Even if the last three years of a seven-year deal are well below what his salary warrants, the Yankees still need Cano in those first four seasons.
Yes, but what about the Cardinals, who lost Albert Pujols and have done quite well without him? Kepner cites this case, noting that the Cardinals went on to sign Carlos Beltran and hand out a few extensions on the path to two playoff berths and a World Series appearance. While it sounds nice, it completely ignores the organizational differences between the Cardinals and the Yankees. For starters, Pujols wasn't even the best hitter on the Cardinals in 2011; Lance Berkman and Matt Holiday each put up better numbers. They also had Allen Craig, who had broken out in 2011 and was ready for a regular gig. That's not even bringing their robust farm system into the equation.
The Yankees have none of these things. Alfonso Soriano is solid, and Mark Teixeira could come back to produce next season, but even if both have fine years the Yanks still aren't nearly as deep as the Cardinals. There is no Yadier Molina, there is no Allen Craig, there's no Matt Adams and Matt Carpenter. There is, hopefully, an Adam Wainwright in CC Sabathia, but there's no Lance Lynn, Joe Kelly, or Shelby Miller. If the Yankees plan to contend in 2014 they need to do it with a heavy top-end. That's not going to work without Cano.
What about punting 2014? That's not a strategy that really pays off in baseball. The Astros are trying it now, and even then it's going to take them several more years to get even a little feedback on their experiment. Getting a draft pick for Robbie is nice, and getting a higher draft pick next year would be nice as well. But are those two picks going to turn around the organization? Doubtful. Even if they do, it will take years and years for that process to play out. Does anyone have that kind of patience?
The alternative is using the $23 or so million for Cano and spreading it to a few other players. Kepner lists the possibilities, and we're familiar with all the names. But it's not as though the Yankees can take Cano's salary and somehow turn it into two high-end free agents. Brian McCann will cost between $15 and $18 million himself. Shin-Soo Choo might cost even more. Perhaps savings from Cano, plus the other money the team has available, can turn into three free agents. But none of them will be as good as Cano.
Therein lies the choice. Do you bring in the superstar, understanding that he's your only superstar, or do you spread the wealth a bit? People love to cite how the Red Sox spread the wealth last winter, but fail to mention that they already had a superstar on board in David Ortiz and a damn good first mate in Dustin Pedroia. Again, the Yankees don't have that. They can't replicate what the Cardinals or Red Sox did, because their franchise is in a completely different position right now.
The biggest risk with Cano, or any other long-term contract, lies in the later years. Given how he's performed in the last few years, it's difficult to imagine Cano declining much, if at all, in the next year or so. If he can manage a graceful decline (anything but guaranteed), the last three to four years of a seven- or eight-year contract will be the ones that hurt. This is actually good news for the Yankees. In year-five of a potential Cano deal, they have zero dollars in current obligations. In year-four they have just $26 million.
In other words, this isn't some situation where they hand out $700 million in five-plus-year contracts within the span of two off-seasons. They've done a good job of limiting obligations in the last few years, and given their lack of future payroll the effort is starting to show. Adding Cano now will hurt if they sign a bunch of five- and six-year deals in the next two off-seasons. Given the market, I don't think it will come to that.
As Mike has noted, frequently, this off-season, even if the Yanks add Cano, Carlos Beltran or Jhonny Peralta, and Masahiro Tanaka, they still might not contend in 2014. But even if they're going to struggle again next year, they still have needs in 2015 and beyond. Letting Cano go stands directly in opposition to those future goals.
Just because some other teams played the market a certain way doesn't mean the Yankees should follow suit. They're in a different position than those teams. Given their current roster, and the fruits on the farm, Cano become an essential piece to not only potential contention in 2014, but also 2015 and beyond. Letting him walk, especially at seven years and $161 million, a deal he'll almost certainly exceed, because other teams did something similar, would be foolish. The Yankees need Cano just as much as Cano needs the Yankees.