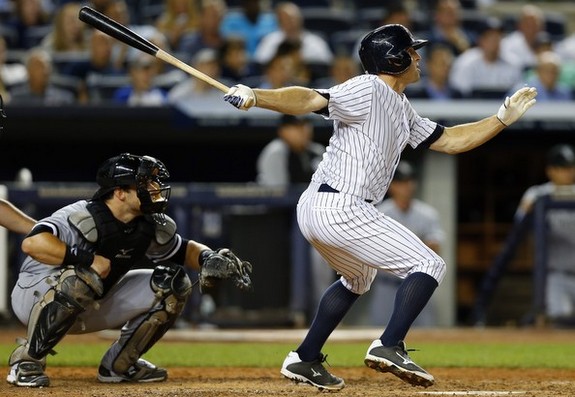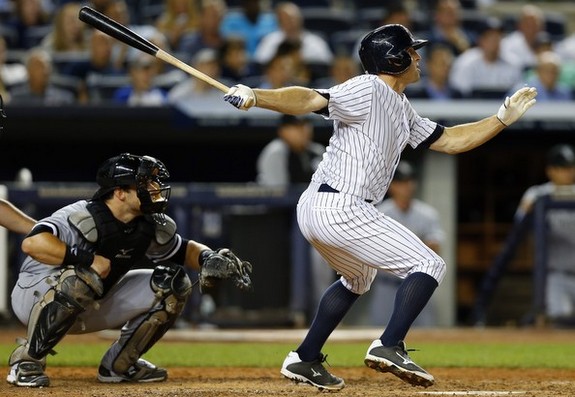 The murmurs started when the Yankees signed Jacoby Ellsbury, but grew much louder when they signed Carlos Beltran last Friday. Given the Yankees' myriad needs, they could trade Brett Gardner to help shore up an area of weakness. While it might make sense in terms of the current roster construction, the proposition becomes much more difficult when viewing it from a resource allocation standpoint.
Just because the Yankees have something of a surplus does not mean they must trade it away. We've seen first hand how quickly a surplus can become a deficit. If the Yankees were to trade Gardner, and then saw Carlos Beltran, Jacoby Ellsbury, or Alfonso Soriano miss time due to injury, they're facing time with Zoilo Almonte as a starting outfielder.
Injuries happen, of course, and it's not as though teams are expected to have major-league-ready backups at every position. Perhaps the better point is that since both Beltran and Ellsbury have injury histories, keeping Gardner helps insure the Yankees against missing too much production if they do miss time. Beltran could need more than a few games at DH, and chances are the Yanks could use Soriano there for a non-trivial number of games as well. Keeping Gardner allows them to keep the DH spot rotating, perhaps helping keep everyone healthy.
Insurance and flexibility aren't the only reason to consider keeping Gardner. They might not even be the strongest. If the Yankees can't get back a player as valuable as Gardner, trading him becomes a liability. There are many different ways of assessing value, but by most measures Gardner has been an underrated player throughout his career, particularly since he took over as a starting outfielder in 2010.
While a large portion of Gardner's value comes from his defense, which is difficult to quantify, he's no slouch on offense. Since he became a starter in 2010, Gardner has produced 35.2 runs with his bat. He's no Jose Bautista or Ryan Braun, but he has still created the 39th (out of 117) most runs in the majors in that time span. In 2013 his 8.3 runs on offense ranked 29th out of 50 qualified OF. That's not bad for a guy who creates most of his value with the glove.
Speaking of his glove, Gardner has proven his value in left field. While he started there, in 2010 and 2011, he was far and away the best defensive LF in baseball by every available measure. A move to left field actually increases that overall value,* since Gardner is orders of magnitude better than the average MLB left fielder. All of this makes it difficult to get a real grasp of Gardner's actual value.
*Yes, the defensive stats at FanGraphs are all flawed in ways. You can plug in plenty of numbers and come to this conclusion, but for this exercise we'll just use FG's. In 2011, Gardner produced 26.7 runs with his glove. Since he played in left field, he got a -5.8 positional adjustment, for a total defensive value of 20.9 runs. In 2013, in center field, he produced -0.5 runs with his glove, and got a positional adjustment of +1.8 runs, for a total of 1.3 runs. The points are 1) Gardner is much better compared to the league average left fielder than his is the average center fielder, and 2) even if Gardner produced 18 runs with his glove in center, he'd still be a wash with his value in left. It's not the most airtight argument in the world, but from it we can discern the premise: playing a player with a great glove and decent bat in left field can pay dividends.
If Gardner reaches free agency next off-season, what are the chances he gets a contract within $100 million of Ellsbury's deal? While his market could change between now and then, especially with a strong 2014 at the plate, I can see him getting a four-year, $50 million contract. That would represent one of the greatest bargains on the market, given what other, less valuable outfielders have gotten. If this is Gardner's perceived value around the game, he could very well be more valuable playing for the Yankees than in a trade for another player.
On trade possibility making its rounds is Gardner for Homer Bailey. With the expected departure of Shin-Soo Choo, the Reds need a center fielder and a leadoff hitter. The Yankees need pitching, so the swap seems reasonable on the surface. It's when we examine the issue through the lens of actual vs. perceived value that we see discrepancies.
From the commentary I've read, the idea is Gardner and a prospect for Bailey. That certainly represents Bailey's and Gardner's perceived values, but in terms of actual value it's tough to justify. After years of struggling, Bailey has rounded into form the last two seasons, producing a 111 ERA+ in 417 innings. That is, he's a solid No. 3 on a first-division team, an asset the Yankees could certainly use.
For his part, Gardner has been a solid starting outfielder no matter his position. His bat might not rank among the best, but it's better than is generally perceived. If that value isn't reflected in his trade value, then he could be worth more playing for the Yankees, in a season when they'll almost certainly need four outfielders, than as a trade chip, even for a position of need. That goes especially if the Yankees can lock him up on a reasonable deal. Given the sizes of left and center fields at Yankee Stadium, they might need two guys like Ellsbury and Gardner to cover ground.
If the possibility came up and Walt Jocketty offered Brian Cashman Bailey for Gardner, straight up, Cashman would have a difficult time refusing. He needs a reliable starting pitcher, and Bailey has proved himself as such in the last two years. Entering his age-28 season, he could be poised for a career year. At the same time, Gardner has plenty of unperceived value on the field. It's not as though he'll languish on the bench and get two starts a week. If he stays he'll get at least 550 at-bats and plenty of time in the field.
The question of perceived vs. actual value makes the idea of trading Gardner a complex one. If he's more valuable than the player coming back, then why would the Yankees trade him? Unless they're desperate to fill a position of need, they should probably refrain. Which is to say, I don't think they're going to trade Gardner in the next few weeks unless someone offers a player within Gardner's actual value range.