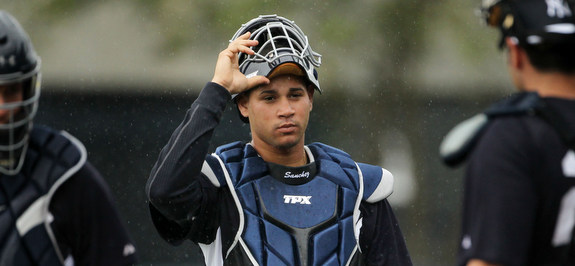 The Yankees have a policy of not negotiating a new contract until the old one expires, except when they don't. We first heard about this "policy" in the spring of 2007, when Mariano Rivera and Jorge Posada entered the final years of their contracts. Not wanting to sign two older players while they each still had a year left on their current deals, Brian Cashman spoke of this policy.
It was probably a line that he regrets.
Cashman had to tap dance around the line that following winter, when he signed Robinson Cano to an extension. True, Cano's contract was technically up, since he was still in his pre-free-agency years. But it was still an extension before it became necessary.
It was also one of the smartest moves Cashman has made. With the two team options the Yankees moved Cano's free agency date from 2012 to 2014. They also paid him a reasonable $15 million per year. So why don't the Yankees do this with other players?
(You can think about this another way: if Cano had become a free agent after 2011, he might not have gotten a 10-year deal at $24 million per year. Perhaps the Yankees could have signed him, as a 29-year-old, to a Teixeira-like eight years and $180 million.)
One answer to that question: the Yankees haven't really had any players worth signing to an extension since Cano. David Robertson and Brett Gardner are the only ones who come to mind, but they've done fine with those two going year-to-year. Really, no superstars have come up through the Yankees system in quite some time.
This week at ESPN NY, Wallace Matthews and Andrew Marchand have covered the Yankees' thin system. What they cover is mostly the first whammy: the lack of cost-controlled talent. Developing even three starters during a five-year period can greatly reduce a team's needs in free agency. The Yankees failures in development have cost them dearly, almost a half billion this winter alone.
There is another aspect, less considered, that hurts the Yankees in the long-term. This week the Braves signed Freddie Freeman to an eight-year, $135 million contract. A $16.875 million AAV might seem lean for a superstar, and it's true that Freeman hasn't totally proven himself one. But the Braves like enough of what they've seen to lock him down long term.
Freeman doesn't turn 25 until September.
Because they've drafted and developed well, the Braves opened themselves to this opportunity. They can sign a 24-year-old to an eight-year deal at a $17 million AAV, while other teams scramble to sign free agents for prices much higher than that. We can look right to the Yankees and Mark Teixeira as a counter example.
In 2008 the Yankees signed Teixeira, entering his age-29 season, to an eight-year, $180 million contract. The Yankees faced competition when bidding on Teixeira, notably from the Angels and the Red Sox. The winning prize was paying a guy $180 million for his age-29 through age-36 seasons.
The Braves, on the other hand, competed with no one and will pay $135 million for Freeman's age-24 through age-31 seasons. Yes, they're paying a $17 million AAV for a guy who would probably make $5.75 million in 2014. But they bet on Freeman, buying out not only his three arbitration, but five of his free-agent years.
Because the Yankees haven't developed any of their own talent, they have no opportunities for deals of this ilk. Yes, those deals might cost a team more in the short term. But long term who is better off: the Braves, who will pay Freeman during his prime years, or the Yankees, who will pay Brian McCann for his declining years?
With so much money circulating around the game, deals like Freeman's could become much more common. If you're the Angels, wouldn't you offer Mike Trout 10/300 once he becomes arbitration eligible? Yes, it will cost you in the short-term, but you'd get him for his age-23 through age-32 seasons, rather than waiting for him to hit free agency at age 26 and bidding against other teams.
Yes, the farm system can help by producing quality players who will cost little for up to six years. But if it can produce superstars, it can provide long-term savings. That's what the Yankees are missing now, and this winter we've seen the consequences.