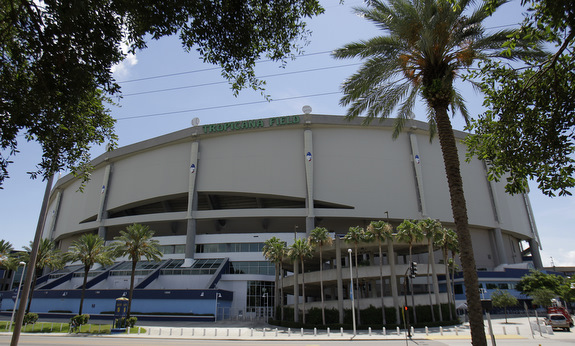 After spending close to two months in Tampa for Spring Training, the Yankees return to the area for a four-game series against the Rays this weekend. Well, technically Tropicana Field is in St. Petersburg, so I guess they aren't actually in Tampa again. Whatever. With any luck, this series will go as well as the four-gamer against the Red Sox last weekend.
What Have They Done Lately?
The Rays have lost three games in the last four days with a rainout mixed in. They've lost six of their last nine games overall. Tampa Bay is 7-8 with a -8 run differential on the season.
Offense
Manager Joe Maddon's ball club comes into this series averaging only three runs per game with a team 94 wRC+, so they're getting some guys on base but can't bring them home. They have scored 14 runs total in their last nine games. Yikes. Tampa is perfectly healthy on the position player side with no one on the DL. The same can not be said of their pitching staff.
As usual, Maddon's lineup is anchored by 3B Evan Longoria (118 wRC+), who remains annoyingly great. 2B Ben Zobrist (158 wRC+) has had a better year than Longoria to date, and OF Desmond Jennings (149 wRC+) is doing a fine job in a supporting roles. Reigning Rookie of the Year OF Wil Myers (47 wRC+) is off to a slow start and 1B James Loney (91 wRC+) has not yet carried over last summer's surprising success.
OF Matt Joyce (198 wRC+) and OF David DeJesus (56 wRC+) split time in left field, though Joyce is seeing more at-bats lately due to his hot start. SS Yunel Escobar (54 wRC+) isn't doing much of anything, ditto the catching platoon of C Ryan Hanigan (73 wRC+) and C Jose Molina (-48 wRC+). OF Brandon Guyer (11 wRC+), UTIL Sean Rodriguez (146 wRC+), and UTIL Logan Forsythe (46 wRC+) round out the bench. This year's club features fewer platoons than what Tampa has employed in recent years.
Pitching Matchups
Injuries have hit the Rays' rotation really hard this year, so their staff is not nearly as strong as we're used to seeing. Matt Moore (Tommy John surgery), Jeremy Hellickson (elbow), and Alex Cobb (oblique) are all on the DL and not particularly close to returning. The pitching prospect pipeline has dried up too, so Tampa has had to scramble to cobble together a rotation over the last ten days or so.
Thursday: LHP CC Sabathia vs. LHP David Price (Career vs. NYY) (Pitcher GIFs)
Had Tuesday night's Rays-Orioles game not been rained out, the Yankees would have missed Price in this four-game series. Instead, it rained, and he was pushed back a day. It's because I opened by big mouth earlier that afternoon. Anyway, the 28-year-old Price had a 3.33 ERA (3.03 FIP) in 186.2 innings last season, which almost constitutes a down year for him. His strikeout rate dropped (7.28 K/9 and 20.4 K%), but so did his walk rate (1.30 BB/9 and 3.7 BB%). Price's ground ball rate (44.9%) was down from 2012 but in line with his career norms, and as usual he crushed left-handed batters (.220 wOBA). Righties had a little more success (.311 wOBA). Price is still a fastball-first pitcher, throwing his low-to-mid-90s four-seamer and mid-to-upper-80s cutter roughly 70% of the time combined. When right, he backdoors the cutter to righties and it is just unhittable. It looks like a ball right up until darts over the outside corner. A low-80s changeup and upper-70s curveball are his secondary offerings. Price is throwing the ball as well as he ever has right now, and last time out he struck out ten Reds in 8.1 innings of one-run ball.
Friday: RHP Hiroki Kuroda vs. LHP Erik Bedard (Career vs. NYY) (No Pitcher GIFs)
Bedard, 35, opened the season in Triple-A before getting the call to help cover for injuries. This will be his first start for Tampa. Last season, the veteran southpaw had a 4.59 ERA (4.38 FIP) in 151 innings for the Astros, with a strong strikeout rate (8.23 K/9 and 20.8 K%) but poor walk (4.47 BB/9 and 11.3 BB%) and ground ball (36.4%) rates. He also had a reverse split, holding righties to a .333 wOBA while lefties tagged him for a .368 wOBA. Bedard's fastball is mostly upper-80s these days, and he backs it up with his trademark big-breaking mid-70s curveball. He'll also throw a low-70s changeup. Bedard allowed one run in four innings in his only Triple-A start, and one run in two relief innings for the Rays a few days ago.
Saturday: RHP Ivan Nova vs. RHP Chris Archer (Career vs. NYY) (Pitcher GIFs)
Archer finished third in the AL Rookie of the Year voting last season thanks in part to his success against the Yankees. He dominated them, allowing just three runs on 12 hits and three walks in 22 innings across three starts. The righty also threw a two-hit, 97-pitch shutout in Yankee Stadium. Archer, 25, had a 3.22 ERA (4.07 FIP) in 128.2 innings last season with good peripherals: 7.06 K/9 (19.2 K%), 2.66 BB/9 (7.2 BB%), and 46.8% grounders. He is mostly a two-pitch pitcher, living off his mid-90s fastball and mid-80s slider. He'll mix in the occasional mid-80s changeup, but only a handful per start. Unsurprisingly, he has a huge platoon split with that pitch mix, dominating righties (.227 wOBA) but getting dominated by lefties (.343 wOBA) in his short big league career. Archer got knocked around pretty good last time out (seven runs in five innings against the Orioles) but had two very strong starts to open the year.
Sunday: TBA vs. LHP Cesar Ramos (Career vs. NYY) (Pitcher GIFs)
After losing out on the fifth starter's job in Spring Training, the 29-year-old Ramos moved into the rotation following Moore's injury. He has been a reliever the past four years, throwing 67.1 innings of 4.14 ERA (3.70 FIP) ball for Tampa Bay last year. His strikeout (7.08 K/9 and 18.4 K%), walk (2.94 BB/9 and 7.6 BB%), and ground ball (40.9%) rates were solid but unspectacular. Ramos sits right around 90 mph with his fastball as a starter, and he has the usual complement of offspeed pitches: mid-80s changeup, low-80s slider, low-70s curveball. He got demolished during his first start a few days ago, allowing four runs on three hits and three walks in only two innings against the Reds.
As for the Yankees, they need a spot starter for Sunday because of Tuesday's rainout and Wednesday's doubleheader. Since Shane Greene can not be called back up yet and there are no other realistic options on the 40-man roster, it seems like Vidal Nuno is the best candidate. Nothing has been officially announced, of course. The Yankees are off on Monday and can afford to go nuts with their bullpen on Sunday if need be.
Bullpen Status
Closer Fernando Rodney joined Robinson Cano in Seattle, so Maddon now hands the ball off the RHP Grant Balfour (4.85 FIP) in the ninth inning. He returned to the Rays this offseason after his deal with the Orioles fell through. RHP Joel Peralta (6.36 FIP) is his primary setup man, and with Ramos now in the rotation, LHP Jake McGee (1.75 FIP) is the only southpaw.
The middle relief crew is a parade of right-handers, including RHP Josh Lueke (6.00 FIP), RHP Brad Boxberger (1.13 FIP), RHP Brandon Gomes (4.90 FIP), and whatever's left of RHP Heath Bell's (4.48 FIP) career. Boxberger, Peralta, and Gomes all pitched yesterday afternoon, but none threw more than 17 pitches. As for the Yankees, check out our Bullpen Workload page to see who has thrown what and when. For the best Rays analysis, head to The Process Report and DRays Bay.