I guess the good news is that the Yankees didn't get blown out by the Mariners on Tuesday night. The so-called Bronx Bombers had this "win or get blown out" thing going for a little while. Robinson Cano's new team won the series opener 6-3.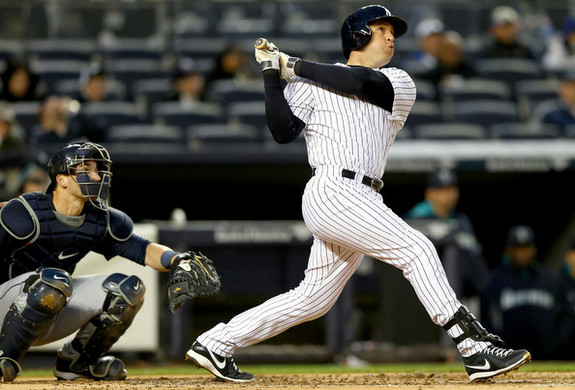 More Offensive Struggles
Did you realize the Yankees came into this game having scored more than four runs just twice in 13 home games? It's true. They haven't scored more than four runs at home since the second-to-last game of the Red Sox series, Brian McCann's two-homer game. That was eight home games ago. They also scored only eight runs total in the three games against the Angels this past weekend. Easy to forget they were knocking the cover off the ball up in Boston not that long ago. Baseball, man.
The Yankees actually jumped out to a two-run lead early on against the Mariners, getting a Mark Teixeira solo homer in the second and a gift run on a throwing error in the second. Brett Gardner attempted to steal second against the Chris Young-Mike Zunino battery and he did, though Zunino threw the ball into center and Brian Roberts trotted home from third. That play was on the shortstop, Willie Bloomquist. Bad throw but one he has to knock down and keep on the infield.
It was tough to get something going against Young and his 85 mph nothing ball, but the Yankees did push a run across and bring the tying run to the plate in the ninth. Fernando Rodney then struck out both Derek Jeter and Carlos Beltran, so that was that. Teases. The bottom four hitters in the lineup went a combined 5-for-13 (.385) with three walks, so they were doing some damage, but the top five hitters went 3-for-21 (.143) all together. Those are the guys who need to produce and right now some of them simply aren't. The Yankees will continue to have trouble scoring runs until those guys get going.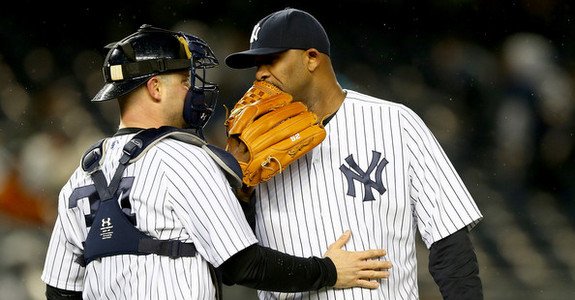 CC Sa-bad-thia
The first four innings of this game were vintage Andy Pettitte. CC Sabathia wiggled around some trouble with an array of well-placed offspeed pitches and some solid defense behind him. Things came undone in the fifth inning — there's that one bad inning again — when the Mariners put together a four-run rally thanks in part to a pair of infield singles. The first was overturned on replay and Roberts failed to cover first on a sac bunt attempt for the second. Just like that, Seattle was in business.
Sabathia struck out Stefen Romero for the first out and got Cano to ground out to first for the second out, so it looked like he was about to escape the jam, but then he caught too much of the plate with a two-strike fastball to Corey Hart. Hart doubled into the right-center field gap to score two runs and turn a one-run Yankees lead into a one-run Mariners lead. Justin Smoak poked a single to right one batter later to score Hart. Add it all up and you get four runs. Sabathia's final line was those four runs on nine hits in five innings plus two batters. He struck out six. CC's last two starts were really good. This one? Not so much.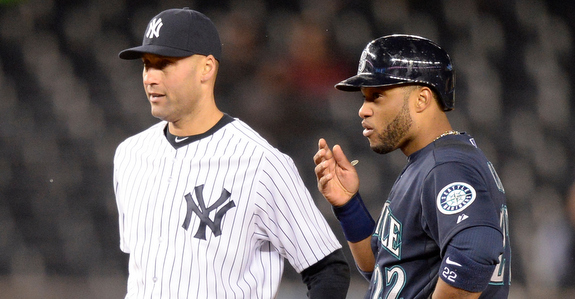 Leftovers
Dellin Betances and Preston Claiborne combined to allow two insurance runs in the seventh inning. Betances put 'em on and Claiborne let 'em come home. Betances struck out four and did escape a first-and-third, no outs situation, but he needed 40 pitches to get five outs. Chris Leroux made his Yankees debut in garbage time, allowing two bloop singles in a scoreless inning. He'll be the guy you forget on the Sporcle roster quiz at the end of the season. The four pitchers combined for 12 strikeouts and no walks.
Teixeira's homer was his second in as many games. It was also his 81st homerun at the new Yankee Stadium, which is the ballpark record. He broke a tie with Cano with his solo homer in Sunday's game. Here's the full list, if you're interested. Yangervis Solarte and Roberts both doubled for the team's only other extra-base hits of the night.
And finally, Cano went 1-for-5 with an infield single, a stolen base, and two strikeouts in his return to the Bronx. He was indeed booed in his first at-bat, rather loudly by all 37 people in attendance. There was also a "you sold out!" chant. All that was missing was Randy Levine holding up TRADER sign in the owner's box.
Box Score, WPA Graph & Standings
MLB.com has the box score and video highlights, FanGraphs some additional stats, and ESPN the updated standings.

Source: FanGraphs
Up Next
Same two teams tomorrow night, assuming the weather holds up. The forecast is looking pretty grim right now and in fact the Mariners have reportedly been told to check in to see if the game is postponed before coming to the ballpark on Wednesday. If they do play, it'll be David Phelps against rookie lefty Roenis Elias. RAB Tickets can get you in the door if you want to catch the game live.