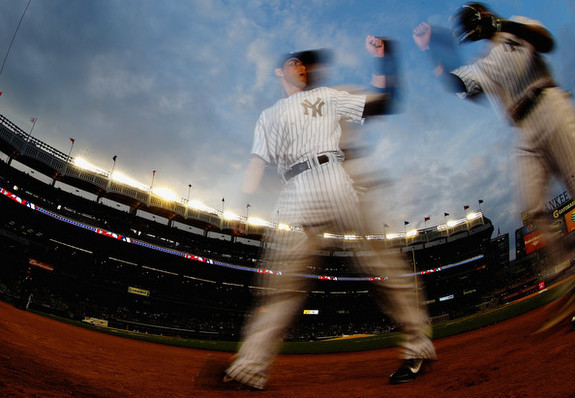 The Yankees lost a disappointing game to the Red Sox last night, but the quick turn-around means they can turn the page right away and focus on today's game. I suspect these guys don't have any problems turning the page anyway. Veteran team, been there, done that, yadda yadda yadda. There's no time to dwell on anything in this sport.
The one thing I enjoy about this current Yankees team is that just about every day, they're sending a quality starting pitcher to the mound. That hasn't always been the case the last few years and really the last ten or twelve years. Hiroki Kuroda gets the nod this afternoon and, despite being the team's best pitcher the last two seasons, he might only be their third best starter right now. That's kinda cool. Kuroda has been excellent at Yankee Stadium and I sure would like that to continue this afternoon. Here is the Red Sox lineup he'll face and the Yankees lineup that will back him up:
LF Brett Gardner
2B Brian Roberts
CF Jacoby Ellsbury
DH Carlos Beltran
C Brian McCann
RF Alfonso Soriano
1B Kelly Johnson
3B Yangervis Solarte
SS Dean Anna
RHP Hiroki Kuroda
It rained a little bit this morning but not much, and the forecast for this afternoon is gorgeous. Sunny with blue skies and not a cloud in sight. Temperatures approaching 70 too. That's awesome. This afternoon's game will air on YES (not FOX) and begin shortly after 1pm ET. Enjoy.