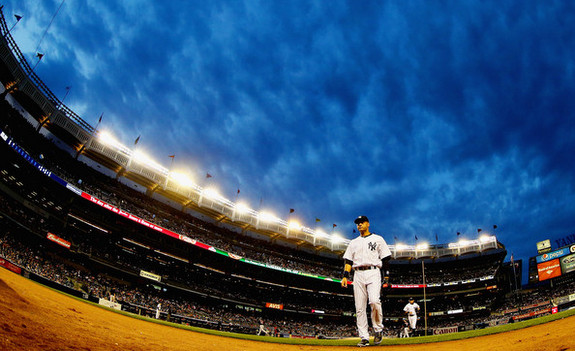 The Yankees have assured themselves of at least a split of this four-game series with the Red Sox. Tonight they have a chance to win three of four and feel really, really good about themselves during tomorrow's off-day. Picking up seven wins while starting the year with 13 games in 13 days would be pretty good, especially since Mark Teixeira, David Robertson, and now Derek Jeter are all hurt. Doesn't sound like Jeter's injury is serious, however.
Though the first two turns of the rotation, Ivan Nova has been the team's worst starter. He was able to battle through his first start despite big time control problems, but he had no such luck last time out, surrendering seven runs on ten hits in 3.2 innings. This game is as good as any to turn things around. The only reason the Yankees don't have one of the best rotations in baseball right now is Nova's rough start and CC Sabathia's one bad inning syndrome.
Adam Warren has pitched each of the last two days, three times in the last four days, and five times in the last seven days, so I'm pretty sure he won't be available tonight. David Phelps and Vidal Nuno, who had extended outings in recent days, should be good to go by now. So yeah, would be nice if Nova pitches deep into the game and the offense puts up a crooked number or two. Here is the Red Sox lineup and here is the Yankees lineup:
LF Brett Gardner
RF Carlos Beltran
CF Jacoby Ellsbury
DH Alfonso Soriano
C Brian McCann
2B Yangervis Solarte
3B Kelly Johnson
1B Frankie Cervelli
SS Dean Anna
RHP Ivan Nova
It is cloudy and cool in New York tonight, so a lovely night for baseball. No potential rain or anything like that. First pitch is scheduled for 8pm ET and you'll be able to watch this one on ESPN. Enjoy.
Teixeira Update: Teixeira (hamstring) hit on the field for the first time today. Joe Girardi said he is unsure when his first baseman will begin a minor league rehab assignment, however. [Meredith Marakovits]