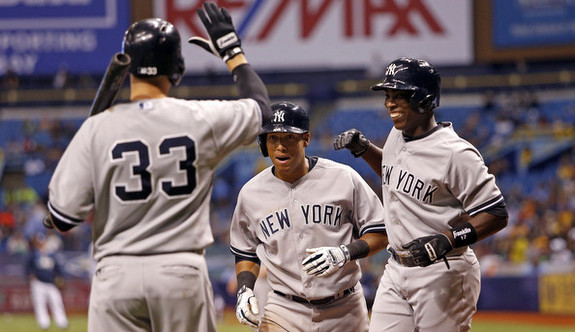 The Yankees have won five games in a row (six of their last seven!) and they've done it with offense, with pitching, and with defense. One phase of the game is not carrying them, it's all three. Unlike last April, when the team played well but it felt like we were waiting for the other shoe to drop for certain players (Vernon Wells and Travis Hafner, specifically), this year's success feels far more sustainable. I can't be the only who feels like that, right?
Anyway, Carlos Beltran is not in tonight's lineup after tumbling over the right field wall in foul territory last night. According to the various beat writers on the scene, Beltran had an MRI on both his wrist and shoulder and everything came back clean. He is sore though, and he will skip batting practice today and instead receive treatment. Beltran hopes to play tomorrow but Joe Girardi is fond of giving players that one extra day when they're banged up. We'll see. Here is the Rays lineup and here's the Yankees lineup:
LF Brett Gardner
SS Derek Jeter
CF Jacoby Ellsbury
DH Alfonso Soriano
C Brian McCann
2B Yangervis Solarte
1B Kelly Johnson
3B Scott Sizemore
RF Ichiro Suzuki
RHP Hiroki Kuroda
It is hot, humid, and pouring in St. Pete tonight, but none of that matters because of Tropicana Field. It'll be a climate-controlled 72 degrees (or thereabouts) for tonight's game whether you like it or not. First pitch is scheduled for just after 7pm ET and you can watch live on YES and, depending on where you live, MLB Network. Enjoy the game.