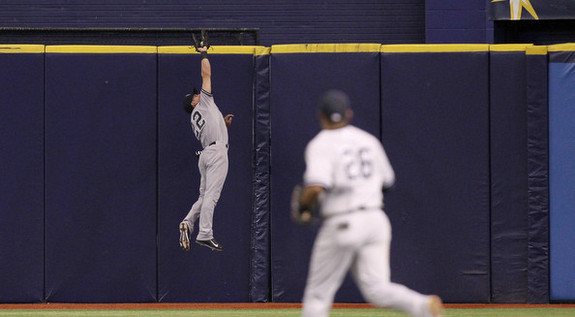 The five-game winning streak came to an end last night thanks to a rather spectacular bullpen meltdown. Oh well. That's going to happen from time to time. The Yankees have lost consecutive games just twice this season — first two games to the Astros then two games to the Orioles — and to avoid their third set tonight they will have to overcome what feels like a pitching disadvantage.
Ivan Nova has been New York's worst starter this season — it feels like he has not had a single easy inning yet — but his last start was his best, so hopefully he's heading the right direction. Rays righty Chris Archer has been good this year but his last start was his worst, a seven-run beatdown. He crushed the Yankees in three starts last season, though that was completely different lineup. I'm not sure his history against the Bombers means much of anything. Here is the Rays lineup and here is Joe Girardi's lineup:
CF Jacoby Ellsbury
LF Brett Gardner
DH Carlos Beltran
C Brian McCann
RF Alfonso Soriano
3B Yangervis Solarte
1B Kelly Johnson
2B Brian Roberts
SS Dean Anna
RHP Ivan Nova
It is warm, humid and raining in St. Petersburg. The Tropicana Field roof will take care of all that though. First pitch is scheduled for a little after 7pm ET and can be seen on YES. Enjoy.
Mark Teixeira Update: Teixeira (hamstring) played seven innings in an Extended Spring Training game this morning, his third straight day of game action. He is eligible to be activated off the 15-day DL tomorrow and he insists he is ready.
David Robertson Update: Robertson (groin) threw 16 pitches and faced five batters in an ExST game. He is eligible to come off the 15-day DL on Tuesday and the expectation is that he will indeed be activated.
Rotation Update: As expected, Joe Girardi confirmed Vidal Nuno will start tomorrow's game. There's a pretty good chance he will then be shipped to Triple-A Scranton before the team's next game to clear a rotation spot for Robertson.