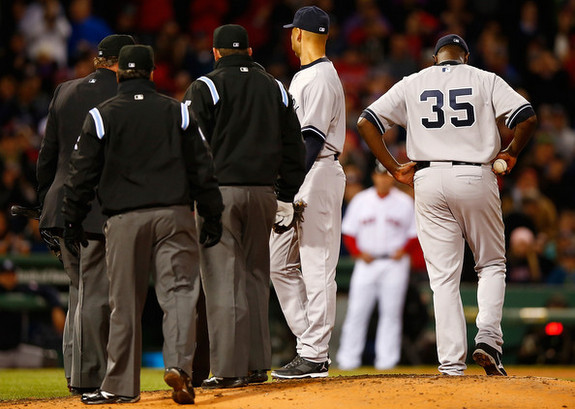 Michael Pineda has been suspended ten games for having a "foreign substance on his person" during last night's game, MLB has announced. Thanks to Monday's off-day, he will only miss one start. The suspension starts immediately unless he files an appeal sometime between now and the first pitch of tonight's game.
This suspension is not like Alex Rodriguez's suspension. The Yankees will not be able to call up a player to replace Pineda and have to play with a 24-man roster for the next ten games. What can you do. The rules are the rules. Pineda does get paid during the suspension (only drug suspensions are unpaid), though I'm not sure if he still accrues service time.
Hopefully Pineda does not appeal. There is a ton of evidence against him — video plus he admitted to using pine tar following the game — and the odds of getting the suspension overturned or reduced are tiny. Let's get this thing out of the way early in the season rather than having the appeal hanging over the team for weeks on end.
David Phelps is the obvious candidate to make the spot start, but the Yankees could always call up one of the veterans from Triple-A. I guess it depends on whether Phelps is needed out of the bullpen over the next few games. We're a few days away from worrying about that. Pineda's rotation spot doesn't come up again until next Saturday, against the Rays. He is eligible to return the following Monday. Pineda made a dumb mistake and now he has to face the music. That's all there is to it.
Update: Pineda told reporters he will accept the suspension and begin serving it tonight. "I made a mistake," he said, stating the obvious. Seems like appealing would have been pointless. Glad he didn't.