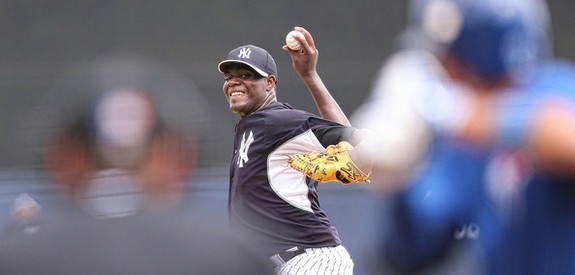 Got some injury updates to pass along, courtesy of Chad Jennings and Meredith Marakovits:
Carlos Beltran (elbow) received a second cortisone injection and will see Dr. James Andrews for a second opinion on Tuesday. The second opinion was apparently always scheduled, but the second injection indicates the first isn't helping much. It's looking more and more likely Beltran is heading for surgery.
Michael Pineda (shoulder) threw a 28-pitch bullpen session this afternoon as scheduled, and everything went fine. He will rest the next two days, then throw a 30-40 pitch bullpen session on Wednesday. Big Mike will start facing hitters after that, presumably in live batting practice or a simulated game.
Shawn Kelley (back) will play catch on Monday and Tuesday, throw a bullpen session on Wednesday, then make a minor league rehab appearance on Friday. He hopes to be activated off the 15-day DL and rejoin the team next Sunday.