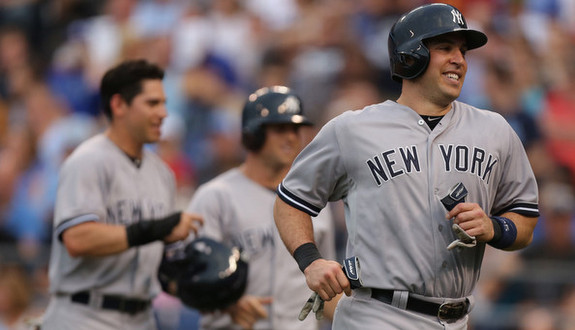 The Yankees are in position to win their third straight game tonight, something they've done only twice in the last month. Winning streaks have been hard to come by lately. Not enough offense, not enough innings from the starters, and lately the bullpen's been a little leaky as well. That hasn't been the case these last two days, at least not to the same extreme as the last few weeks, so hopefully the Yankees are starting to dig themselves out of this little hole.
Here is the Royals lineup and here is the Yankees lineup:
LF Brett Gardner
SS Derek Jeter
CF Jacoby Ellsbury
1B Mark Teixeira
DH Carlos Beltran
3B Yangervis Solarte
RF Alfonso Soriano
2B Brian Roberts
C John Ryan Murphy
RHP David Phelps
It has been raining for part of the day in Kansas City, but it has cleared up and there shouldn't be any problems for tonight. First pitch is scheduled for 7:15pm ET and you can watch on FOX. Yankees and Royals on FOX, on Saturday night. What is this world? Enjoy the game.