It took a while, but the Yankees finished off a huge three-game sweep of the Blue Jays on Thursday night. Huge by June standards, I mean. The Bombers now have 16 straight wins over the Jays in Yankee Stadium — the last time Toronto won a game in the Bronx, Cody Eppley allowed some late runs  — which is pretty amazing. Thursday's final score was 6-4.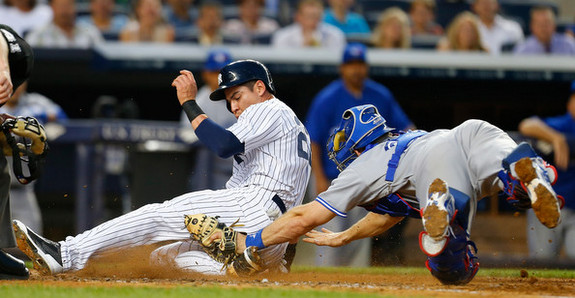 Picket Fence
The Yankees took a very slow and methodical approach to scoring runs in the early innings. Emphasis on slow. This game took forever. The Yankees scored their first run in the first inning, their second run in the second inning, their third run in the third inning, and their fourth run in the … fifth inning. You thought it was the fourth inning, didn't you? Probably not. I'm guessing you saw the game.
Anyway, the duo of Brett Gardner (double) and Jacoby Ellsbury (sac fly) plated the first run with a Derek Jeter infield single mixed in. A walk (Brian McCann), a fielder's choice (Carlos Beltran), a single (Ichiro Suzuki), another walk (Brian Roberts), and another sac fly (Kelly Johnson) created the second run. The Yankees left the bases loaded in the second inning, but they forced starter Drew Hutchison to throw 38 pitches. Ichiro, Roberts, Johnson, and Gardner combined to see 28 pitches themselves in that inning. Hutchison had nothing to put anyone away. They were fouling pitches off at will.
The third inning rally was pretty basic. Ellsbury singled and stole second, then moved to third on Mark Teixeira's single. Beltran drove in Ellsbury with yet another sacrifice fly. I didn't think Ellsbury would run on Jose Bautista, but he did and catcher Erick Kratz couldn't handle the throw. I didn't think Beltran would test Bautista's arm in the second inning either, but he did and the throw was a little up the line. The fourth run did not require a sac fly — Ellsbury scored on Beltran's ground rule double after singling and stealing second. Teixeira likely would have scored from first had the ball not hopped over the fence. Tough break.
Seven hits, four walks, three sacrifice flies, and two steals equals four runs in five innings. I imagine everyone who enjoys manufacturing runs and extended rallies and stuff like that loved this game. The Yankees really worked Hutchison hard and just kept chipping away. It would have been nice if one of those sac flies had fallen in or found a gap for extra bases to really blow things open, but runs are runs and the Yankees need as many as they can get these days.
St. David of Phelps
This game did not start very well for David Phelps. Melky Cabrera singled and Bautista walked in the first inning, so he was in hot water right away. Then Melky got picked off second and the whole outlook of the inning changed. Phelps got out of the inning unscathed and went on to hold Toronto to just two runs in seven innings while throwing a career-high tying 115 pitches. The only blemish was Melky's two-run homer in the third inning. It was a bomb. Phelps made a mistake and it got hammered. That's baseball.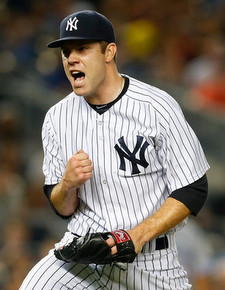 The bullpen was a little short after the first two games of the series, so Joe Girardi pushed Phelps a little longer than I think he normally would have, and David responded very well. He retired pinch-hitter Adam Lind with two on and two outs to end the sixth inning — Matt Thornton was unable to warm up in time, but it worked out — then retired the side in order in the seventh, including two via strikeouts. The finally tally was the two runs on six hits and two walks in those seven innings. He also struck out seven. Between his last start against the Athletics and this start against the Blue Jays, Phelps has had arguably his two best starts against the two best hitting teams in the league.
Interesting, Of Course
Dellin Betances and David Robertson were both unavailable due to their recent workloads, so it was much appreciated when the Yankees scored insurance runs in the sixth (Roberts scampered home on Jeter's fielder's choice) and seventh (Yangervis Solarte drew a bases loaded walk). Shawn Kelley got the ball in the eighth and served up a mammoth two-run homer to Edwin Encarnacion, turning a four-run lead into a two-run lead. See? Always good to score those insurance runs.
In my totally amateur opinion, Kelley hasn't looked 100% healthy since coming off the disabled list. It doesn't seem like he is able to finish his pitches, particularly driving his slider down and away to righties. That makes sense after a back problem, right? He left a slider up to Bautista for ball four and left a fastball slightly less up to Encarnacion, and now it's a souvenir. Kelley shouldn't see any important innings for a little while.
Thornton recorded the final out of the eighth inning and the first out of the ninth inning before allowing a ground ball single to Colby Rasmus. That brought the tying run to the plate, which was rather annoying. The game looked to be in the bag an inning earlier. Closer du jour Adam Warren took over and retired pinch-hitter Munenori Kawasaki (fly out) and Jose Reyes (ground out) to end the game. Unnecessarily stressful at the end there, but a win is a win.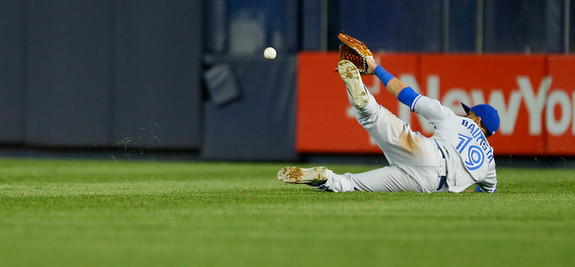 Leftovers
Solarte was in the game to draw that bases loaded walk in the seventh because Johnson bunted a pitch off his fingers and had to leave with bruises. Plural. X-rays came back negative and he is day-to-day. Johnson technically struck out twice (Solarte struck out for him in one of those at-bats) and had a sac fly before leaving. Jeter, Ellsbury, and Teixeira all had two hits while Gardner, Beltran, Ichiro, and Roberts had one each. McCann drew two of the team's seven walks. The Yankees struck out only four times.
I have no idea what happened on the Dioner Navarro pop-up/Encarnacion interference play in the fourth inning. Navarro popped it up, Texeira ran into Encarnacion while trying to field the ball, then caught it anyway. For whatever reason the play ended with one out and Navarro at first. Shouldn't Encarnacion be out on the interference and Navarro on the pop-up? The ball isn't dead, is it? Whatever.
Thursday's HOPE Week event honored Musicians on Call, an organization that sends volunteer singers and musicians to visit hospital patients, particularly those confined to their rooms. Here's the Musicians on Call website, here's more on the day, and here's the HOPE Week video archive.
Box Score, WPA Graph & Standings
For the box score and video highlights, head over to MLB.com. Some other stats are at FanGraphs and ESPN has the updated standings. The Yankees and Blue Jays are now tied atop the AL East in the loss column, though the Bombers are technically still 1.5 games back. These two teams play three games in Toronto next week. That'll be fun.

Source: FanGraphs
Up Next
The Orioles are coming to town for a three-game weekend series. They are right behind the Yankees in the standings, so that's another big series. Hiroki Kuroda and Ubaldo Jimenez kick things off on Friday night. RAB Tickets can get you in the door if you want to catch any of the games live. Tino Martinez is having his plaque unveiled in Monument Park on Saturday and Sunday is Old Timers' Day, you know.