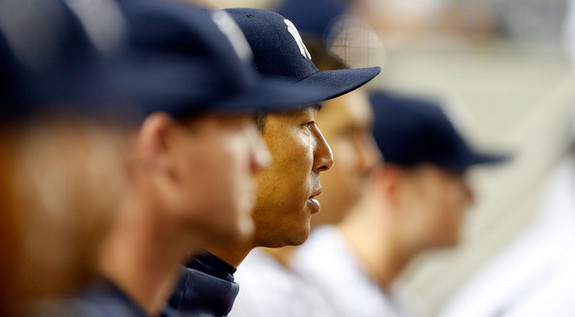 Tonight marks the start of the second half of the 2014 season. The first half was not great and also not a disaster for the Yankees. It wasn't even good. Not bad either. Acceptable. Tolerable. Middle of the road. They didn't run away with anything and they didn't get buried in the standings. The second half has to be better if they want to contend in Derek Jeter's final season. That's not really up for debate. Let's start the rest of the season with a much-needed win tonight, shall we? Here is the Rays lineup and here is the Yankees lineup:
LF Brett Gardner
SS Derek Jeter
CF Jacoby Ellsbury
1B Mark Teixeira
DH Carlos Beltran
RF Alfonso Soriano
2B Brian Roberts
C Frankie Cervelli
3B Yangervis Solarte
RHP Hiroki Kuroda
It's cloudy but otherwise a fine day here in New York. No weather problems for tonight's game. First pitch is scheduled for 7:05pm ET and you can watch on YES. Enjoy.
Injury Update: CC Sabathia (knee) will make his rehab start with Double-A Trenton tomorrow rather than Thursday. Seems like they pushed it up a day due to the weather forecast. Sabathia threw only 36 pitches in his first rehab start on Saturday, so starting on three days' rest isn't a huge deal.