Barf. What an awful game. The Yankees managed to look terrible in every phase of the game in their come-from-ahead 4-2 loss to the Rangers in Monday night's series opener. This is one I look forward to forgetting.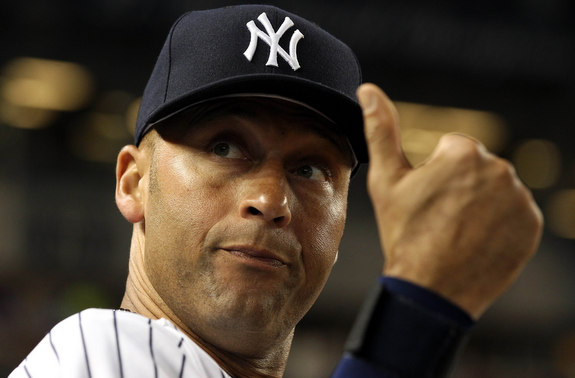 Cy Mikolas
Right-hander Miles Mikolas, a career reliever up until about two months ago, came into Monday's game with a 10.05 ERA and a 1.88 WHIP. He promptly held the Yankees to two runs on three singles, two walks, and a solo homer in 7.1 (7.1!) innings. They scored their first run on a Carlos Beltran sacrifice fly in the first — Derek Jeter walked, moved to second on a balk, then moved to third on Jacoby Ellsbury's infield single — and their second on Ellsbury's solo homer in fourth. Thus ends the run scoring portion of the recap.
Mikolas retired eight in a row between Beltran's sac fly and Ellsbury's homer, then he retired the final eight batters he faced as well. The Yankees had a golden opportunity to break things open in the fifth, when they loaded with bases with one out on two singles (Frankie Cervelli and Zelous Wheeler) and one walk (Brett Gardner). Jeter wiped out the rally by banging into an inning-ending 4-6-3 double play on the second pitch. Predictable, unfortunately.
The Yankees teased in the ninth thanks to a Kelly Johnson single and a Brian McCann pinch-hit-by-pitch, but that didn't go anywhere. Sometimes you just have to tip your cap to a pitcher for throwing a great game. Sometimes you have to look in the mirror and blame yourself for not rocking a guy like Miles Mikolas. Gross.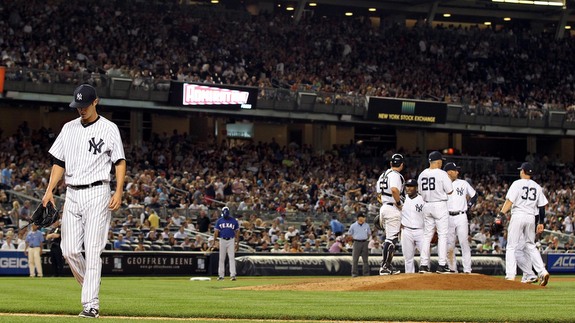 The Third Out
The sixth inning unraveled for Shane Greene and the Yankees in the blink of an eye. The young right-hander had the worst of his three career starts both in terms of results and stuff/command, as he struggled to locate just about all night. And yet, he held Texas to one infield defense-aided run in the first five innings (more on that in a bit). Then the sixth inning happened.
Greene started the inning with two quick outs before someone name Jake Smolinski singled on a ground ball back up the middle. Someone named Jim Adduci followed that with a walk, then Geovany Soto (I've heard of him!) slapped a broken bat single just over Wheeler and into left field for a game-tying single. Joe Girardi went to lefty specialist Matt Thornton at that point, and Thornton allowed run-scoring ground ball singles to (lefty) Rougned Odor and (lefty) Shin-Soo Choo. Lefty specialist: getting lefties out not required.
Adam Warren came out of the bullpen to record that elusive final out of the inning, but by then the damage had been done. The Yankees were up 2-1 and the bases were empty with two outs in the sixth, but the next five batters reached and suddenly that 2-1 lead was a 4-2 deficit. In hindsight, Girardi should have went straight to Warren after Smolinksi reached base. If you're willing to use him down two runs in the sixth you might as well use him up one run instead.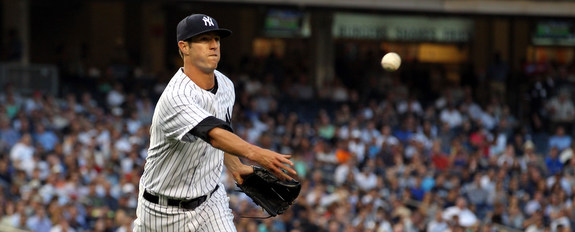 DefensEEEEE
The Yankees were charged with four errors … in the first four innings. It should have been five too. The official scorer was generous. Greene was responsible for three of those errors, one when he dropped a flip from Johnson at first and two when he threw the ball away. The first was a little flip on a comebacker, the second was a tough play on a weak grounder near the third base line. Both throws wound up in the stands, though Greene pitched around his errors all three times.
The fourth error — and what should have been the fifth error — was the one that burned him. The third inning rally started with a legitimate one-out Choo double to right-center, then he advanced to third when Brian Roberts muffed a hard-hit grounder and failed to get the out at first. They called it a hit even though Roberts was square to the ball and it hit him in the glove. Choo scored when Adrian Beltre hit what looked like a potential 6-4-3 double play, though Roberts failed to catch the flip from Jeter. It wasn't a perfect flip, but again, it hit him in the glove. That was the error.
And, just for good measure, the Yankees committed their fifth error of the night in the seventh inning, when Jeter threw the ball away on the most routine of routine grounders. He didn't even have to move. It was hit right too him and his throw (barely) pulled Johnson off the bag at first. They initially called it an out but the Rangers challenged and it was overturned. Somehow only one of the five errors led directly to a run, though Greene's three misplays certainly upped his pitch count and could have led to fatigue in that sixth inning.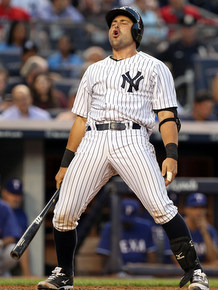 Leftovers
David Huff was the team's third and final reliever of the night. He allowed a single to Beltre — the best case scenario, really — and an intentional walk to Chris Gimenez in two otherwise uneventful innings. He and Warren were fine. Thornton really ruined things by failing to retire either of the two lefties he was asked to face. He has one swing and miss in his last five appearances (35 total pitches), by the way.
Ellsbury had two hits while Cervelli, Johnson, and Wheeler had one each. That's all. Five hits and five errors on the night. Gardner drew two walks and Jeter had one. The 4-5-6-7 hitters went a combined 1-for-14 with Johnson's single, Beltran's sac fly, and McCann's hit-by-pitch. One day the Yankees will upgrade their offense. One day. (I don't mean guys like Wheeler either. Real upgrades.)
The Yankees had five errors in a game for the first time since July 2007. Greene also became the first Yankees pitcher to make three errors in a game since Tommy John back in 1988. He heard some loud half-derisive/half-supportive cheers whenever he cleanly fielded a ball after that.
Box Score, WPA Graph & Standings
Head over to MLB.com for the box scores and video highlights. There are some other stats at FanGraphs and the updated standings are at ESPN. Depending on the outcomes of the late games, the Yankees will be either three games (Orioles lose) or four games (Orioles win) back of the top spot in the AL East and either 1.5 games (Mariners lose) or 2.5 games (Mariners win) back of the second wildcard spot.

Source: FanGraphs
Up Next
These same two teams will play the second game of this four-game series on Tuesday night, when rookie right-handers Chase Whitley and Nick Martinez get the ball. Something tells me we might be in for a whole lotta bullpen. Check out RAB Tickets if you want to catch that game or any of the other five games left on the homestand.