Another winnable game slips through their fingers. The Yankees lost Thursday afternoon's series finale to the Tigers by the score of 3-2, mostly because the offense didn't bother to show up for the final five innings of the game. Two runs won't win you much in this league.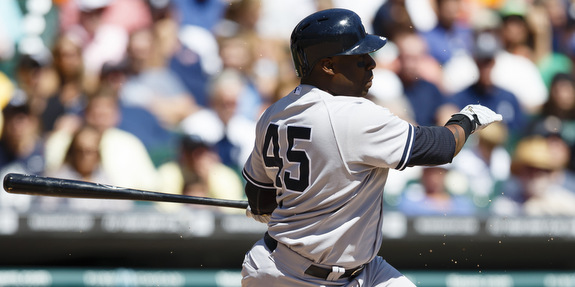 One Run At A Time
The Yankees and Tigers traded runs each inning from the second through fifth. A single (Nick Castellanos), a hit-and-run (Don Kelly), and a sacrifice fly (Alex Avila) gave Detroit a 1-0 lead in the second inning. The Yankees responded with an infield single and an advance on an error (Zelous Wheeler) plus another single (Jacoby Ellsbury) to score a run in the next half-inning, all with two outs. The hardest hit ball in those two rallies was probably Avila's sac fly. They didn't exactly knock the cover off the ball.
A more traditional rally gave the Yankees a 2-1 lead in the fourth. Martin Prado led off the inning with a single, then moved to third on Carlos Beltran's one-out line drive double to left. It took a weird carom off the side wall and deflected right to Kelly, the left fielder, otherwise I'm pretty sure Prado would have scored from first on the hit. It ultimately did not matter because Brian McCann pulled a two-strike pitch on the ground to the right side of the infield to score the runner from third. A productive out, as they say. I prefer to call it a less bad out.
Anyway, the Tigers tied the game at two in the bottom of the fifth thanks a leadoff walk (Kelly) and a wild pitch. Hiroki Kuroda gift-wrapped that rally for them. Kelly moved to third on Andrew Romine's ground out and scored on Rajai Davis' two-out single. Again, I'm pretty sure the hardest hit ball against Kuroda was Avila's sacrifice fly. Well, Victor Martinez lifted two long fly balls to left field, but that's pretty much it. The Tigers didn't square him up at all. But still, the score was knotted at two through five innings.
No More Offense
Somehow the Yankees only managed the two runs (one earned) in six innings against rookie left-hander Kyle Lobstein even though he gave up a ton of long fly balls and did not strike out a batter (one swing-and-miss out of 83 pitches). Here is the team's spray chart against Lobstein (taken from Gameday), just in case you don't believe me about the long fly balls: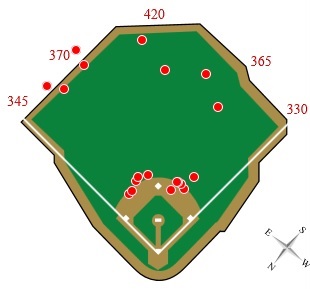 No, the Yankees didn't hit any homers off Lobstein, so those two data points over the left field fence give you an idea of just how unreliable batted ball data is. But yeah, they hit four balls very deep to left field another deep to center, all for outs. The Yankees had some well-struck balls against Lobstein, just not well-struck enough. Blah.
Anyway, after Beltran doubled to left in the fourth inning, Lobstein and relievers Blaine Hardy and ex-Yankee Joba Chamberlain combined to retire 16 straight Yankees before Mark Teixeira drew a two-out walk in the ninth. Beltran followed that with a single to shallow center, moving Teixeira to third, but McCann struck out to end the inning. He just missed a three-run homer by a few feet earlier in the at-bat. It had plenty of distance but hooked just foul. The Yankees have just seven hits in 15 innings since recording nine straight hits off David Price in the third inning on Thursday.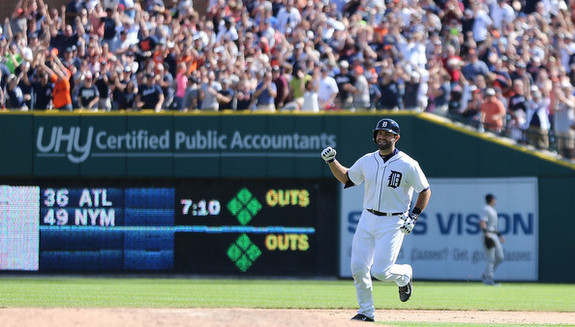 Walked Off
For the second time this year, the Yankees were beaten by the fading bat of Alex Avila. He hit an extra-innings go-ahead solo homer in New York a few weeks ago, and on Thursday he clubbed a walk-off single with two outs in the bottom of the ninth. Shawn Kelley pitched into the mess by allowing a leadoff double to Victor Martinez and a walk to J.D. Martinez, but he rebounded to strike out both Castellanos and pinch-hitter Torii Hunter. He recorded both strikeouts with fastballs because his slider just wasn't working. Naturally, Avila hit the slider.
The game-winning hit looked to be gone off the bat, but it ended up hitting off the wall in right field. Ichiro Suzuki either alligator-armed it or simply timed his jump poorly and completely whiffed on the ball. It certainly wasn't a routine play, but it was catchable based on the fact that he was right there when it hit the wall. Not exactly the most graceful defensive play you'll see. I know the slider is Kelley's trademark pitch, but it was clearly his less effective offering on Thursday and that's what he got beat on. If you're not going to bring in David Robertson in situations like this, maybe at least have a lefty ready for Avila?
Leftovers
Kuroda's biggest mistake of the afternoon was probably the leadoff walk to Kelly in the fifth inning. He held the Tigers to those two runs on just four singles and a walk in seven innings, striking out four and recording 15 of his 21 outs on the infield. Kuroda looked very good considering he was making a late-August start on normal rest. Usually he hits a wall around 80 pitches this time of year — he threw 91 in this game, 58 for strikes (64%) — but that was not the case Thursday. Just another strong start in a recent string of them for the rotation.
The offense had five hits all afternoon: a single and a double by Beltran, and singles by Ellsbury, Prado, and Wheeler. Teixeira drew two walks. Derek Jeter went 0-for-4 with three ground outs and is down to .265/.313/.317 (76 wRC+) on the season. It's amazing the Yankees continue to shoot themselves in the foot by batting him second.
Dellin Betances threw a scoreless eighth inning but did walk Ian Kinsler — who immediately stole second — to bring Miguel Cabrera to the plate with a chance to drive in the go-ahead run. He struck out Miggy on four pitches and got the two-time defending AL MVP to take one of the silliest swings you'll ever see for strike three.
Box Score, WPA Graph & Standings
Head on over to MLB.com for the box score and video highlights. FanGraphs has some additional game stats. The updated standings are at ESPN. The Mariners are off Thursday, so the Yankees are three games back of the second wildcard spot at the moment. Depending on the outcome of the night game, they'll be either six games (Orioles lose) or seven games (Orioles win) back of the top spot in the AL East. FanGraphs puts New York's postseason odds at 12.9% at the moment.

Source: FanGraphs
Up Next
The Yankees are off to Toronto for a three-game weekend set against the struggling Blue Jays. Finesse lefties Chris Capuano and Mark Buehrle will open the series on Friday night.