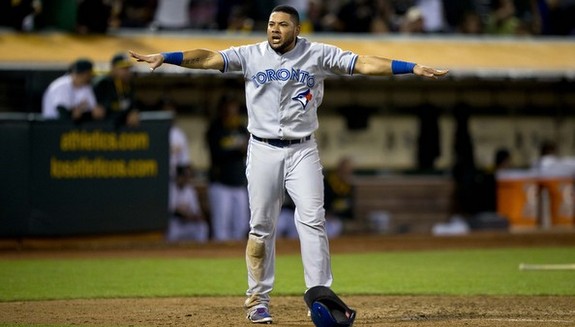 The Yankees were off yesterday for the final time this season. Twenty-one games in the next 20 days next up — they play a doubleheader against the Orioles in Baltimore on Friday — then we'll either be celebrating the team's miraculous return to the postseason or preparing for an offseason that should be mighty interesting. Here are some random thoughts heading into tonight's series opener against the Rays.
1. First things first, the Yankees haven't announced a starter for the second game of Friday's doubleheader but that's not really a big deal because of the expanded rosters. David Phelps should be activated off the disabled list before then, so the team will be able to stitch the game together with two or three innings apiece from guys like Phelps, David Huff, Esmil Rogers, Bryan Mitchell, and Chase Whitley. I guess it all depends on who is needed in relief these next three games. Either way, cobbling together enough pitching for that doubleheader won't be a problem. September call-ups make it a piece of cake.
2. With free agency becoming diluted, one of the few notable free agent outfield bats available this winter will be ex-Yankee Melky Cabrera. He had a big season with the Blue Jays, hitting .301/.351/.458 (124 wRC+) with 35 doubles and 16 homers before breaking a finger sliding into a base over the weekend, ending his season. Obviously there is a lot of skepticism surrounded Melky gives his past PED issues, but he is only 30 years old and he's a true switch-hitter who hits both lefties (116 wRC+) and righties (127 wRC+). Plus he never strikes out (10.8%), which is a highly desirable trait in this strikeout heavy age. His defense isn't anything special but he does have a strong arm for right field. Buster Olney (subs. req'd) suggested Melky could wind up with Shane Victorino's contract (three years, $39M) while a scout told Jeff Blair teams are willing to offer Jhonny Peralta's contract (four years, $52M). My gut says Cabrera will wind up with the bigger contract of those two, given the market. Does Melky make sense for the Yankees at that price? The team already has three outfielders under contract at a combined $50M or so per year the next two years. Would they really add a fourth eight-figure outfielder? The Yankees can use someone like Melky in the lineup, but I'm not sure he fits unless they trade Brett Gardner.
3. Now, that said, I think Carlos Beltran has to be the everyday DH next season. Or at least the most of the time DH, four or five games a week. There are two reasons for this. One, the guy is barely mobile at this point of his career and he's a Raul Ibanez-esque liability in right field. My tolerance for bad defensive corner outfielders is surprisingly high, but not that high. Beltran's been scary bad in right this year. Two, his health. I know Beltran is having the bone spur taken out of his elbow this winter, but he also has bad knees and at his age, the likelihood of breaking down physically is pretty high. Giving him more time at DH should reduce his injury risk, in theory. So, in this scenario the Yankees would have room for someone like Melky in right field, but again, are they willing to spent that much money on another outfielder? If the Yankees are going to hand out another $10M+ per year contract to a position player, the infield seems like the place to do it.
4. Stephen Drew has not hit a lick with the Yankees (32 wRC+) but I contend the trade was still worth it because now the team knows he is definitely not the guy to sign to play shortstop next season. The fact that he isn't even playing regularly at this point seems like they are admitting that is the case. Besides, it's not like the Yankees gave up anything of value to get him in the first place. They took a low-cost flier and it didn't work out, that's life. I don't believe Drew is really as bad as he's shown this year but I also don't think the "he didn't have a proper Spring Training" excuse is all that valid anymore either. He's at 239 plate appearances and shown no signs of snapping out of it. (It's worth noting Kendrys Morales is still struggling to find his way after signing late as well.) The upcoming free agent market is shockingly deep with shortstops, namely Drew, J.J. Hardy, Jed Lowrie, Hanley Ramirez, and Asdrubal Cabrera. I assume the Yankees will sign one of those guys — they all have their pluses and minuses, I don't see an obvious one to target right now — and eliminating Drew from the pack makes life that much easier. These few weeks after the trade were an audition and Drew flunked.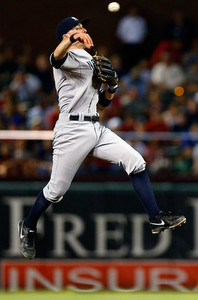 5. What exactly is Brendan Ryan's role on the Yankees going forward? I know they re-signed him (two years plus a player option!) as a backup plan for Derek Jeter should his ankle give him more trouble this year, but I don't buy for a second that they would install him as the starting shortstop next year. I'd much rather see the Yankees re-sign Drew before going with Ryan as the starter. They'd have to whiff on every one of the free agent shortstop for Ryan to get a chance to play everyday, and I don't see that happening. Ryan's contract isn't exactly an albatross ($2M in 2015) but he has no trade value. He has played in seven of the team's last 33 games (five starts) and really doesn't seem to have a defined role at this point. I wonder if the Yankees would look for a better backup infield infielder, then outright Ryan off the 40-man roster and down to Triple-A Scranton. If he gets claimed off waivers, so be it. He won't refuse the outright assignment if he clears waivers because then he would forfeit the remainder of his contract, and I have a hard time believing that will happen. It's a weird situation. No hit, all glove backup infielders have zero value if they're playing as infrequently as Ryan does.
6. As far as second base goes, I think my perfect world scenario has Martin Prado at second and Alex Rodriguez at third base to open next season. A-Rod is coming back and I'm sure the Yankees will stick him out there at the hot corner early on. Then, when Alex inevitably gets injured, the Yankees slide Prado to third base and play Rob Refsnyder at second. A-Rod hasn't played a full healthy season since 2007 and I have no reason to think 2015 will be the year he does it. Not at age 39 and after two hip surgeries and nearly two full years away from the game. I like Prado the most at second base, he fits there way better than in right field or at third base in my opinion, but I also want the Yankees to give Refsnyder a chance next year. I mean, at some point they have to try one of their young position players, and he's the obvious candidate knocking on the door. Prado's versatility gives the team flexibility and I'm sure Rodriguez's brittle body will create the opportunity.