For not the first time this season, the Yankees' bullpen was unable to preserve a lead against the Orioles on Friday afternoon. Baltimore walked off with a 2-1 win in eleven innings in the series opener.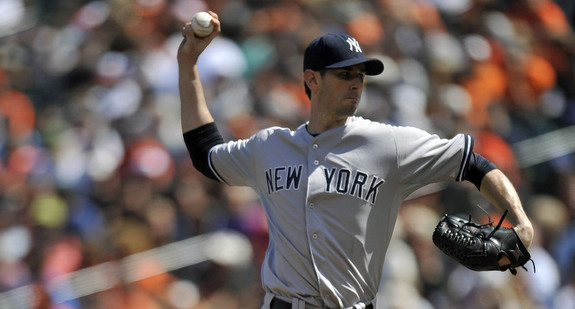 Nine Scoreless Innings, The Good Way
Brandon McCarthy gave the Yankees everything they could have possibly wanted against the most powerful offense in baseball. The tall right-hander held the Orioles to three scattered singles and one double in seven scoreless innings, striking out six and recording 14 of his 21 outs on the infield. McCarthy retired 13 straight batters at one point from the second through sixth innings and he retired 17 of the final 19 men he faced overall. Seventy-five of his 106 pitches were strikes (71%). He was dominant.
Joe Girardi opted to send McCarthy out to start the eighth inning even though his pitch count was sitting at 104, and sure enough ex-Yankee Kelly Johnson greeted him with a leadoff ground-rule double. That ended McCarthy's afternoon. I absolutely hate that, sending the starter back out for another inning when his pitch count is over 100 and his leash is one base-runner. Just let the reliever start the inning clean if that's the case, especially with expanded rosters and no real need to worry about running out of arms.
Dellin Betances was able to escape the mess with two strikeouts and a ground ball, though it wasn't that easy. Nick Hundley bunted Johnson to third, and for whatever reason Mark Teixeira tried to throw him out, which didn't work. He's lucky the throw hit Johnson as he slid into the base, otherwise it would have sailed into left field. Maybe Teixeira thought it was a force play? Anyway, Betances struck out Jonathan Schoop, then Nick Markakis grounded to Stephen Drew at second base, who was able to catch Johnson wandering too far off third for the second out. That was big. Betances struck out Adam Jones to end the inning after walking Alejandro De Aza to load the bases. Two fastballs, one breaking ball, three swings and misses. Filthy.
Betances and David Robertson combined to walk the bases loaded in the bottom of the ninth — one of the walks was intentional — but Robertson was able to wiggle out of it by striking out Schoop. It was a nine-pitch at-bat that included four foul balls with two strikes. Schoop put up a nice little battle. The two other outs came on a Nelson Cruz leadoff line drive to left and a Johnson pop-up to third base in foul territory. Betances and Robertson combined to put four guys on base in the eighth and ninth innings (all walks) after McCarthy put four men on base in the first seven innings.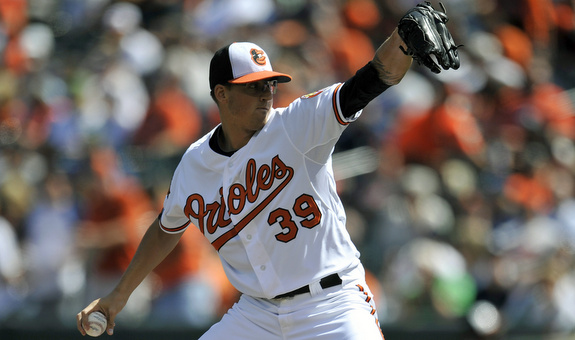 Nine Scoreless Innings, The Bad Way
The Yankees put nine men on base in seven innings against Kevin Gausman but only one of the nine managed to reach third base. Their best chance to score against him came with two outs in the sixth inning, when Chris Young doubled to left and Drew walked to load the bases. Prado had singled to lead off the inning and I don't think he would have scored on Young's double even with a healthy hamstring. It was hit hard and De Aza played it quickly and cleanly. John Ryan Murphy leaned into a hanging slider and flew out to left field corner, in foul territory. He juuust missed it.
Once Gausman was out of the game, the Yankees couldn't touch Baltimore's bullpen. Almost literally couldn't touch them. Andrew Miller struck out all three men he faced in the eighth and Darren O'Day struck out two of three in the ninth. Young popped up in foul territory along the first base side for the first out against O'Day. The Yankees struck out a dozen times in the first nine innings and only had three plate appearances with runners in scoring position (one walk, two outs) despite putting those nine guys on base against Gausman. I miss offense.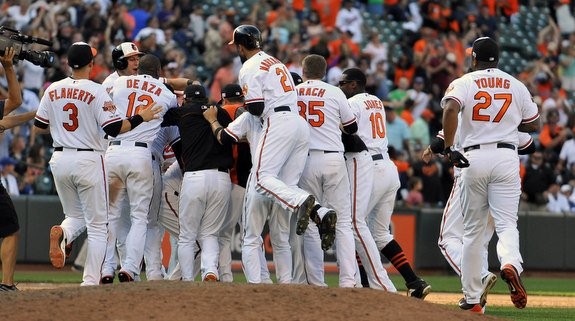 Extra Innings
This game felt like it had entered "first team to homer wins" territory after Dellin's escape job in the eighth inning, which usually puts the Yankees at a disadvantage, but not when they have Chris Young on the roster. For the second time in less than 24 hours, the Mets cast-off came up with a big go-ahead homerun on Friday afternoon, this one an 11th inning solo shot off Brad Brach. It wasn't quite as dramatic as Thursday's walk-off dinger, but it was still a huge homer. Chris Young, people. Baseball is weird sometimes.
With Betances and Robertson having already been used, Girardi gave the ball to Adam Warren for the 11th inning save opportunity. Warren, like Betances and Robertson in the ninth inning, loaded the bases without surrendering a hit. He walked Cruz, plunked J.J. Hardy with a pitch, then inexplicably walked pinch-hitter Steve Clevenger. The walk to Clevenger was just terrible. Ex-Yankees farmhand Jimmy Paredes jumped on Warren's first pitch with two outs, lining it into the right field corner for a walk-off two-run single. Three relievers combined to walk six batters and hit another in 3.2 innings. Gross.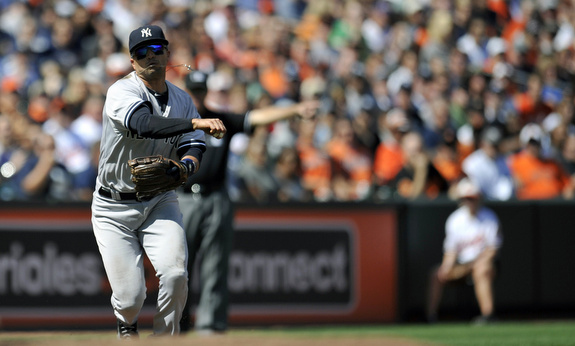 Leftovers
Prado, Drew, and Antoan Richardson all had two hits while Jacoby Ellsbury, Drew, and Murphy had one each. Brian McCann, Drew, and Richardson also drew walks. Teixeira and Brendan Ryan were the only starters who failed to reach base, which is par for the course these days. Richardson got picked off first base to end the seventh inning, which is less than ideal for a guy who was brought up to be the pinch-running specialist.
Believe it or not, this was the first time the Yankees and Orioles played nine scoreless innings and went to extras in Baltimore. Like, ever. It had never happened before, not with the Yankees. It did happen when they were still the New York Highlanders more than a century ago.
Box Score, WPA Graph & Standings
MLB.com has the box score and video highlights, FanGraphs has some other game stats, and ESPN has the updated standings. The Yankees are currently 4.5 games back of the second wildcard spot but that's going to change with all the games tonight. As of this moment, FanGraphs has the team's postseason odds at 2.8%.

Source: FanGraphs
Up Next
Let's play two, he said with a shrug. The Yankees and Orioles will play the second game of this doubleheader at 7pm ET, so make sure you come back in a few hours. Bryan Mitchell will be making his first career start. Bud Norris is the scheduled starter for the O's.