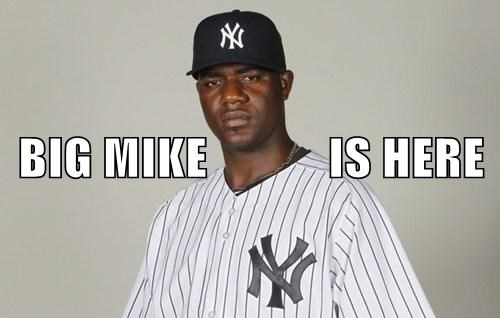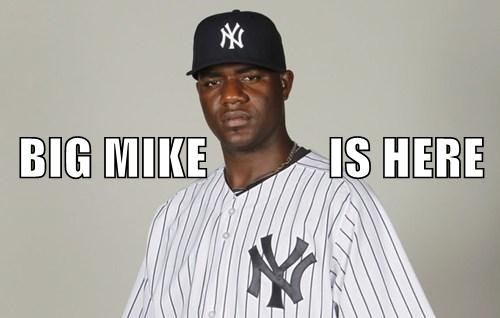 The rotation is set. Michael Pineda, this afternoon's starter, will also start Game Two of the regular season in less than two weeks. Joe Girardi made it all official this afternoon. There was never any doubt Pineda would be in the rotation, it was just a question where he would slot in, which is meaningless about two weeks into the season anyway. The rotation order always gets jumbled around. Pineda just needs to get his pitch count up and prepare to face the Blue Jays on April 8th. That's all.
Today's reason to watch: Big Mike! His starts are always a treat. Jacob Lindgren is scheduled to pitch too. I want him in the Opening Day bullpen but who knows which way the Yankees are leaning. He's pitched well in camp and this afternoon will be another chance for him to make his case. Also, the Phillies are starting righty Aaron Nola this afternoon.  He was the seventh overall pick in last year's draft, though he is more of a high probability Mike Leake type than a big stuff Stephen Strasburg type.
The Yankees made the short trip over to Clearwater to play the Phillies this afternoon. Here is the Phillies' lineup and here is Girardi's starting lineup:
LF Brett Gardner
3B Chase Headley
RF Carlos Beltran
1B Mark Teixeira
C Brian McCann
DH Alex Rodriguez
2B Stephen Drew
CF Chris Young
SS Brendan Ryan
RHP Michael Pineda
Available Position Players: C Eddy Rodriguez, 1B Jonathan Galvez, 2B Rob Refsnyder, SS Nick Noonan, 3B Cole Figueroa, LF Tyler Austin, CF Jake Cave, and RF Aaron Judge will be the second string off the bench. C Kyle Higashioka, C/1B Francisco Arcia, and C/1B Alvaro Noriega are the extra players.
Available Pitchers: RHP Scott Baker, LHP Jacob Lindgren, LHP Chasen Shreve, RHP Chris Martin, and RHP Nick Rumbelow are all scheduled to pitch after Pineda. RHP Danny Burawa, RHP Kyle Davies, and RHP Diego Moreno are the extra arms.
Bad news: It's going to rain. It's not raining in Clearwater right now but it's scheduled to start very soon, within an hour or so, and continue right through until tonight. I can't help but wonder if the Yankees will scratch Pineda and make him throw a simulated game inside or something. He needs to get his pitch count up and getting rained out after two innings won't help. We'll see.
Anyway, this afternoon's game is supposed to start a bit after 1pm ET. There is no YES broadcast and MLB Network will replay the game later, so you're stuck with MLB.tv if you want to watch live. Either than or Comcast SportsNet if you live in the Philadelphia area. MLB.tv will not be blacked out in the Yankees' home market. Enjoy the game. Before it rains, anyway.