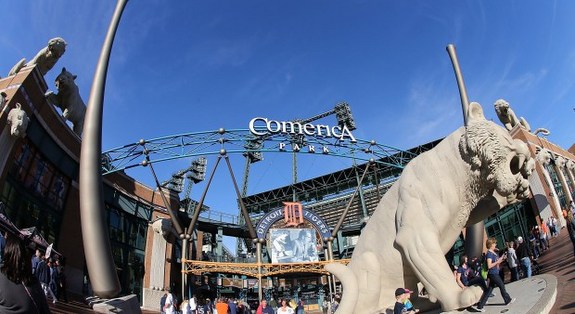 The Yankees have won four of the first six games of this ten-game road trip, but the last four games figure to be the toughest. They're in Detroit tonight to start a four-game series against a Tigers team that has been the best in baseball in the early going this year. And in case you're wondering, no, the Yankees will not face Shane Greene this series. He started yesterday.
What Have The Tigers Done Lately?
Like I said, the Tigers have been the best team in baseball so far this year. They just took two of three from the White Sox — losing only to Chris Sale — and are 10-2 on the young season. Manager Brad Ausmus' club has the best record and the best run differential (+33) in baseball right now. It's super early of course, but no team in all of MLB has been better than the four-time defending AL Central champs.
Offense & Defense
Yesterday afternoon's game was the sixth time in 12 games this year the Tigers scored at least seven runs. Six times in 12 games! They're averaging 5.67 runs per game with a team 138 wRC+. That's pretty damn good. It helps to be healthy on offense — Detroit doesn't have a single position player on the DL or even listed as day-to-day.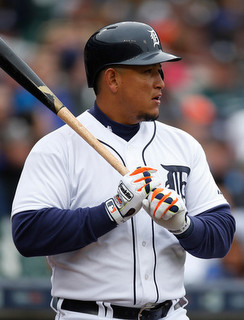 As always, Ausmus' lineup revolves around the incredible 1B Miguel Cabrera (220 wRC+), who is simply the best hitter of his generation. OF J.D. Martinez (129 wRC+) and OF Yoenis Cespedes (152 wRC+) provide some complementary right-handed pop and the switch-hitting DH Victor Martinez (108 wRC+) is off to a nice start as well. SS Jose Iglesias (188 wRC+) is living the good BABIP life right now (.459).
OF Rajai Davis (118 wRC+) and OF Anthony Gose (190 wRC+) platoon in center field and 3B Nick Castellanos (125 wRC+) is the former top prospect trying to build on an okay rookie year. C Alex Avila (119 wRC+) is still the starting catcher and 2B Ian Kinsler (112 wRC+) is seemingly the "weak spot" on offense right now. IF Andrew Romine, IF Hernan Perez, and C James McCann round out the rarely used bench.
Defensively, the Tigers are strongest up the middle thanks mostly to Gose, Kinsler, and Iglesias. Davis isn't as rangy as you'd expect someone with his speed to be and Avila is just an okay pitch-framer. Castellanos and Cabrera are comfortably below-average on the infield corners and Martinez is in right field because of his bat, not his glove. Cespedes is an above-average defender thanks mostly to his arm, not his range. That said, the Tigers are much better defensively than they have been these last few years.
Pitching Matchups
The Yankees have been talking about possibly using a spot sixth starter this week (Chase Whitley? Kyle Davies?) to give everyone in the rotation an extra day of rest, but the forecast for Detroit the next few days isn't pretty. The rotation might get that extra day of rest thanks to a rainout rather than a sixth starter. We'll see.
Monday: LHP CC Sabathia (Career vs. DET) vs. RHP Alfredo Simon (Career vs. NYY)
The Simon trade was one of the weirder trades of the offseason because he seemed like such an obvious fluke last season — Simon had a 2.70 ERA (4.33 FIP) with a .232 BABIP in 116.2 innings in the first half last year, went to the All-Star Game, then had a 4.52 ERA (4.34 FIP) with a .309 BABIP in 79.2 innings in the second half. Still, the Tigers traded for him, and it's worked out so far. The 33-year-old Simon has allowed three runs in 13.1 innings across two starts, though he's only struck out three. His strikeout rate has fallen from 19.3% in 2012 to 17.6% in 2013 to 15.5% in 2014 to 10.2% in the super early going this year. (To be fair, he moved from the bullpen to the rotation in 2014.) Simon is basically a four-pitch pitcher but it's not the usual fastball/slider/changeup/curveball mix. He throws a low-90s two-seamer, a mid-80s cutter, a low-80s splitter, and a mid-70s curve. Lefties have traditionally given him a much harder time than righties despite the splitter.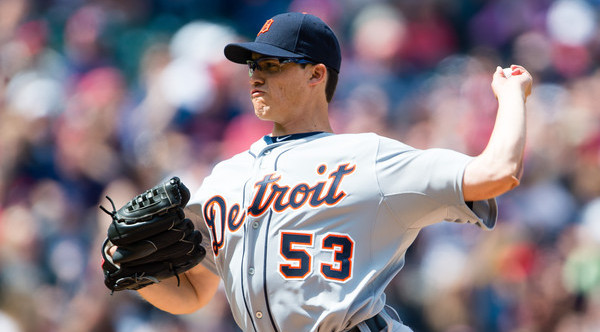 Tuesday: RHP Nathan Eovaldi (Career vs. DET) vs. LHP Kyle Lobstein (Career vs. NYY)
The 25-year-old Lobstein is in Detroit's rotation thanks to the first DL trip of Justin Verlander's career — he suffered a triceps injury late in Spring Training and is slowly working his way back. Verlander's still several weeks away from returning. Lobstein, a former Rule 5 Draft pick, got a cup of coffee last season (4.35 ERA and 3.82 FIP in 39.1 innings) and has made one start this year, allowing three runs on eight hits and two walks in five innings against the Indians. Last season in Triple-A he had a 4.07 ERA (3.45 FIP) with 19.9 K% and 6.6 BB% in 146 innings. Lobstein is the quintessential finesse lefty — he sits 86-89 mph with his fastball and uses low-80s cutters and changeups to keep hitters off balance. Every once in a while he'll flip a low-80s curveball just to keep everyone honest. Lobstein is the opposite of overpowering and the Yankees will have to make sure they lay off his soft stuff just off the plate.
Wednesday: RHP Adam Warren (Career vs. DET) vs. LHP David Price (Career vs. NYY)
The Yankees get stuck facing Price this series, but you know what? It's better than facing him six times a year like they did when he was in Tampa. Price, 29, is off to an incredible start, allowing just one earned run in 22.1 innings across three starts. He's struck out 20, walked five, and allowed only 13 hits. Last season was arguably the best of his career — which is really saying something considering he won the Cy Young Award a few years ago — thanks to a 3.26 ERA (2.78 FIP) in an MLB leading 248.1 innings. His strikeout (26.9 K%) and walk (3.8 BB%) rates were off the charts. Price is the ultimate combination of power and precision. He still sits mid-90s with both his two and four-seamers and can paint the corners of both sides of the plate with both pitches. His mid-80s slider gradually morphed into an upper-80s cutter these last few years and Price will also throw a handful of mid-80s changeups and upper-70s curveballs per start. He throws the two-seamer, four-seamer, and cutter a combined ~80% of the time. There's no messing around here. Price dares hitters to hit his fastball and it no one has been able to do it consistently for years now.
Thursday: RHP Masahiro Tanaka (Career vs. DET) vs. RHP Anibal Sanchez (Career vs. NYY)
Sanchez has been a personal favorite for a few years now but he's off to a rough start this season, allowing 14 runs on 20 hits in 16.1 innings. Seventeen strikeouts and four walks are nice, five homers allowed is not. (He allowed four homers in 126 innings in 2014.) Sanchez, 31, had a 3.43 ERA (2.71 FIP) with 19.8 K% and 5.8 BB% last season and put up similar numbers for several years now. He's a deep arsenal guy, using low-90s four-seamers, low-90s sinkers low-90s cutters, mid-80s splitters, mid-80s sliders, and upper-70s curveballs fairly regularly. He'll throw just about anything in any count too. Sanchez is off to a slow start this year but he's real tough most days.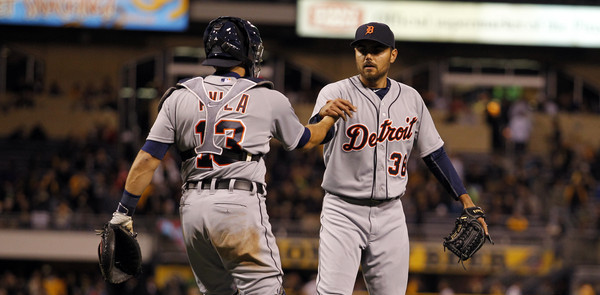 Bullpen Status
The bullpen is always an issue for Detroit, isn't it? This year their relief crew has a 3.00 ERA (2.33 FIP) overall, which actually has them among the best in MLB, but it's still early. They are without closer RHP Joe Nathan, who is on the DL with an elbow issue. RHP Joakim Soria (1.58 FIP) has stepped in as closer and given Nathan's big time struggles since the start of last season, I wouldn't be surprised to see Soria keep the job the rest of the season.
Among those setting up Soria are RHP Al Alburquerque (2.99 FIP), LHP Tom Gorzelanny (1.36 FIP), and RHP Joba Chamberlain (0.59 FIP). LHP Ian Krol (2.09 FIP) will see matchup duty against lefties and the last two bullpen spots belong to LHP Blaine Hardy (4.61 FIP) and RHP Angel Nesbitt (2.56 FIP). Despite their early season success, this non-Soria group of relievers isn't the steadiest in the world. Get the starter out early enough and you can take advantage. Check out our Bullpen Workload page for the status of New York's bullpen and then check out Bless You Boys for everything you need to know about the Tigers heading into the series.