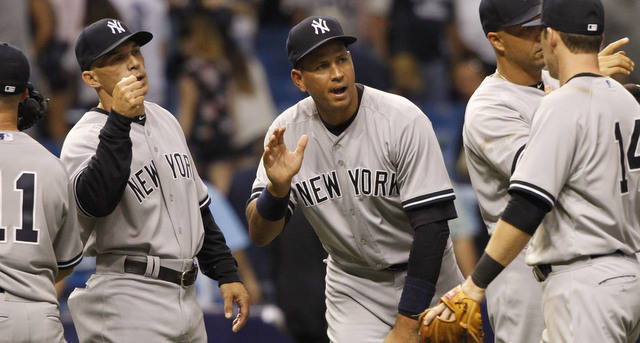 The Yankees have two nice little streaks going right now. One, they've won three straight games for the first time this season. Two, they've scored at least five runs in four straight games. The first streak is cool but not exactly rare. Even last year's team managed eleven winning streaks of at least three games. It's a very long season. Three-game winning streaks happen.
The 5+ runs thing is bit more uncommon. In fact, the Yankees never once scored at least five runs in four straight games last season. Not once. They did it in three straight games on four different occasions, but never once in four consecutive games. You have to go back to September 2013 for the last time New York put up five or more runs in four straight games. The Yankees are in Detroit tonight looking to extended both streaks. Here is the Tigers' lineup and the Yankees' lineup:
CF Jacoby Ellsbury
LF Brett Gardner
DH Alex Rodriguez
1B Mark Teixeira
RF Carlos Beltran
C Brian McCann
3B Chase Headley
2B Stephen Drew
SS Didi Gregorius
LHP CC Sabathia
It has been raining in Detroit pretty much all afternoon but it is supposed to clear out in time for tonight's game. The game is scheduled to begin at 7:08p ET and you can watch live on YES locally and ESPN nationally. Enjoy.