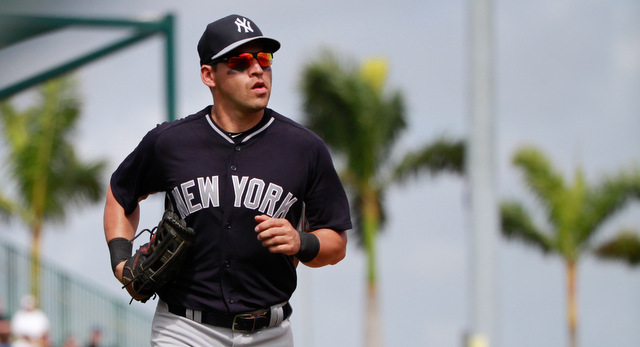 After spending two weeks sidelined by a minor oblique injury, Jacoby Ellsbury returns to Grapefruit League play this afternoon. He played went through the usual rehab progression — dry swings, hit off a tee and soft toss, hit in the batting cage, full batting practice on the field — before playing in a minor league game yesterday, which he came through just fine. Ellsbury has four spring games remaining to get tuned up for the season.
Today's reason to watch: Ellsbury's return, first and foremost. Missing two weeks isn't a huge deal, but it is Spring Training, so he does have some catching up to do. Also, Chase Whitley and Chasen Shreve will make either their last or second to last appearances before the final two bullpen spots are decided. This might be their last chance to make a statement.
The Rays are up from Port Charlotte for this afternoon's game. Here is Tampa Bay's lineup and here is Joe Girardi's starting lineup:
CF Jacoby Ellsbury
LF Brett Gardner
RF Carlos Beltran
1B Mark Teixeira
C Brian McCann
3B Chase Headley
DH Alex Rodriguez
2B Stephen Drew
SS Brendan Ryan
RHP Chase Whitley
Available Position Players: C John Ryan Murphy, 1B Garrett Jones, 2B Rob Refsnyder, SS Nick Noonan, 3B Cole Figueroa, LF Taylor Dugas, CF Jake Cave, and RF Ramon Flores will be the second string off the bench. C Austin Romine and C Eddy Rodriguez are the extra players.
Available Pitchers: RHP Esmil Rogers, LHP Chasen Shreve, RHP Andrew Bailey, RHP Nick Rumbelow, RHP Jose Ramirez, and LHP Tyler Webb are all scheduled to pitch. LHP Jacob Lindgren, RHP Diego Moreno, and LHP Fred Lewis are the extra arms.
It's a little cloudy in Tampa but there's no rain in the forecast and the temperature is in the low-80s. This afternoon's game will begin at 1:05pm ET and you can watch live on YES and MLB.tv. The game won't be blacked out on MLB.tv in either team's home market. Enjoy.