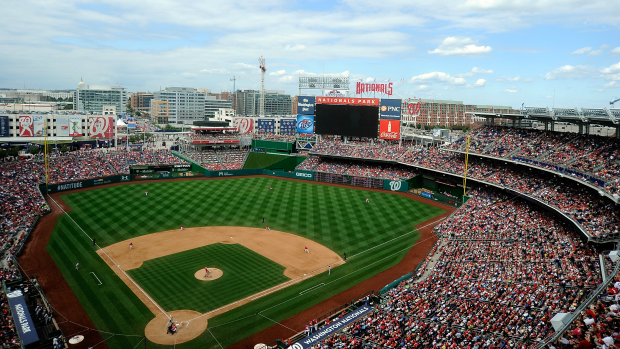 Time for another round of interleague play, except this time the Yankees are on the road in Washington and will lose the DH. They got to keep the extra real hitter when the Mets came to the Bronx for the Subway Series a few weeks ago. The Yankees and Nationals are playing just two games this week. Quick little series.
What Have The Nationals Done Lately?
The Nats just wrapped up a successful West Coast trip, winning five of seven games against the Diamondbacks and Padres. They outscored San Diego 24-5 in the final three games of their four-game set. The Nationals and Yankees have identical 22-17 records, but Washington has the run differential edge (+27 vs. +15).
Offense & Defense
With an average of 4.97 runs per game, the Nationals are one of the highest scoring teams in baseball despite a league average-ish 101 wRC+. They're banged up right now, most notably with 3B Anthony Rendon yet to play this season due to a knee issue. He actually went out on a rehab assignment, then pulled an oblique muscle. OF Nate McLouth and OF Reed Johnson are out with long-term injuries.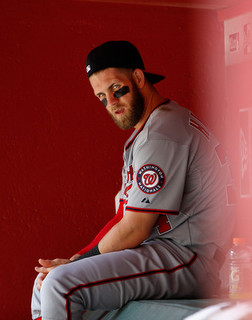 Washington is led by OF Bryce Harper (215 wRC+!), who is coming into this series riding an utterly insane hot streak. He's gone 22-for-39 (.564) with nine homers, ten walks, and three strikeouts in his last eleven games. Bonkers. Harper's going to mash and there's nothing the Yankees can do about it. They just have to keep everyone in the lineup in front of him off base and hope to limit the damage. What else could they do?
The best of the rest of the Washington lineup right now is OF Denard Span (144 wRC+) and IF Danny Espinosa (130 wRC+). Espinosa stopped switch-hitting for a while but went back to it a few weeks ago. IF Yunel Escobar (114 wRC+) has been hitting but the three big names — 1B Ryan Zimmerman (88 wRC+), SS Ian Desmond (76 wRC+), and OF Jayson Werth (62 wRC+) — have not. Werth is currently day-to-day after taking a pitch to the wrist over the weekend.
C Wilson Ramos (97 wRC+) has an 18-game hit streak going, the longest active streak in baseball. OF Michael Taylor (94 wRC+) is the outfield rover — he played center when Span was injured earlier this year and he's been playing left while Werth is banged up. C Jose Lobaton, IF Dan Uggla, UTIL Tyler Moore, and UTIL Clint Robinson are the four bench players manager Matt Williams has at his disposal.
The Nats have a good team defense with some sore spots. Span, Harper, and Taylor are all very good outfield defenders but Werth has lost some range in recent years, and he also looks a little lost in left field after spending most of his career in right. Desmond had some major error issues early in the season has settled down. Espinosa, Zimmerman, Escobar, and Ramos are each at worst average but mostly a tick above.
Pitching Matchups
Tuesday: RHP Nathan Eovaldi (Career vs. WAS) vs. LHP Gio Gonzalez (Career vs. NYY)
The Yankees caught a bit of a break this week and won't have to face any of the Nationals top starters. I mean their top top starters. Gonzalez, 29, was a low-level ace during his first year in Washington but has gradually slid backwards in recent years. He has a 4.25 ERA (2.75 FIP) in seven starts and 42.1 innings, with strikeout (22.7%) and walk (8.7%) rates in line with his career norms. Gio is getting way more ground balls (58.2%) and keeping the ball in the yard (0.21 HR/9) better than ever before despite no substantial change in his pitch selection. He's throwing more low-90s two-seamers than last year, but his two-seamer usage is the same as pre-2014. Weird. Low-90s four-seamers, a low-80s changeup, and a big breaking upper-70s curveball round out his repertoire. Gonzalez has been hit harder by righties (.366 wOBA) than lefties (.298 wOBA) this year but historically has no platoon split.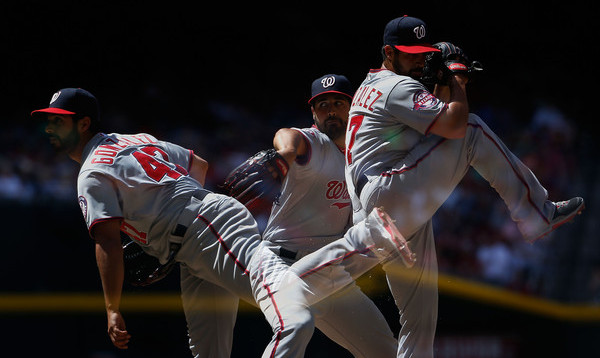 Wednesday: RHP Adam Warren (Career vs. WAS) vs. TBA
The Nats have not yet announced tomorrow's starter but it is expected to be right-hander A.J. Cole, who is stepping in for Doug Fister. Fister has lost close to two miles an hour off his fastball this year, and he recently landed on the DL with a flexor tendon injury in his elbow. That'll put a dent in the free agency push. The 23-year-old Cole has appeared in two games for Washington this season. He gave up nine runs (four earned) in two innings in his MLB debut, a start against the Braves. He then threw three shutout innings out of the bullpen against the Padres on Friday. Cole had a 3.43 ERA (4.48 FIP) in Triple-A last season. He's a low-90s fastball guy whose best pitch is a mid-80s changeup. Cole also throws a low-90s cutter, a low-80s slider, and a mid-70s curve, but those are distant third, fourth, and fifth pitches. The fastball/changeup combo is what got him to MLB.
Bullpen Status
The Nationals came back from the West Coast yesterday, so they had an off-day like the Yankees, and the bullpen is rested. Former Yankees draft pick RHP Drew Storen (1.58 FIP) is the closer and he's set up by RHP Aaron Barrett (1.45 FIP) and former Yankees LHP Matt Thornton (3.25 FIP). RHP Tanner Roark (4.48 FIP) has been a multi-inning middle reliever this year after getting bumped from the rotation by the Max Scherzer signing.
RHP Blake Treinen (3.65 FIP), LHP Matt Grace (2.80 FIP), and LHP Sammy Solis (5.82 FIP) round out the bullpen. Grace and Solis were called up not too long ago and don't have many big league innings under their belt. As good as the Nats are and were projected to be coming into the season, the bullpen is a tad bit shaky. Check out our Bullpen Workload page for the status of Joe Girardi's relievers, then check out Federal Baseball for everything you need to know about the Nationals.