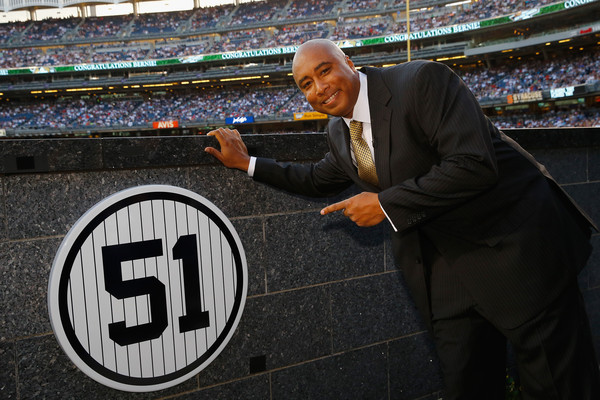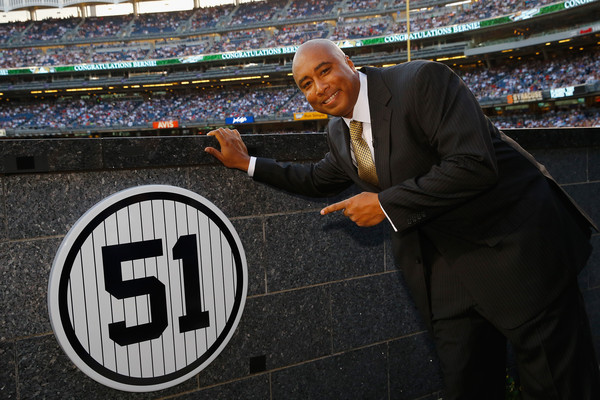 Two days ago the Yankees retired No. 51 in honor of Bernie Williams during a wonderful ceremony at Yankee Stadium. Bernie last played in 2006 but he never officially retired, at least not until signing his retirement papers last month. He joked on Sunday that he was hesitant to sign the papers because he may want to come back and play at some point.
Prior to the ceremony, Williams did talk more seriously about wanting to return to baseball in some capacity, perhaps as an instructor or coach. Here's what he told Kevin Kernan:
"I could see myself one day down the road working in baseball in some kind of advisory or coaching capacity,'' Williams said. "I think my experience being in the Yankee organization for 20 years, including those early years when we were not so successful on the field, and battling through my own struggles and working so hard to firmly establish myself and become a solid player in this league, to being a part of those championship teams and handling the expectations that winning the World Series was the only acceptable goal, I would be very willing to offer my insight and experience to younger players"
The Yankees have hired several former players to be special instructors over the years — George Steinbrenner used to give all his favorite players coaching jobs for life, it seemed — including Tino Martinez, Hideki Matsui, and Orlando Hernandez. You know others like Jorge Posada, Mariano Rivera, Andy Pettitte, Derek Jeter, and Paul O'Neill have jobs waiting for them if interested. I'm sure the same is true with Bernie.
Williams, now 46, has been to Spring Training as a guest instructor a few times over the years. If nothing else, that shows the Yankees are open to having him work with players and have some firsthand knowledge of his ability as an instructor. Bernie loves his music though, so he might not want a full-time coaching position. Who knows, he might not even want to work for the Yankees. Perhaps he wants a new challenge or something. We'll see.