All good things must come to an end. The Yankees' consecutive series win streak was snapped at five on Wednesday night, as the Blue Jays beat New York by the score of 5-1 in the series finale. CC Sabathia has started six games this year, and in those games the Yankees have scored three, three, one, two three, and one run. That won't be enough for the big man these days.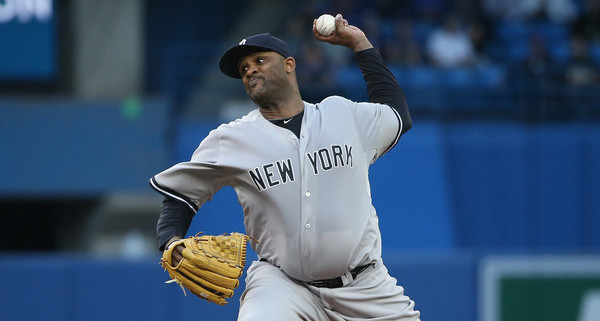 Beat By The Bottom Of The Order
Imagine if, before Wednesday night's game, I told you Sabathia would pitch into the seventh inning while holding the ultra-dangerous top of the Blue Jays' lineup to this:

I think we'd all feel really great about that. Two singles and a walk in 14 plate appearances against that foursome? That's basically the best realistic case scenario. You know those four are going to do damage somehow, so you just had to hope Sabathia would limit it, and limit those four he did.
Unfortunately, all that success against the dangerous top of Toronto's lineup was paired with this:

Yikes! That's eight hits — six singles, a double, and a homer — in 15 at-bats against the bottom five spots in the lineup. I want to feel good about Sabathia's success against the top of the lineup, yet I can't ignore that he gave up three hits to Chris freakin' Colabello, who was literally in Triple-A when the series started.
The first two runs Sabathia allowed were kinda dopey. Kevin Pillar bunted for a hit to leadoff the second — I have to think more teams will try that against CC as the season goes on given his lack of mobility — Colabello pulled a ground ball double that hugged the third base foul line, and Ezequiel Carrera snuck a two-run single through the infield. None of those balls were hit all that hard. That's baseball.
Sabathia allowed the third run on an infield single, a balk, and a solid single to left-center by Colabello in the fourth. The fourth run came on a sixth inning solo homer by Russell Martin, who wore his former team out all series. Martin went 7-for-9 with two doubles and two homers in the three games. Four runs on nine hits and two walks in 6.1 innings and no reason to think any improvement is coming from Sabathia. He has a 5.45 ERA on the year and a 4.94 ERA in his last 295 innings dating back to Opening Day 2013.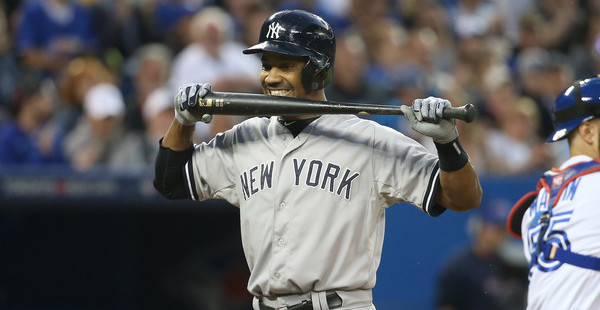 Blown Chances
The Yankees had a few chances against Mark Buehrle, who hadn't beaten New York in more than a decade. They scored their only run in the very first inning on a Mark Teixeira ground out. Chris Young singled and Alex Rodriguez doubled earlier in the inning to set it up. The Yankees have scored 26 first inning runs this year, the third most in baseball behind the Braves and Tigers (both 27).
The third inning brought a Jose Pirela leadoff hustle double, but a pop-up and two ground outs stranded him. Teixeira's leadoff single in the fourth was followed by two fly outs and a ground out. The Yankees put two on with one out in the fifth and eventually loaded the bases with two outs, but Teixeira banged into an inning-ending ground out on the first pitch. One base-runner was stranded in the sixth (Carlos Beltran single), seventh (Stephen Drew walk), eighth (Teixeira walked), and ninth (Drew walk). Not a great night for the offense.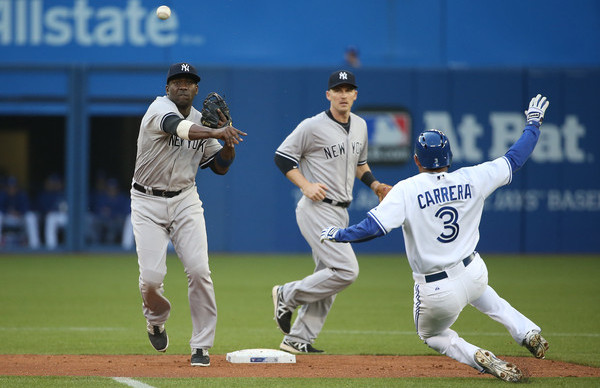 Leftovers
The full Pirela experience was on display in his first game of the year. He doubled and singled against a lefty, grounded into a double play against a righty, got caught wandering too far off second on a ground ball back to the pitcher, and looked like he was running in quicksand when he was unable to get to Carrera's two-run single to keep it on the infield and maybe stop the second run from scoring. The Yankees next face a lefty on Saturday (Wei-Yin Chen).
The Blue Jays tacked on an insurance run in the bottom of the eighth when Chasen Shreve served up a triple to light hitting lefty Ryan Goins. Esmil Rogers soaked up four outs between Sabathia and Shreve. I guess the good news is the key members of the bullpen all got the night off. Didn't even have to think about warming up. They needed a night like that.
Drew (two walks) and Pirela (single, double) reached base four times from the bottom two spots of the lineup. The other seven lineup spots reached six times. A-Rod (double, walk) and Teixeira (single, walk) both reached two times each. The Brian McCann (0-for-4) and Beltran (1-for-3) tandem is killing them. Beltran hasn't hit all season and McCann is down to .238/.298/.393 (90 wRC+) on the year.
Box Score, WPA Graph & Standings
Here are the box score, video highlights, and updated standings. We also have Bullpen Workload and Announcer Standings pages for you to check out. Here's the win probability graph:

Source: FanGraphs
Up Next
The Yankees are headed home for their only series at Yankee Stadium from April 30th through May 22nd. Lots and lots of road games this month. Nathan Eovaldi and Chris Tillman will open the four-game Yankees-Orioles series on Thursday night. Check out RAB Tickets if you want to catch that game or any of the other three games live.