It's probably not a good thing that the most exciting part of the game was watching an opposing player crank an opposite field home run off the facing of the upper deck, but here we are. Giancarlo Stanton did just that in fifth inning on Tuesday, though the game was already out of hand by then — the Marlins demolished the Yankees 12-2. New York has now lost five of their last six games.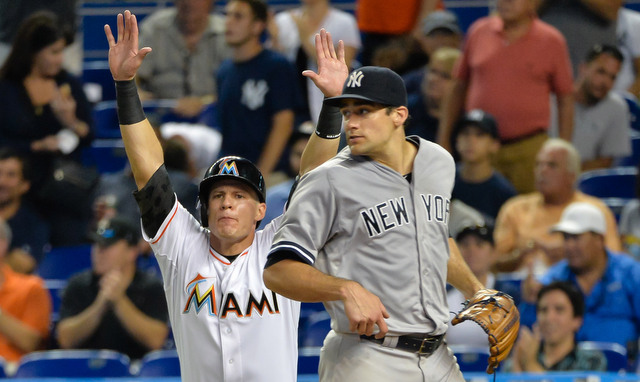 Lost The Trade!
This game was over in the first inning. The Marlins hammered their former teammate Nathan Eovaldi — I mean hit after hit after hit after hit — for eight runs on nine hits in just two-thirds of an inning. No, his defense didn't do him any favors — Didi Gregorius bobbled a grounder and both Chris Young and (surprise!) Carlos Beltran failed to reel in catchable fly balls — and yes, four of the nine hits were ground balls with eyes, but some point Eovaldi has to pick his defense up. Can't just fall apart like that.
Anyway, five of the nine hits came in two-strike counts and Eovaldi got one swing-and-miss out of 36 total pitches, which is basically a microcosm of his season (and career). Eovaldi came into Tuesday with a respectable 4.13 ERA (4.07 FIP) and left with a disastrous 5.12 ERA (4.06 FIP). (Hey, he lowered his FIP!). This is an anomaly start. I don't care how much you hate Eovaldi, eight runs in two-thirds of an inning is an extreme outlier, but that doesn't make it hurt any less. I just wish Joe Girardi had left him in to bite the bullet, throw his 100 pitches, and save the bullpen, but alas.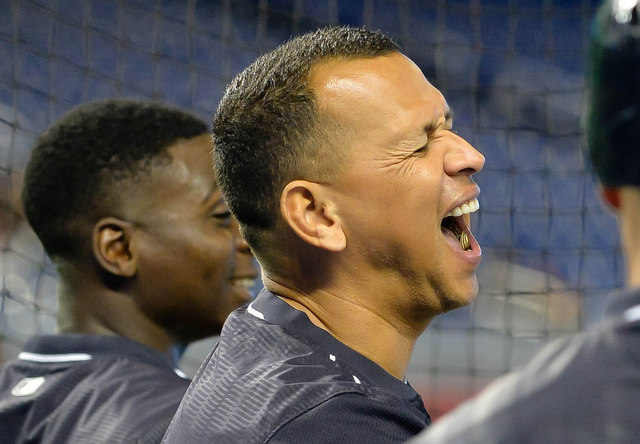 Two Token Runs
Girardi may have out-thought himself with the whole "David Phelps as a reverse split since the start of last year so I'm going to put Chris Young and Brendan Ryan in the lineup" thing. Yeah, the reserve split business is true, but Young can't hit righties and Ryan can't hit anyone. Seems like that would negate any advantage gained by the reverse split. Maybe just stick with the best hitters regardless of handedness next time.
So, anyway, the Yankees scored their first run in the sixth inning on a bloop (Gregorius), a walk (Mark Teixeira), and a single through the shift (Brian McCann). They scored their second run on a walk (Stephen Drew), a single (Garrett Jones), and a double (Mason Williams). None of those last three guys started the game. McCann blooped a single, Beltran doubled into the right field corner, John Ryan Murphy singled back up the middle, and Ryan also reached on an error. The offense. What are you going to do. Sometimes you're just going to run into twin aces like Tom Koehler and David Phelps.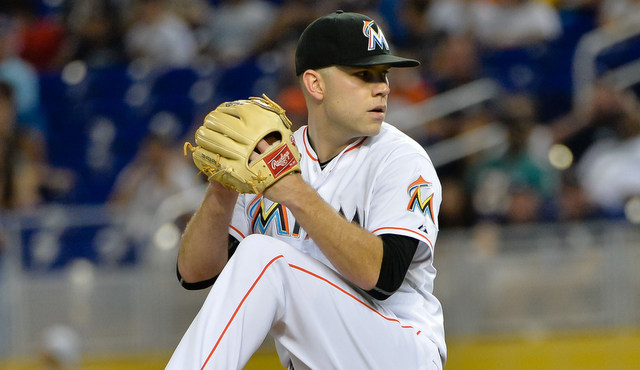 Leftovers
Chris Capuano bit the bullet and threw four innings and 77 pitches out of the bullpen, so thanks for that. Chris Martin got four outs — he served up the monster three-run homer to Stanton, with two of those runs being charged to Capuano — and Jose Ramirez allowed one run in two innings. His first inning was probably the best he's looked as a big leaguer. Ramirez will likely be demoted to Triple-A for a fresh arm now.
Speaking of a fresh arm, I wonder if the Yankees will call up Jose DePaula before Wednesday's game. It's his day to start for Triple-A Scranton and he's already on the 40-man roster, so it's an easy move that would add another long man with Capuano down. Esmil Rogers can start for the RailRiders to save their bullpen too. We'll see.
Eovaldi is the first Yankee to allow eight runs in one inning or less since Bartolo Colon in 2011. Before that it was Chien-Ming Wang in 2009 and before that you have to go all the way back to Orlando Hernandez in 2000. Colon, Wang, and El Duque, huh? Pretty good pitchers. Baseball is weird sometimes.
And finally, this was somehow not the worst loss by an AL East team on Wednesday. The Nationals beat the Rays 16-4. Good gravy. The Blue Jays lost too, so, after all that, the Yankees remain one game back of first and one game up on third. No harm, no foul.
Box Score, WPA Graph & Standings
Here are the box score and video highlights, and here are the updated standings. We also have Bullpen Workload and Announcer Standings pages worth your time. Now here's the loss probability graph:

Source: FanGraphs
Up Next
Same two teams on Wednesday, though the four-game series now shifts to Yankee Stadium for the final two games. Righties Michael Pineda and Jose Urena will be on the mound. The Yankees will play 14 of their next 21 games at home, so head over to RAB Tickets if you want to catch a game(s) these next few weeks.