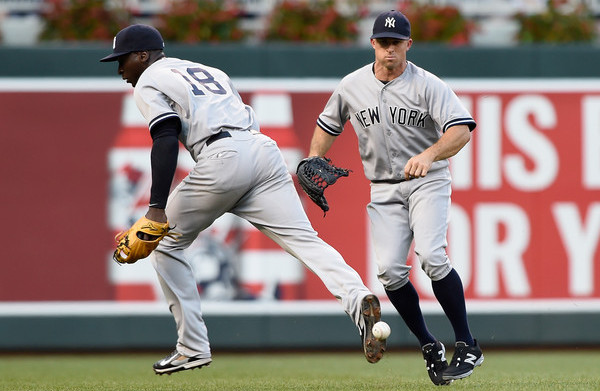 The Yankees got their brains beat in by the Twins last night and it was just one of those games. Happens to every team a few times each season. It was another road loss however, the team's 22nd loss in their last 35 road games. That's not very good! The Yankees are 23-25 with a a -21 run differential on the road this year and I was surprised to see their record was that good.
Obviously this Yankees team is built for Yankee Stadium, but it's not like they are completely helpless without the short porch. They rank middle of the pack with an average of 3.81 runs per game away from home. The real problem is the pitching staff — the Yankees have a 4.14 ERA on the road and a 3.76 ERA at home, which makes no sense. They've allowed four more earned runs on the road in 32.1 fewer innings.
The Yankees have built themselves a nice little lead in the AL East — emphasis on little, it is still only July — but they're going to have to solve their road woes at some point to really run away with this thing. Last night was a clunker, just forget about it. Move on and try to win today. Here's is Minnesota's lineup and here is New York's lineup:
CF Jacoby Ellsbury
LF Chris Young
DH Alex Rodriguez
1B Mark Teixeira
RF Carlos Beltran
3B Chase Headley
C John Ryan Murphy
SS Brendan Ryan
2B Stephen Drew
LHP CC Sabathia
The weather in Minneapolis has been great for most of the day, but there have been some on and off showers this afternoon. The forecast says things will dry up right around game time, however, so it shouldn't be a problem. First pitch is scheduled for 7:10pm ET and you can watch on WPIX. Enjoy.
Roster Move: Welcome to the big leagues, Nick Goody. Enjoy the affordable health care for life. The Yankees have called Goody up to give them a fresh arm in the bullpen, the team announced. Branden Pinder was sent down and Gregorio Petit was designated for assignment to clear a 40-man roster. Goody, the team's sixth round pick in 2012, has a 1.68 ERA (1.86 FIP) with 35.5 K% and 7.1 BB% in 48.1 relief innings split between Double-A and Triple-A this year. He'll be the 12th (!) Yankee to make his MLB debut this season whenever he gets into a game.
Rotation Update: Joe Girardi announced the Yankees will use a spot sixth starter on Tuesday to give everyone an extra day of rest. Right now Tuesday's starter is TBA and Girardi said they could piggyback Adam Warren and Chris Capuano. Luis Severino started for Triple-A Scranton last night and Bryan Mitchell is starting tonight, so they aren't options. The most likely minor league candidate is (gulp) Esmil Rogers. He threw 91 pitches last time out and lines up to start Tuesday if the team wants to go that way.