Blah, what a gross game. Hold the high-powered Blue Jays to two runs in ten innings and still lose? Gross. Can't think of another way to describe it. The offense will be fine, slumps happen, but limiting Toronto to two runs and losing a battle of the bullpens is rough. This the kind of game the Yankees were designed to win. Friday's final score was 2-1.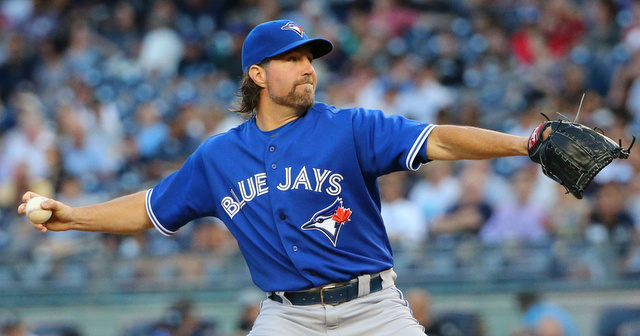 Why Do You Hate Me, Offense?
Remember when the Yankees scored 90 runs in a ten-game span recently? As in last week? That was really cool. Well they've now scored four runs in their last three games, which is decidedly less cool. To put it another way, the pitching staff has allowed five runs in the last three games and the Yankees lost two. At home. To division rivals. What's that word again? Gross? Yeah that works. Anyway, I'm not really sure how I want to recap Friday's one-run attack, so I'm just going to list some points and we can go from there.
– Patience, anyone? The Yankees saw 21 total pitches in their final three offensive innings. They even had two runners reach base, only to have both immediately erased on double play balls. The Yankees sent nine men to the plate in those last three innings and five of the at-bats were over within two pitches. Also, after forcing R.A. Dickey to throw 59 pitches in the first three innings, he did not have to throw more than 16 pitches in any of the next four innings. The Yankees started swinging at everything.
– Blown chances. The Yankees could have broken this game open in the early innings. The problem was they kept getting all their base-runners with two outs. Chase Headley and Didi Gregorius singled with two outs in the second — they managed to avoid being tagged out during a hilarious rundown as well — but Stephen Drew flew out. Alex Rodriguez walked and Mark Teixeira singled with two outs in the third, then Brian McCann grounded out. The Yankees only had two at-bats with runners in scoring position and those were them. The opportunities were there but they were limited because no one got on base with less than two outs.
– Stolen bases. Earlier this week I wrote a post about the Yankees not stealing bases and explaining why it wasn't a big deal. They were still scoring a ton of runs at the time. But, in that same post, I noted the best time for the Yankees to employ the running game was in the late innings of a close game, like this one. Gregorius reached on a single in the seventh and never tried to steal. Brett Gardner singled leading off the eighth, didn't budge, and A-Rod grounded into a double play. Beltran singled with one out in the ninth, Chris Young pinch-ran but didn't actually run, and Headley grounded into a double play. (It was rather a rather spectacular 5-4-3 double play. The Jays deserve props for that one.) When the game is close like that and you'd got speedy runners on base, try running. Just once. You're only looking for one run that late in the game. (Also, why was Young pinch-running and not pinch-hitting against the lefty Brett Cecil?)
– Slumpin'. How much longer must we endure Stephen Drew? He went 0-for-4 on Friday with two weak ground outs and two weak pop-ups (surprise!), and is now up 322 plate appearances of 75 wRC+ ball on the season. It was cool when Drew hit for those two of three weeks last month, but clearly that was just a mirage. I'm crying uncle here. Enough. Also, Jacoby Ellsbury went 0-for-5 and looked like he was swinging blindfolded. Thursday night's go-ahead home run was awesome! But otherwise Ellsbury's been pretty terrible since coming back from the DL.
I think that about covers it. The Yankees scored their lone run on a Teixeira solo homer in the second inning. It was a total Yankee Stadium cheapie — all three runs in this game were scored on cheap wall-scraping homers — that had to be reviewed because it hit a fan who may have been reaching over the wall. That wasn't the case and it was correctly called a home run. Other than that … did the Yankees even hit anything beyond bloop distance? It seemed like every ball in play against Dickey was a pop-up. Not much hard contact at all.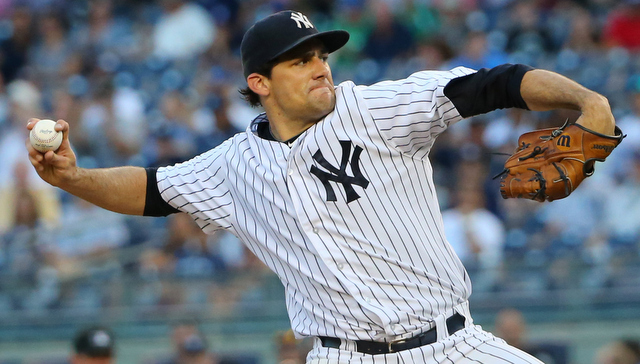 Two Runs, Ten Innings
The pitching staff gets no blame for Friday's loss. They held the best offense in baseball to two cheap solo home runs in ten innings. I'd sign up for that in all three games this weekend if possible.
Nathan Eovaldi was the star of the show, especially after the shaky first inning in which he allowed (in order) a near-homer, a homer, a walk, and a double. He was able to escape the second and third with one out situation without allowing another run, then cruised into the seventh inning. Eovaldi allowed just the one run on five hits and two walks in 6.1 innings. He was outstanding. Nate's been spectacular since the clunker in Miami.
Eovaldi's night ended because of some defensive stupidness. Teixeira couldn't reel in a throw from Drew — Teixeira had to stretch for it, but it did hit him in the glove, so… — and Headley bobbled a slow grounder that was probably going to be an infield single anyway with the speedy Kevin Pillar running. Eovaldi was yanked with two on and one out in the seventh. Justin Wilson struck out Ben Revere then Dellin Betances got Donaldson to ground out after walking Troy Tulowitzki. Inning over.
Wait, Who's Pitching?
After Dellin's escape act in the seventh, he pitched around a leadoff single in the eighth to hand the ball over the Andrew Miller in the ninth. Miller allowed a leadoff single and then retired the next three batters with relative ease. He threw six total pitches, yet when the game went to the tenth, Miller was removed and the rookie Brandon Pinder came in to face Donaldson and Jose Bautista.
Why was Miller taken out of the game after throwing only six pitches? Who knows. He did pitch Thursday, throwing 17 pitches, so maybe that was it. Or perhaps Girardi decided to take advantage of the six-pitch inning and save him for Saturday knowing Betances won't be available after throwing 40 pitches the last two days. If that's what happened … yeeesh. Gotta prioritize the game in front of you, right? Who knows what could happen tomorrow. You could be up nine runs, or down 17 runs, or little green aliens could come down in spaceships and enslave us all. Who knows?
Girardi elected to go to Pinder in the tenth, and any time you can use the kid who's been on the Triple-A shuttle all season against two legitimately great hitters in an important intra-division game, you have to do it. Donaldson lined out to short, then Pinder put a two-strike fastball on a tee for Bautista, and he hit it out of the park for the deciding home run. What a weird decision. Was Adam Warren not available? Probably not since the threw 41 pitches Wednesday. But Bryan Mitchell? He's still out therein the bullpen. Why Pinder before him? Bah. What a weird decision. I do not understand.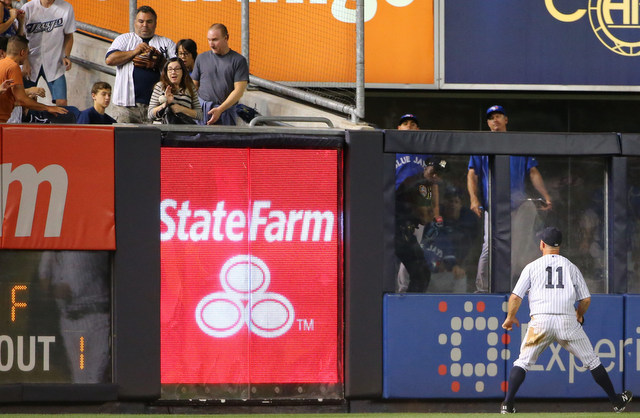 Leftovers
The Yankees had eight hits total — two each by Gardner, Teixeira, and Gregorius, and one each by Carlos Beltran and Headley. Beltran and A-Rod drew the walks. The Yankees struck out only four times as a team, so that's good, the ball was in play all night, but they also averaged only 3.65 pitches per plate appearances. They were swinging at everything.
Really can't say enough about Eovaldi. He threw 33 pitches in that stressful first inning and didn't throw more than 16 pitches in any inning thereafter. Know how Yankee fans were complaining they weren't hitting Dickey? Blue Jays fans were complaining they weren't hitting Eovaldi. Nasty Nate has a 2.42 ERA in his last nine starts dating back to the Miami game, and a 3.79 ERA in his last 14 starts, including the Miami game.
And finally, the Yankees have now homered in 13 straight games, their longest such streak since August 2009. They went deep in 14 straight games that year.
Box Score, WPA Graph & Standings
Here are the box score and video highlights for this game. You can also check out the up to the minute standings and postseason odds. We have Bullpen Workload and Announcer Standings pages as well. Now here's the loss probability graph:

Source: FanGraphs
Up Next
The Yankees and Blue Jays will play the second game of this three game series Saturday afternoon. Ivan Nova and David Price will be the pitching matchup. Head over to RAB Tickets if you want to catch that game or Sunday's game at the ballpark.