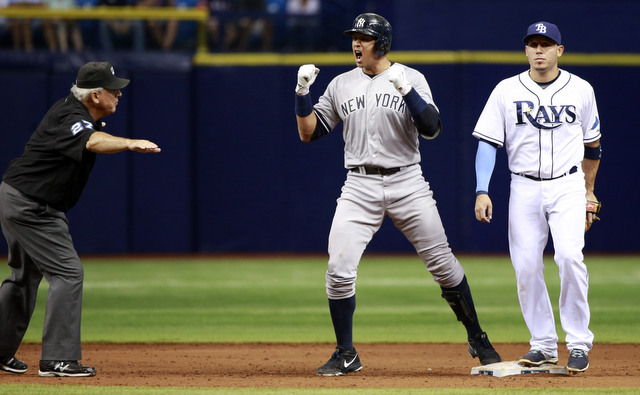 I woke up this morning still pumped up about last night's win. That was a pretty awesome moment considering everything Slade Heathcott has been through all the years, between his injuries and alcoholism. The Yankees needed a big hit and the homegrown guy came through. So great. So, so great.
Today is another day though. The Yankee and Heathcott have to turn the page and focus on tonight, another important game — they're all important games now — in both the AL East and wildcard races. Adam Warren is making his first start since late-June. He's only scheduled to throw 60-65 pitches, which means we're in for a lot of bullpen work tonight. That is … unsettling. Here is the Rays' lineup and here is the Yankees' lineup:
CF Jacoby Ellsbury
LF Brett Gardner
DH Alex Rodriguez
C Brian McCann
RF Carlos Beltran
1B Greg Bird
3B Chase Headley
SS Didi Gregorius
2B Stephen Drew
RHP Adam Warren
Good thing Tropicana Field has a dome, because it's been raining in St. Petersburg and will rain again later tonight. First pitch is scheduled for 7:10pm ET and you can watch on YES. Enjoy.
Injury Update: According to George King, A-Rod was diagnosed with a bone bruise in his left knee Tuesday after going for an MRI. He hurt himself on the slide into home plate Sunday afternoon. It can't be too bad if Alex played yesterday and is in the lineup tonight.