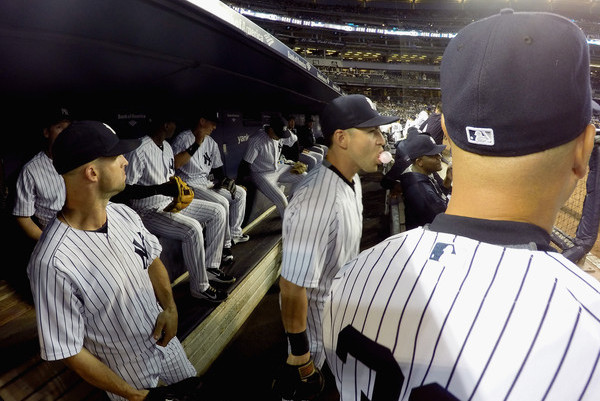 The magic number to clinch a postseason spot is three, yet a scenario exists in which the Yankees can clinch a postseason spot tonight. The Yankees themselves confirmed it. Three things must happen: 1) Yankees beat the Red Sox, 2) Indians beat the Twins, and 3) Tigers beat Rangers or Athletics beat Angels. All three must happen. Yankees win, Twins lose, and either Rangers or Angels lose.
I'm not quite sure how that works — it's still possible for there to be a three-way tie atop the AL West, and those tiebreaker games count as regular season games, which fudge things up — but if the Yankees confirmed it, it must be true. Anyway, don't worry about the Twins or Angels or Rangers or whoever. The Yankees have to win tonight and that's the only thing they can control. Scoring runs would be a good start, yes? Yes. Here is the Red Sox's lineup and here is the Yankees' lineup:
CF Jacoby Ellsbury
LF Brett Gardner
DH Alex Rodriguez
C Brian McCann
RF Carlos Beltran
2B Dustin Ackley
3B Chase Headley
1B Greg Bird
SS Didi Gregorius
RHP Michael Pineda
Now, the bad news: there's rain in the forecast. A lot of it, actually. It has been drizzling on and off for a few years but the heavy stuff is supposed to start later tonight, around 11pm ET or so. Once it starts, it's not going to stop until tomorrow afternoon. Tonight's game will start a little after 7pm ET and you can watch on YES locally and ESPN nationally. Enjoy the game.
Roster Note: The Yankees have had John Ryan Murphy work out at first base recently. Given their recent struggles against lefties, seems like they're looking at a way to keep McCann and Murphy in the lineup in the postseason.