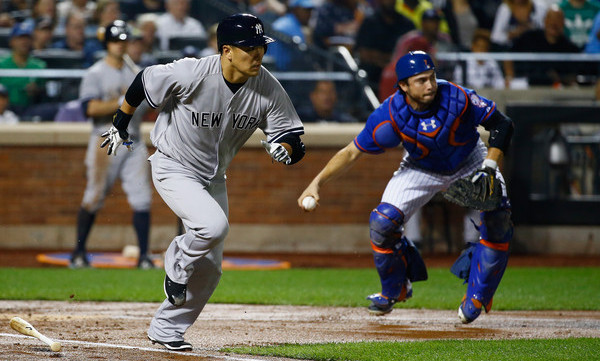 During the quarterly owners' meetings earlier this week, commissioner Rob Manfred acknowledged adopting the DH in the NL is starting to gain some momentum. The league is talking to owners and GMs about a possible change. It doesn't sound like the MLBPA has been looped into talks just yet.
Here's some more from Manfred, via Ken Davidoff:
"Twenty years ago, when you talked to National League owners about the DH, you'd think you were talking some heretical comment," Manfred said, upon the conclusion of Major League Baseball's quarterly owners' meetings. "We have a newer group. There's been turnover. I think our owners in general have demonstrated a willingness to change the game in ways that we think would be good for the fans. Always respecting the history and the traditions for the sport."

…

"I do think there's a certain purity to the idea that everybody plays by the same rules," Manfred said. "The significance of that purity goes up when you have interleague play every day. …Particularly given the difference between leagues, in interleague play, pitchers who don't hit on a regular basis probably are more likely to have a problem than pitchers who do."
Manfred called the DH the "biggest remnant of (the NL's) identity," and some NL folks are very much opposed to the idea. "We would like to remain real baseball," said Phillies chairman Dave Montgomery. Turns out we've been watching fake baseball all these years, you guys.
Anyway, I'm sure the MLBPA will be on board with bringing the DH to the NL. Roster sizes won't change but it will create 15 high-paying jobs since DHs historically get paid lots more than bench players. Adding the DH to the NL could also help extend some careers since it'll give veteran mashers more options after their defensive skills erode.
I am a pro-DH guy. There's nothing fun about watching pitchers hit, and the argument the NL game has more strategy is overblown. Most NL decisions — bunting, pinch-hitting, etc. — are made for managers by the game situation. Down a run in the seventh and your starter is at 105 pitches? Pinch-hit. See? That wasn't so hard.
Ultimately, I think it's only a matter of time until the NL adopts the DH. Owners are going to want to protect their increasingly expensive pitching investments. Last year Adam Wainwright blew out his Achilles running the bases. A few years back ex-Yankee Dustin Moseley tore up his shoulder swinging a bat. We all remember what happened to Chien-Ming Wang in Houston.
The current Collective Bargaining Agreement expires in December and I'm sure we're going to hear a lot about the DH coming to the NL between now and then. The players figure to be cool with it. It seems like it'll just be a matter of getting the old school NL owners on board as well.