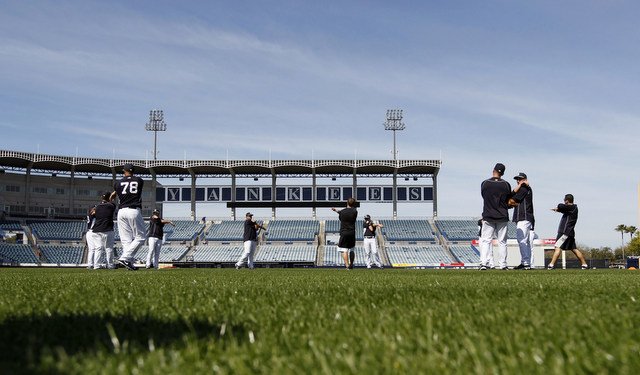 Three weeks from today Yankees pitchers and catchers will report to Spring Training. Three weeks isn't so bad, is it? I'm totally over the offseason. Bring me some real baseball. Even wire photos of players standing around in Tampa will hold me over. (The photo above is from last year.) Anyway, here are some assorted thoughts.
1. I think Gary Sanchez should open the season in Triple-A. My feelings on this seem to change by the day, but the service time benefits are becoming way too good to ignore. Only 35 days in the minors this year — 35 days that would be completely justifiable given his defense — equals team control of Sanchez's age 29 season in 2022. That 2022 season is a really long way off, yeah, but we're talking about 35 days in 2016. That's nothing. And given all the early-season off-days — the Yankees have four off-days in April and five off-days in the first four weeks of the season — the backup catcher only figures to start five or six times during those 35 days. The service time rules are so borked that trading those five or six games early in 2016 to gain control of Sanchez's age 29 season is a no-brainer. Letting Austin Romine or the recently signed Carlos Corporan serve as Brian McCann's backup for five or six weeks is the best big picture move for the Yankees.
2. The only notable free agent outfielder still on the market is Dexter Fowler, and if he goes to the Angels, there will be close to zero trade suitors for Brett Gardner. I do still think the Yankees will end up keeping Gardner and going into the season with him, but as long as the Halos have that gaping left field hole and some young pitching to spare, we can't close the door on a trade entirely. I still think Fowler is in good shape at this point of the offseason even though he's tied to draft pick compensation and several big market teams signed outfield free agents. Off the top of my head, the Orioles, White Sox, Royals, Indians, Angels, Athletics, Cubs, Cardinals, and Nationals all could use one more outfielder. Among those nine teams, only the Angels and Indians a) don't have a protected pick, or b) haven't already forfeited their top pick to sign another qualified free agent, or c) haven't picked up an extra pick(s) for losing a qualified free agent, and the Indians pretty clearly aren't going to spend the kind of money it'll take to get Fowler. The other seven clubs can more easily surrender a draft pick to sign a free agent. Fowler's going to get paid. As long as it isn't by the Angels, there's still a chance Gardner will be traded.
3. This has been a pretty slow offseason for trades, don't you think? The biggest names traded this winter are Aroldis Chapman, Craig Kimbrel, Shelby Miller, Todd Frazier, and Andrelton Simmons, I'd say. That's about it. The two true superstars are relievers. The slow free agent market certainly played a role in that. There were plenty of quality players available for just money in January. Now that most of those free agents are off the board, I wonder if we'll see a quick rush of trades involving biggish name players these next few weeks. Gardner could be in that group, and looking around the league, guys like Jonathan Lucroy, Marcell Ozuna, Ender Inciarte, Jay Bruce, Andre Ethier, the Rockies outfielders (Charlie Blackmon, Corey Dickerson, Carlos Gonzalez), and the Padres starters (Tyson Ross, James Shields, Andrew Cashner) all seem like candidates to go. Trades are so much more exciting to me than free agent signings. Hopefully we see a few these next three weeks to spice up the offseason.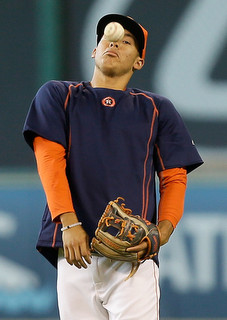 4. I enjoyed Dave Cameron's recent post on tanking. I agree MLB teams don't lose on purpose — this isn't the NBA or NHL, where you pick high in the draft and get a potential superstar who impacts your team the very next season — but there are absolutely instances of teams not doing all they can to win. There's no greater example of that than the 2011-13 Astros. They made no effort to be competitive. Anyway, what I want to say is I think there are too many incentives to be bad in baseball right now. Being bad not only means a high draft pick, it means large draft and international spending pools, it means having a protected first round pick, and it could mean extra draft picks (those 12 Competitive Balance Lottery picks the league hands out each year) and revenue sharing dollars depending on the market size. Teams are rewarded handsomely for being bad. I hope the next Collective Bargaining Agreement changes some of that, preferably eliminate the draft and international pools. How about giving the five best teams in the league a protected first round pick? Winning should be rewarded too. The bad teams gets all the perks.
5. This trade deadline is going to be really interesting. I want the Yankees to contend, but if they're not, they need to sell off some pieces at midseason. The decided not to move Robinson Cano and David Robertson a few years back, but at least then they knew they were getting a draft pick for those guys should they leave as free agents. It's unlikely the team will make a qualifying offer to either Mark Teixeira or Carlos Beltran after the season. The Yankees have to be honest with themselves. If they're not in the race, they should look around to see what the market is for rental Teixeira and Beltran. Their no-trade clauses may be an obstacle, but they have to at least try to get something for them rather than nothing. The same goes for Chapman, though he's a qualifying offer candidate. The Yankees are emphasizing youth now. Dealing Teixeira and Beltran brings back a young piece or two and opens up playing time for Greg Bird and either Aaron Hicks or Aaron Judge. Hopefully the Yankees are in contention and this is all moot. If they're not though, holding onto Teixeira and Beltran for appearances would be a mistake.