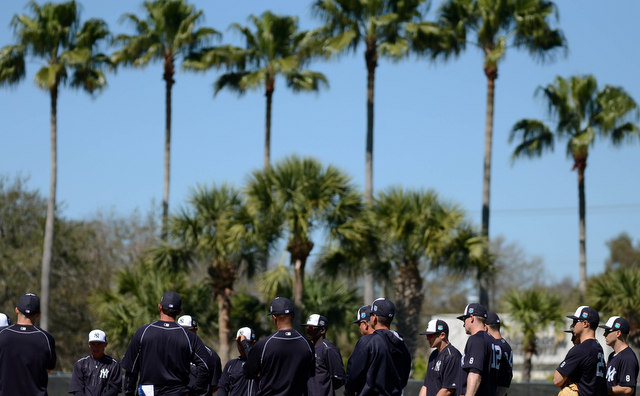 In just two days Yankees baseball will be back. The Yankees open their 33-game Grapefruit League schedule Wednesday with a home game against the Tigers. No home-and-home games with the Phillies to open the exhibition season this year. Weird. Seems like that's how they open the spring every year.
Anyway, 21 of the team's 33 Spring Training games will be broadcast either on television or online, which is a bit fewer than previous years. Lots of regional networks scaled back their spring coverage this year. I guess those mid-week afternoon games haven't attracted enough eyeballs the last few springs. YES will broadcast ten Grapefruit League games this year, down from 15 the last few years. (SportsNet LA is going from 31 Dodgers games to 16 this spring. Yikes!)
YES, MLB Network, MLB.tv, and ESPN have all released their Spring Training broadcast schedules, though MLB Network always seems to add a few games randomly throughout March. The Yankees are not making any sort of special trip this spring — they played two spring games in Panama two years ago and there was some chatter about playing in Cuba this year, but that won't happen — other than two games at Marlins Park to close out the exhibition schedule.
Here is the club's Spring Training broadcast information all in one convenient place. This post is linked in the "Countdown to Opening Day" widget in the sidebar for future reference. All times are ET.
| Date | Start Time | Opponent | Broadcast Info |
| --- | --- | --- | --- |
| Wednesday, March 2nd | 1:05pm | vs. Tigers | YES, MLBN, MLB.tv |
| Thursday, March 3rd | 1:05pm | vs. Phillies | |
| Friday, March 4th | 1:05pm | @ Tigers | |
| Saturday, March 5th | 1:05pm | vs. Red Sox | YES, MLBN, MLB.tv |
| Sunday, March 6th | 1:05pm | @ Phillies | MLB.tv, MLBN (tape delay) |
| Monday, March 7th | 1:05pm | vs. Astros | |
| Tuesday, March 8th | 1:05pm | @ Marlins | |
| Wednesday, March 9th | 1:10pm | @ Mets | SNY, MLBN, MLB.tv |
| Thursday, March 10th | 1:05pm | vs. Blue Jays (ss) | YES, MLB.tv, MLBN (tape delay) |
| Thursday, March 10th | 1:05pm | @ Orioles (ss) | MLB.tv |
| Friday, March 11th | 1:05pm | vs. Orioles | UPDATE: YES, MLB.tv |
| Saturday, March 12th | 1:05pm | @ Rays | MLB.tv, MLBN (tape delay) |
| Sunday, March 13th | 1:05pm | vs. Phillies | YES, MLB.tv |
| Monday, March 14th | OFF | | |
| Tuesday, March 15th | 6:05pm | @ Red Sox | MLBN, MLB.tv |
| Wednesday, March 16th | 6:35pm | vs. Blue Jays | YES, MLB.tv, MLBN (tape delay) |
| Thursday, March 17th | 1:05pm | @ Pirates | MLB.tv, MLBN (tape delay) |
| Friday, March 18th | 6:35pm | vs. Orioles | YES, MLB.tv, MLBN (tape delay) |
| Saturday, March 19th | 1:05pm | vs. Braves | UPDATE: YES, MLB.tv |
| Sunday, March 20th | 1:05pm | @ Twins | MLB.tv |
| Monday, March 21st | OFF | | |
| Tuesday, March 22nd | 6:35pm | vs. Mets | |
| Wednesday, March 23rd | 5:05pm | @ Nationals | MLBN, MLB.tv |
| Thursday, March 24th | 6:35pm | vs. Rays | |
| Friday, March 25th | 1:05pm | @ Orioles | YES, MLB.tv |
| Saturday, March 26th | 1:07pm | @ Blue Jays | MLB.tv |
| Sunday, March 27th | 1:05pm | vs. Twins | YES, MLBN, MLB.tv |
| Monday, March 28th | 6:35pm | vs. Tigers | |
| Tuesday, March 29th | 1:05pm | vs. Pirates (ss) | YES, MLB.tv |
| Tuesday, March 29th | 1:05pm | @ Phillies (ss) | MLBN, MLB.tv |
| Wednesday, March 30th | 1:05pm | @ Braves | |
| Thursday, March 31st | 1:05pm | vs. Cardinals (ss) | YES, MLBN, MLB.tv |
| Thursday, March 31st | 1:05pm | @ Tigers (ss) | MLB.tv, MLBN (tape delay) |
| Friday, April 1st | 7:10pm | @ Marlins (Marlins Park) | |
| Saturday, April 2nd | 1:10pm | @ Marlins (Marlins Park) | |